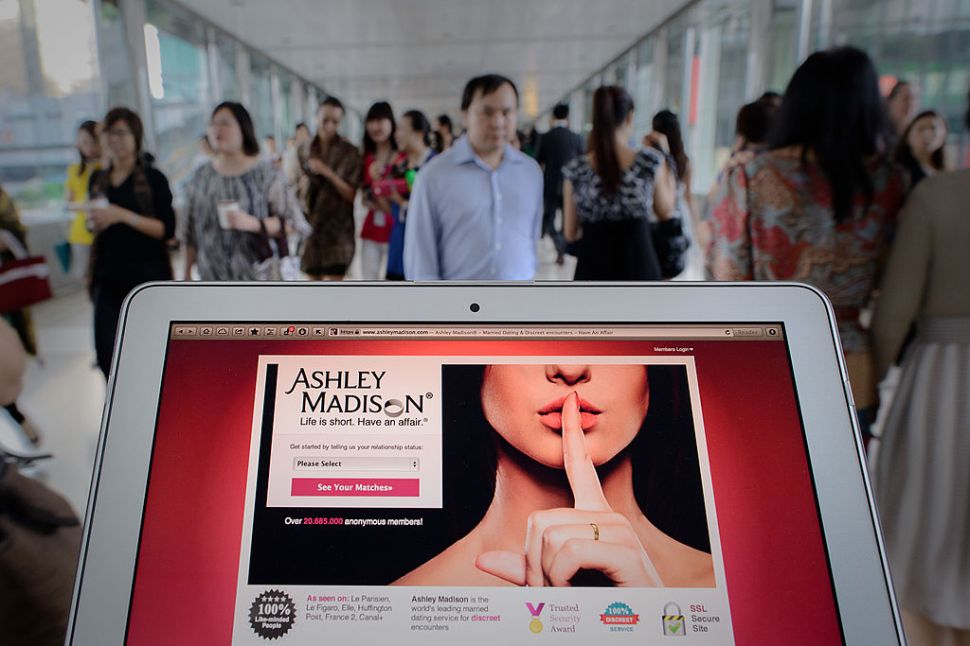 The Ashley Madison breach in July 2015 was one of the most fun stories of that year. The controversy's moral roller coaster initially pitted privacy hawks against moralists of multiple varieties. Were the revelations the cheaters' just deserts or did the infiltrators' crusade unfairly hurt individuals minding their own business?
More quickly than anyone guessed, all of those concerns turned out to be largely a moot point. There was much more to the story. I became especially transfixed by Annalee Newitz's reporting over at Gizmodo (she's at Ars Technica these days). She found that almost none of the women's profiles on the site were getting used. The plot thickened, though. She kept digging through the hacked trove and found that lots of the profiles of women were really bots.
Men had to pay to send messages. That was Ashley Madison's profit model. So the men would get chatbot messages from fake or re-purposed profiles and they'd message back. Every message was money in the pocket of Noel Biderman and his colleagues.
Your husband wasn't cheating. Your husband was a sucker.
As if that wasn't enough, though, a short documentary that just went live yesterday on Netflix digs into several additional reasons to make the website Ashley Madison and its parent company, Avid Life Media, memorably hate-worthy. Ashley Madison: Sex, Lies and Cyber Attacks, by Journeyman Pictures, runs a mere 46 minutes. Members can now view it in its entirety for free (and, presumably, chill—or whatever).
The very fact that Newitz was able to look so deeply into the profiles of Ashley Madison users illustrates the unusual extent of the breach. The crew that stole the information called itself the Impact Team. They didn't just hack the website's database. It got hold of everyone at the companies emails and more. It got everything. Which almost certainly means it got into more than one place, because most companies don't keep internal documents on the same server as their website. Thanks to the sheer extent of the trespass, much more could be gleaned about the company.
SEE ALSO: What's Netflix's next move?
The documentary digs into new nooks of debauchery, adding a few more items to the list of things to hate the company for:
♦ Biderman was a bully. Long before the Impact Team beat the site's security, users began to realize that something was amiss with the site. One disgruntled user started a blog called "Ashley Madison Sucks." When Avid Life Media failed to get control of the site though the courts, it tried to buy the domain. Its owner refused, and that's when it got ugly. The film plays a recording of a phone call purportedly between the owner of the site and Biderman, who gets threatening. The owner of the site is never named nor seen on camera, but the filmmakers did manage to interview the owner's attorney, Filippo Marchino. "We became the target of online activities," Marchino said, "that were borderline bullying."  Motherboard corroborates much of the story.  Eventually, the company did manage to acquire AshleyMadisonSucks.com.
♦  Biderman himself probably used the site to cheat. Live and let live, and all that, but many reporters who interviewed the CEO asked him if he cheated on his wife. He always said no, which is particularly unsurprising since his wife frequently did the interviews with him. After the dump of data, reporters found lots of emails between the founder and women that it definitely sounded like he was meeting up with in secret. Maybe just for Bridge games, though?
♦ It hid behind terms and conditions. The company actually admitted to using bots, but it did it by burying the information in its terms and conditions, as Marchino explains in the film. Its terms claimed the site was just for entertainment and that users might be contacted for non-humans. "I had contact with maybe 200 profiles, and out of that I believe I spoke to one actual person," Christopher Russell, an unsuccessful user says in the film (by the way, hats off to this guy for coming forward as someone who used the service).
♦ The worse men behaved, the more money Avid Life made. Gina Smith, a journalist at ANewDomain, who became transfixed by reading the Ashely Madison emails, says in the film, "Soon, I was just looking at the email trying to figure out: What was Ashley Madison? Was it really a dating site? It didn't appear so." Avid Life Media turned out to be much, much larger than just AshleyMadison.com. Everything it did was done to make money off the worst male behavior. The company owned lots more sites, including other personal sites that catered to more specific fantasies of size, race or age. It heavily emphasized building up the sugar daddy market, with sites like Established Men and Arrangement Finders. It went out of its way to recruit escorts to use various sites. It also dabbled in porn. It gets creepy when a company seems to double down on every possible way in which a gender can go astray.
♦ It treated workers badly. At least, Louise Van Der Velde says that the company did her wrong. The sex and relationships advisor worked as a spokesperson for the company, until she had a falling out over money. She says she believed that the breach was an inside job, because she was sure the company had treated others just as badly as it treated her. "This was a company that sued a lot of people, fired a lot of people," Smith, the journalist, agreed. "Finding a person with a motive is too easy. There's too many people with motives."
By the way, I'm personally a bit skeptical about the inside job theory. Impact Team covered its tracks too well; that was the hard part. Getting in was apparently disturbingly easy, according to Motherboard.
BONUS HATE: When the site went live in Turkey in 2014, Biderman told the Observer that giving women in Muslim countries the chance to cheat made him one of the world's great feminists.
Believe it or not, Ashley Madison is still live. So are its sister sites Established Men and Cougar Life. Which means there are probably still lots of other sites in the network that the company doesn't admit to owning. The parent company has rebranded as Ruby.
The newly Netflix available doc is an informative film. For example, did you know that an MBA can be either Masters in Business Administration or Mutually Beneficial Arrangement? I didn't.
This post might have spoiled all the best bits of this short flick for you, but don't be too mad. This is not a great documentary otherwise. Even the editing is choppy. There's one especially weird part where it revisits the heyday of the company followed by the breach twice in a row, for example. Still, if you thought you knew everything about this unseemly website, you probably didn't.
Plus, I didn't write anything about Tamsin. You'll want to meet Tamsin. Check out the movie and let me know if you think her story is real.