As a beauty writer, I receive more information about new brands and products than I can keep track of. While I'm always excited to test new products, some new brands merit further investigation. There's nothing better than discovering something truly special. Culled over a few months, here are a number of new, new to the U.S., or just under-the-radar beauty brands to bookmark (and buy), now.
Cortney Herrera's Wildcare is small, but mighty and they're already on the carefully curated shelves of CAP Beauty. The brand seeks to remind the customer of "their innate connection with nature and to offer balance through this ancient form of botanical alchemy." While the vibes might be intensely West Coast, the brand is a must-know for anyone seeking a non-toxic beauty regime. "We take pride in the fact that each product is made in an intimate setting with intention, integrity, and the proper attention each botanical deserves. The art of distillation is an incredibly slow, and laborious process, that requires personal dedication and care. We grow and ethically wildcraft the plants for our hydrosols, and hand-collect the water for the distillations straight from a mountain spring. We believe this unique energy and attention sets us apart."
The brand is focused around hydrosols, in which Herrera is a passionate believer, but also includes a divine shimmering body oil and two masks. Of her signature mists, Herrera, a self-taught distiller explained: "I am deeply focused on educating and reminding people of the benefits and ancient history of Hydrosols. These gentle yet powerful mists have been used for thousands of years and still stand the test of time—think of Cleopatra and her rose water!" Her newest, Empress Cypress is hero for "customers who have irritated skin due to seasonal or environmental transitions," Herrera says. In a world where face mists can cost over $100, this $18 natural offering is a treat.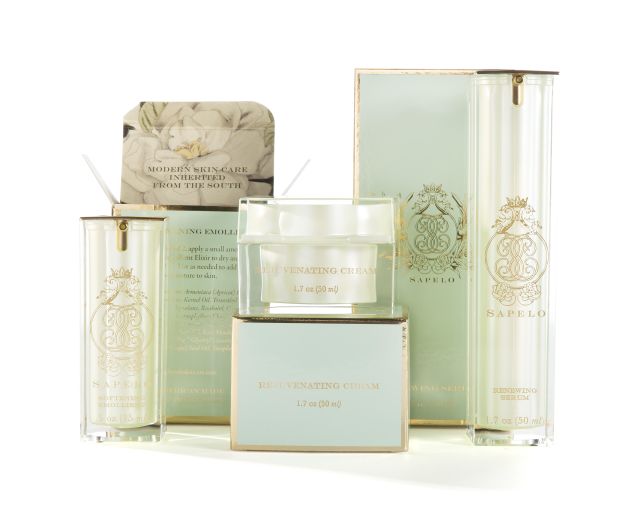 Sapelo hails from Savannah, Georgia, where co-founders Stephanie Duttenhaver and Cindy Edwards collaborated to create a gentle, luxurious, naturally-based skincare system that works to rejuvenate the skin, without damaging it. The resulting products harness knowledge from generations of passed-down traditions and uses Southern-inspired ingredients—think gardenia stem cells, magnolia oil, local honey, seaweed, and oyster shell calcium.
Sapelo offers alternatives for sensitive skin that can't handle retinols or abrasive dermatological procedures. They argue that such methods, which have now become quite commonplace, are not, in fact, a good long-term solution for healthy skin. Duttenhaver explained: "[These treatments] work by recruiting the skin's immune system's response to heal. In fact, these abrasive procedures and acidic ingredients, damage the skin in-order-to initiate repair. An intelligent consumer should pause and ask the question, 'Does it make sense to daily apply skin care products that include chemicals that stimulate chronic inflammation under the synonym 'controlled inflammation?" Studies indicate that long-term use of chronic inflammation damages and thins the skin."
Sapelo, on the other hands, seeks to foster healthy skin with natural, gentle ingredients that work together to mimic the skin's immune system response to injury without the actual injury. Try the Rejuvenating Cream, which is made with 65 ingredients scientifically formulated to mimic the immune system response.
Duttenhaver is confident in her creation: "With disciplined, twice daily use of our cream, your complexion will be transformed with a flush of healthy new skin, collagen and elastin."
Jillian Wright has had many lives in the skincare industry. She's an NYC aesthetician with over 17 years of giving facials, and more recently, she's the ringleader (and co-founder) of the Indie Beauty Expo. Though she's made a name for herself bringing attention to other small business owners, don't sleep on her small business. This eponymous line is based on the knowledge Wright has accumulated from performing over 12,000 facials. The line is formulated by way of "green chemistry" which means natural resources like water, soil, and energy are not depleted; Wright's botanical stem cells are made in the lab and are bio-identical to nature's resources.
Wright notes that she's targeting people between the age of 25 and 45, who are focusing on the prevention of premature aging, fighting acne, and soothing inflammation. Check out the Bee Hydrated moisturizer. The bee derived ingredients, like royal jelly and honey, are super effective when it comes to both hydrating and soothing the skin; basically, this cream works for most skin types.
Created by a mother-daughter duo, in response to their own struggles with eczema, Odylique has grown. And in growing, the brand has attracted the attention and love of stars like Amanda Seyfried. The brand is wide-ranging and includes haircare, makeup, and skincare, all made with an understanding of problem areas. These products are also certified to strict UK organic standards, Fairtrade certified, and PETA approved. The Timeless Rose Moisturiser (Seyfried's pick) is made with precious organic rose oil and a bevy of antioxidants; the organic sulfate-free Gentle Herb Shampoo is loved by those with sensitive scalps.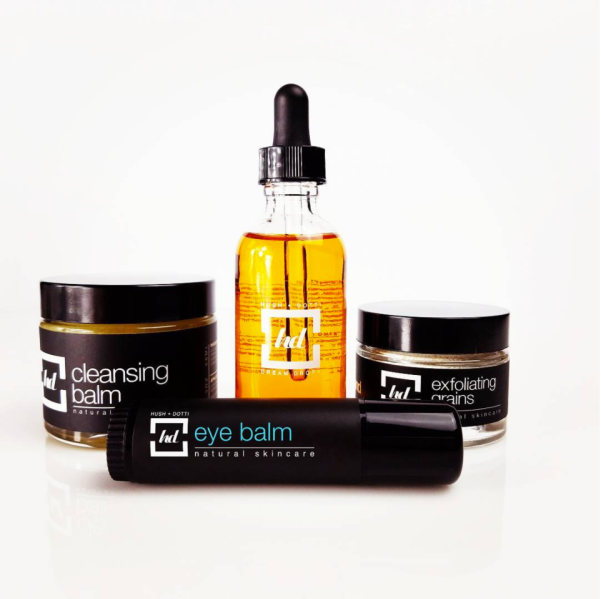 There are professionally oriented makeup brands and there are natural, hippie-centric makeup brands and then there is Hush + Dotti, which aims to bring the two concepts together. Dina Altieri, CEO and co-founder of the brand was a professional makeup artist for decades before lending her name and expertise to this cruelty-free, vegan, nontoxic brand, with, as she says, a "heart and soul and, of course, a sense of humor." The paraben-free, harsh-chemical free, 90 percent organic, and vegan Liquid Foundation is highly pigmented, but not cakey and offers shades from pale to dark. Altieri emphasizes that it can stand up to the camera, too.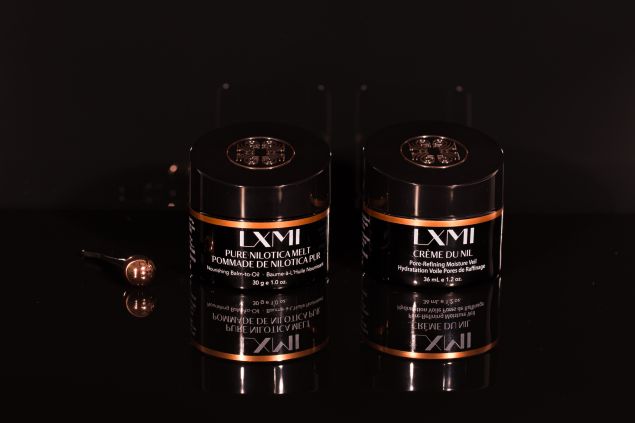 LXMI, a small but mighty brand, is already supported by Sephora. Specifically, it was chosen as part of the beauty megastore's highly selective Sephora Accelerate program. Founder, Leila Janah came across the brand's signature ingredient, Nilotica Reserve™, at a market in rural Uganda, while traveling near the Nile River for her non-profit SamaSource, and found that the ingredient helped hydrate her skin which was dry and stressed from traveling. The purest form? LXMI's Pure Nilotica Melt Nourishing Balm-to-Oil, a texture-transforming treatment containing just this single, organic, cold-pressed ingredient.
Best of all, LXMI is able to pay the local women producers of Nilotica three times the local salaries for their harvests. "In rural Uganda, these wages go so much further than traditional charity, and give women a chance to lift themselves up with dignity," Janah said of the brand's charitable mission.
Indulging in a face mask is one of the best parts of a lazy night in, but most of us would be hard pressed to find time to mask as regularly as our skin might enjoy. Nicolas Travis is seeking to change that with the three-product lineup of his brand, Allies of Skin. Introducing all-day masking—two of Allies of Skin's three products are leave-on masks, one for day, and one for night. They're concentrated treatments that work to reverse the effects of too much stress, alcohol, and too little sleep. Slather these on, get on with your day, and enjoy your hedonistic lifestyle—just kidding…sort of.
Travis likens his formulas to multi-vitamins, explaining that the skin is smart enough to take what it needs: "if your skin is dehydrated, the hydrators and moisture-magnets will be activated. If you're in a polluted city, the antioxidants will kick in to protect from free radical damage."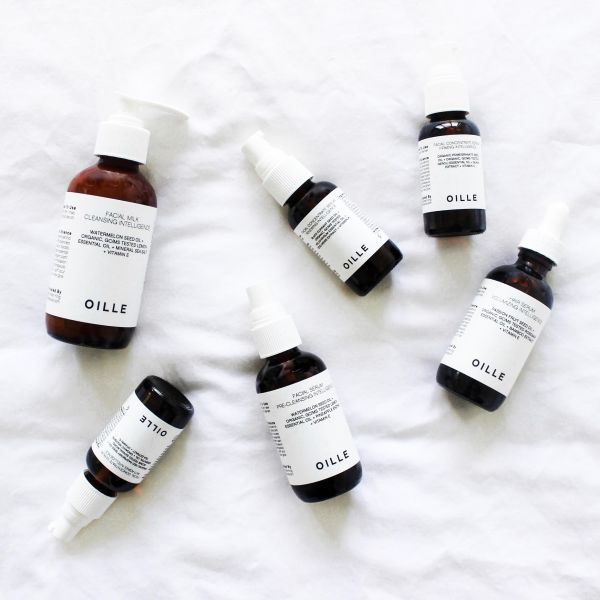 Oille is formulated by a clinical aromatherapist, Kirsten King, and it shows in her 95 percent organic formulations, all of which are fully realized sensorial experiences. The Watermelon + Sea Salt Organic Facial Cleansing Milk is the one to try—it's a perfect cleanser for getting you excited about cleansing. Watermelon seed oil balances sebum, lemon essential oil helps break down oil buildup, Vitamin E is an antioxidant and reduces UV damage, and palmarosa essential oil hydrates. The combination means skin is left feeling clean, but hydrated and not stripped.
A new-to-the-States Australian company, and the second brand on this list to join Sephora's ranks, Dr. Roebuck's is a family company made for dry and sensitive skin. Their must-have product is a moisturizer, PURE, which was developed by Dr. Roebuck more than 38 years ago (his daughters now oversee the company) and delivers hydration with plant-based glycerin, and not too many other ingredients. It's also formulated to complement and amplify any serum you use it with.
Want to know what really happens at an exceptional 21st birthday? A business idea. That's just what Rachel Katzman got when she discovered her post-celebratory champagne-coated-tresses looked really good. So she created Cuvée, a champagne infused line of hair products featuring her proprietary complex which includes champagne extracts, ceramides, and white truffle to revitalize the hair. The Champagne Spray is the hero product—Katzman notes that this lightweight spray "creates the perfect textured wave that feels super soft without any frizz, and adds lots of shine, and it won't leave your hair dried out or crunchy."
There's something admirable about brands that release one product for their grand debut—it suggests a certain commitment to starting right. Phyto Afriq, of South Africa, is a good example of this strategy. Their official launch took place at the Indie Beauty Expo last August, and their introductory item, Aloe Ferox + Ultra Hydrating Gel, has been making waves ever since. This hydrating gel nourishes skin with its namesake ingredient—aloe ferox, or fierce aloe—the larger and tougher plant that is indigenous to the Cape Floral Region of South Africa and is revered for its reparative, soothing, and wound healing properties. This superplant "can live for up to 150 years requiring as little as 100 ml of water a year to survive, making it an almost drought resistant plant," explains founder Julie Scott.