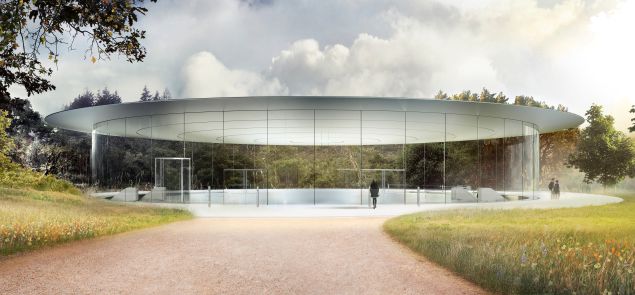 It's finally here. Time to rejoice, well, if you are an Apple employee that is. Apple's new Cupertino, Calif. campus is called Apple Park, and the first employees will shuffle in come April 2017.
The grand opening isn't far off, but it will take all summer for Apple's 12,000 employees to make the transition.
The most exciting aspect of the new campus is the 1000-seat theater opening within. Dubbed Steve Jobs theater in honor of the late founder, the 20-foot-tall glass cylinder of an auditorium sits upon the highest hill of Apple Park. The campus was first presented to the Cupertino City Council back in 2011, a few months before Jobs passed, making it his final idea to be completed. Project lead Foster + Partners have done their best to make the installation faithful to Jobs' vision.
"Steve was exhilarated and inspired by the California landscape, by its light and its expansiveness. It was his favorite setting for thought. Apple Park captures his spirit uncannily well," said Laurene Powell Jobs. "He would have flourished, as the people of Apple surely will, on this luminously designed campus."
We don't know much about the interior of the office, but Apple has said that the roof of the 2.8 million-square-foot main circle building is powered by solar energy, making it 100 percent renewable. Of course, there are plenty of expected amenities, including a fitness center, Apple store, and the wonderful nature of the Santa Clara Valley. Oh, to be an Apple Genius at that location.