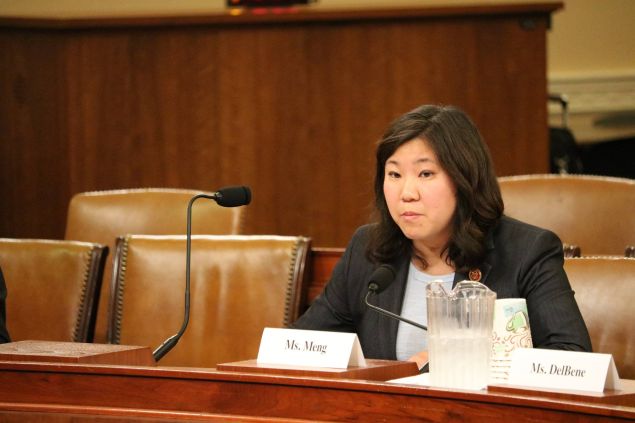 Queens Congresswoman Grace Meng's bid to win re-election as one of the Democratic National Committee's five vice chairs picked up a slew of endorsements from New York's delegation to D.C. today, along with backing from influential state leaders.
Senate Minority Leader Charles Schumer, Sen. Kirsten Gillibrand, Brooklyn Congresswomen Nydia Velázquez and Yvette Clarke, Brooklyn Congressman Hakeem Jeffries, Upper Manhattan Congressman Adriano Espaillat, Westchester Congresswoman Nita Lowey,Long Island Congressman Thomas Suozzi, Long Island Congresswoman Kathleen Rice, Buffalo Congressman Brian Higgins, Rochester Congresswoman Louise Slaughter and Albany Congressman Paul Tonko are among the 22 Democrats who announced that they are backing Meng for the post. The list also includes powerhouse consultant Jennifer Cunningham of the firm SKDKnickerbocker, Nassau County Democratic boss Jay Jacobs, Assembly Speaker Carl Heastie, Upper Manhattan Assemblyman Herman Farrell, well-wired lobbyist Emily Giske and Hazel Dukes, president of the New York State conference of the National Association for the Advancement of Colored People—all of whom are voting members of the national party organization.
"I'm so honored to have this groundswell of support from DNC members and strong Democrats from across the Northeast," Meng said in a press release. "I embrace the diversity of these supporters and look forward to working with all of them to improve our communities, our Democratic Party, and our country."
Meng's platform, "LISTEN. INSPIRE. NURTURE. LEAD." includes holding regular coordinating meetings between the DNC, the Democratic Congressional Campaign Committee, the Democratic Senatorial Campaign Committee, the Democratic Governors Association and the Democratic Legislative Campaign Committee. It also calls for establishing a permanent surrogate program similar to the one in operation during a presidential cycle.
Her proposals also include developing localized strategies to increase voter turnout, engaging organized labor more directly in decision-making and increasing fundraising efforts for state parties.
Meng is an ally of Queens Congressman Joseph Crowley, her borough's Democratic boss. Giske and Cunningham are both close to Gov. Andrew Cuomo, who endorsed Meng earlier this week.
The congresswoman courted media attention last month when she introduced the "No Funds for Unconstitutional Executive Orders Act," which would block Congress from allocating any funds to enforce President Donald Trump's executive order barring travel from seven Muslim-majority countries. The bill has little chance of passing the GOP-dominated House, and lawyers are fighting out the future of the White House fiat in court after a federal judge in Seattle issued a temporary restraining order against it last week.
The election for vice chair will take place this month among 450 DNC voting members, who elect the chair, five vice chairs, a treasurer, a secretary and a national finance chair. Because there isn't a Democratic president in office, the vote will mark the first competitive DNC race in eight years.
 Updated to include Schumer among the list of endorsers.