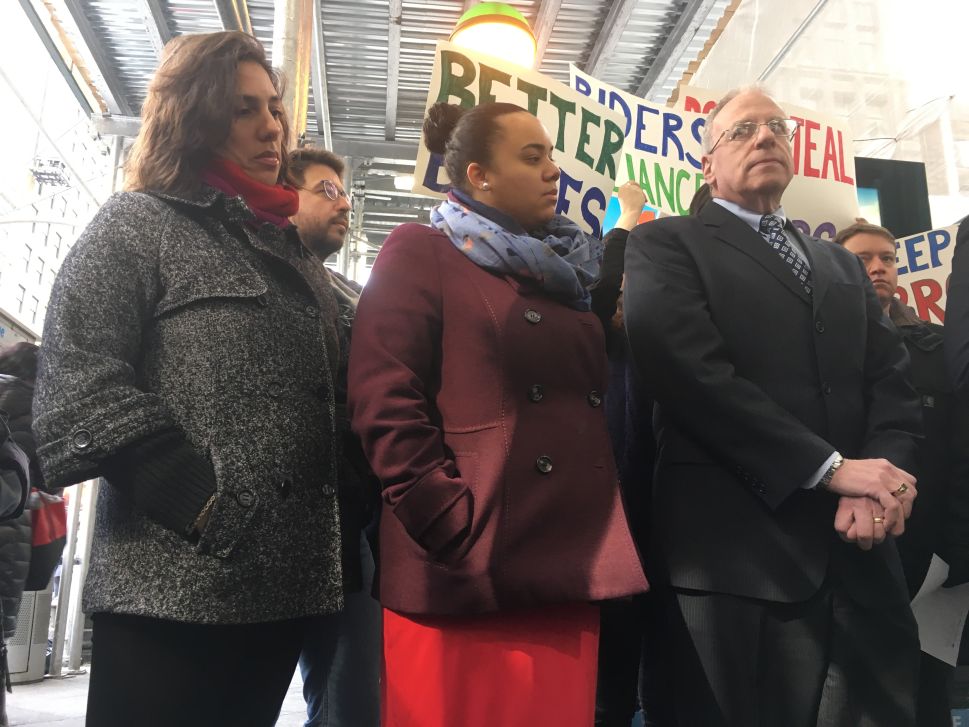 Elected officials and transit advocates are calling on Gov. Andrew Cuomo to restore $65 million in promised funding for the Metropolitan Transportation Agency—accusing him of misleading claims that the MTA is overall getting more money than last year.
Critics claim that, in 2011, Cuomo—who oversees the agency—and lawmakers scaled back the Payroll Mobility Tax that helps fund the MTA and promised to replace the missing funds every year. The state kept this promise for six years, but this year, they said, Cuomo has proposed for the first time to not fully reimburse the agency for the missing funds. Instead, Cuomo has proposed to put in $244 million, a 21 percent reduction that would lead to a $65 million gap, they said.
"That has a real impact on transit riders. But even worse, if we end up cutting that money this year, the temptation is going to be there in the future to cut it even further," explained Assemblyman Jeffrey Dinowitz, chairman of the Assembly Committee on Corporations, Authorities and Commissions. "So the only way to deal with this is not to cut it, it's to keep the promise to transit riders—that's subway riders, that's bus riders, that's railroad riders throughout the metropolitan area."
Dinowitz said that the Democratic majority in the Assembly is going to submit its budget bills "very shortly" and is in the process of discussing it, noting they have "strong support" in their conference. They are headed back to Albany tomorrow.
"The next four weeks, it's all budget, all the time," Dinowitz continued. "I am very optimistic, very confident that our Conference is going to strongly support the restoration of this money and hopefully in the three-way negotiations that take place, which will continue hopefully at the end of March, there will be a restoration."
Dinowitz is among 65 legislators who sent letters to Cuomo requesting the funding be reinstated. The Riders Alliance, a membership organization of subway and bus riders in New Yorker, and other elected officials and advocates also spoke at the press conference outside the Times Square station entrance at the corner of 40th Street and Seventh Avenue.
John Raskin, executive director of the Riders Alliance, said that while the MTA has said that the funding cut will not lead to immediate service cuts or fare increases, over time, that "is exactly what happens."
"These funds that we're talking about—the $65 million—this money was promised in addition to other funding sources, not as a replacement," Raskin said. "Additionally, this is money that the MTA has already projected and planned for and budgeted for."
When a reporter asked Raskin about Cuomo's grip on the agency, he noted that the agency won't take a position "that is different from that of the governor," saying that groups such as the Riders Alliance and elected officials are beneficial because they report to riders and constituents.
Acting MTA Board Chairman Fernando Ferrer said that last year, the agency received more money from the state than the year before and that this year, they're ahead by $30 million—and pointed out that it was from "all sources" in both instances. He said that the $65 million funding is a "big if" because he didn't see it "reflected in anybody's budget documents."
"What I see now is $30 million that we're ahead," Ferrer said last week. "Is this decided by executives and legislatures? Absolutely. Could everybody use a little more money? Absolutely. Do we waste it? I don't think so. I think we spend it on good things."
Jon Weinstein, a spokesman for the governor's office, accused the elected officials and advocates of "grandstanding."
"Enough with the grandstanding and misleading theatrics—state aid to the MTA last year was $4.456 billion, and this year it's $4.486 billion," Weinstein said in an emailed statement. "It's an indisputable fact that the state is providing $30 million more in operating funds to the MTA this year—we're happy to help anyone do the math."
Veronica Vanterpool, executive director of nonprofit policy advocacy group Tri-State Transportation Campaign, said that there are "two indisputable facts"—that a $65 million reduction is "indeed a cut to the MTA" and that the MTA is not an agency that "can afford to lose one dollar in funding or revenue."
"This is an agency that has perennial risk and financial challenges on the horizon," Vanterpool said. "And while it's a transit agency that has been supported by a good deal of state support and revenue sources, it is an agency that is often struggling to keep pace with the ridership demands of this city and the MTA region, including the suburbs."
Assemblywoman Carmen de la Rosa, who represents Upper Manhattan, said that the area is "transit-rich" with train and bus services but that her constituents often speak of wait times increasing and the number of stops getting skipped increasing—a sign, she said, that funding cuts are not the way forward.
"We have the A train, we have the 1 line, we have options of getting around…but what is the point of having all that service at all those train lines if you have to wait 35 minutes or 45 minutes on a platform for a train?" de la Rosa said. "My community, every time, I walk down the street, is telling me that the service is deteriorating."