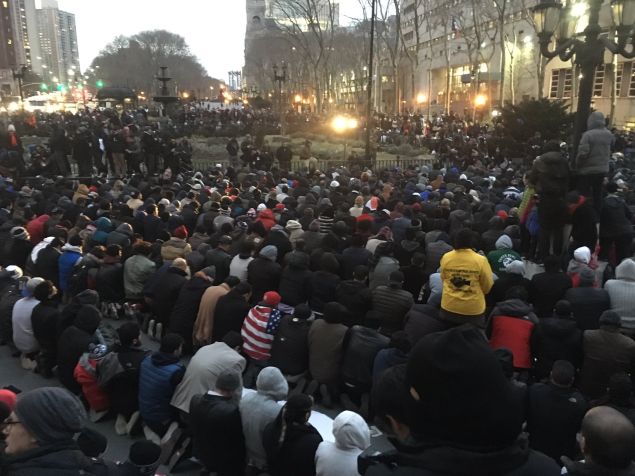 It's been a busy week since President Donald Trump signed an executive order barring travel from seven majority-Muslim countries.
Yesterday, 1,000 Yemeni bodega owners went on strike and and rallied outside Brooklyn Borough Hall, while today the New York Immigration Coalition and Majis Al Shura: The Islamic Leadership Council of Greater New York hosted an Interfaith Action & Jummah Prayer outside John F. Kennedy International Airport's Terminal 4. New Yorkers protested outside of Uber's headquarters—and ended up playing a role in Uber CEO Travis Kalanick quitting Trump's advisory council.
Elected officials and advocates also celebrated Muslim women who wear a hijab, university students rallied to support the Muslim community, the National Action Network held a youth huddle to discuss next steps in the Trump era after marching and rallying and New Yorkers protested outside of Senate Minority Leader Charles Schumer's home in Brooklyn for voting in favor of Trump's nominees.
SATURDAY:
He Will Not Divide Us
A group called He Will Not Divide Us is protesting outside of John F. Kennedy International Airport at 11 am to stand against bigotry, racism, sexism, Islamophobia, the further demolition of equality and the violation of human rights.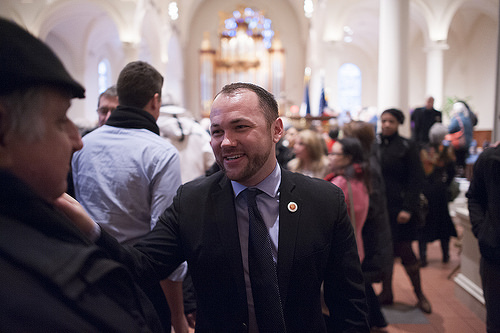 LGBT Solidarity Rally
Manhattan Councilman Corey Johnson is holding an "LGBT Solidarity Rally" at the Stonewall National Monument at 2 pm to stand in solidarity with every immigrant, asylum seeker, refugee and any other individual affected by Trump's "illegal, immoral, unconstitutional and un-American executive orders." They also plan to speak out against Trump's selection of anti-LGBT nominees.
The rally has a whopping 62 sponsors, including the New York Immigration Coalition, the Muslim Democratic Club of New York, the Stonewall Democratic Club, Gays Against Guns, the Jim Owles Liberal Democratic Club, GLAAD, Make the Road New York, LGBT Faith Leaders of African Descent and Gay and Lesbian Independent Democrats.
Elected officials named as sponsors are Gov. Andrew Cuomo, Congressman Jerrold Nadler, Public Advocate Letitia James, Comptroller Scott Stringer, Manhattan Borough President Gale Brewer, State Senator Brad Holyman, Manhattan Assemblywoman Deborah Glick, Manhattan Assemblyman Daniel O'Donnell and Assemblyman Matthew Titone.
Brooklyn Councilman Carlos Menchaca, Manhattan Councilman Daniel Dromm, Bronx Councilman Ritchie Torres, Bronx Councilman James Vacca, Manhattan Councilman James Van Bramer and Manhattan Councilwoman Rosie Mendez are also sponsors.
Vigil for Immigrant and Human Rights
Our Savior's Atonement Lutheran Church is holding an "Interfaith Vigil for Immigrant and Refugee Rights" at the church at 178 Bennett Avenue at 6:30 pm. People of all faiths will participate in the vigil, share music and hear stories from immigrants and refugees with the goal of emphasizing that welcoming refugees and immigrants "not only makes our country great, but is also a religious priority."
SUNDAY
Community Sing-A-Long
The "This is What Democracy Sounds Like: A Community Sing-A-Long" will take place at Washington Square Arch at 3 pm and is described as a sing-a-long for freedom and an effort for people to raise their voices together and make some music in the streets. They also plan to be #buskingforjustice, collecting funds that will then be donated to the American Civil Liberties Union.
MONDAY 
People's Monday
NYC Shut It Down—a group of multiethnic activists who came together in the wake of the deaths of Eric Garner and Michael Brown at the hands of the police to call out police brutality and systemic racism—is hosting a #PeoplesMonday rally at Barclays Center at 620 Atlantic Avenue in Brooklyn at 7 pm for Nawar al-Awlaki, an eight-year-old American girl who was killed in a U.S. commando raid in Yemen that Trump approved.
TUESDAY
Student Walkout Against Muslim Ban
High school and college students from across the five boroughs will walk out of classes at 12 pm in united opposition to Trump's Muslim travel ban. They plan to march in solidarity with the Muslim community, both in the United States and abroad, who they say are "criminalized and dehumanized by this hostile administration."
The demonstration, organized by student leader Hebh Jamal, will consist of students walking out of their schools and meeting at Foley Square. They will then hold a rally as students from around the city arrive and subsequently march around the New York United States Citizenship and Immigration Services local office and conclude the protest with a unified denunciation of Immigrations Customs Enforcement and "the exclusionary policies that it represents."
Resist Trump Tuesdays
Resist Here, a group that organizes #ResistTrumpTuesdays actions at every congressional lawmaker's local office to demand they publicly denounced Trump's Cabinet appointees, will be hosting the next #ResistTrumpTuesdays meeting at Columbus Circle at 6 pm. They will then march to Trump Tower to protest a number of his policies impacting the LGBTQ community, Muslims and undocumented immigrants.
WEDNESDAY
State of Immigration, State of Emergency
Brooklyn Councilman Jumaane Williams, State Senator Kevin Parker, Assemblywoman Rodneyse Bichotte and District Leader Josue Pierre are hosting  "State of Immigration: State of Emergency," an immigration forum, at the Flatbush YMCA at 6 pm. Attendees will learn about immigration policy has changed and will change under Trump and how best to prepare.
Topics under discussion include citizenship family-based petitions, immigration fraud and family reunification, Deferred Action for Childhood Arrivals/Deferred Action for Parents of Americans asylum filing, fee changes, Temporary Protected Status and deportation. There will be a panel discussion as well as representatives from city agencies and local organizations on hand to answer questions about immigrant rights and answers to questions concerning changes to the United States' immigration policies.
Co-sponsors of the event are the YMCA, the New York Immigration Coalition, Haitian American Lawyers Association of New York, the Haitian American Caucus and the Council of People's Organization.