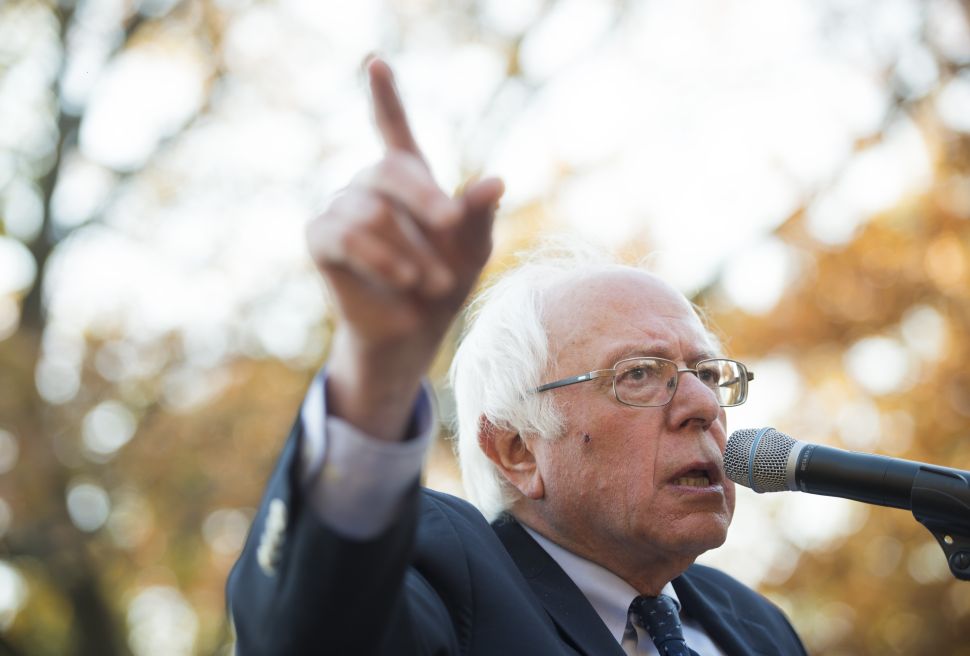 Hillary Clinton's presidential election loss to Donald Trump opened the door for Democrats to finally enact reforms that would steer the party in a more progressive direction. However, the Democratic establishment has resisted assuming any responsibility for the party's disastrous losses over the past eight years and is instead doubling down on the same failed strategies.
Wall Street puppet Sen. Charles Schumer was elected Senate Minority Leader and multi-millionaire Rep. Nancy Pelosi was re-elected as House Minority Leader. Clinton partisan and former Secretary of Labor Tom Perez is favored to become the next DNC chair. DCCC chair Ben Ray Lujan was re-elected, and he ran unopposed. Pro-Clinton Sen. Chris Van Hollen was elected to chair the DSCC. A "Trump war room" was established within the DNC, led by Clinton propagandist David Brock and former Clinton campaign chair John Podesta. The DNC is still run by Interim Chair Donna Brazile, who was fired by CNN for helping the Clinton campaign cheat during the Democratic primaries. The Democratic Party has yet to admit any wrongdoing.
So far, the only concession granted by the Democratic Party to progressives was appointing Sen. Bernie Sanders to head of the party's outreach. However, the appointment benefits the Democratic Party more than progressives because the party is exploiting Sanders' popularity to try to win over voters. Meanwhile, establishment partisans continue to treat Sanders and his supporters as "not real Democrats."
This Democratic disdain toward progressives has inspired them to draft Sanders to lead a new, progressive party. "The Draft Bernie for a People's Party campaign aims to channel the enthusiasm generated by the Sanders campaign and opposition to the Trump administration into building a new political party. This party will offer new progressive electoral choices and strive to enact the people-first platform that so many supported during the Sanders campaign," states the Draft Bernie website, which is founded by Nick Brana, the former National Political Outreach Coordinator for Sanders' 2016 presidential campaign. Brana was one of several Sanders staffers that resigned from Our Revolution after Sanders' campaign manager Jeff Weaver was placed in charge of the organization and opened it up to anonymous donations from billionaires.
Voters are disaffiliating themselves from the Democratic Party: in November 2016, 31 percent of voters identified as Democrats, and in January 2017, 25 percent of voters identified as Democrats. Draft Bernie provides a progressive platform for the growing number of independent voters that are leaving the Democratic Party.
"If Sanders starts a new party, we would begin with a least half of the Democratic base. Then we would add independents, anti-establishment voters, the white working class, young voters, third party supporters, people who've given up on the political process, and many conservatives who just want a decent life," wrote Bana in an article for Huffington Post. "We spend the next four years laying the foundation for ultimate progressive victory instead of just opposing Trump. The people's party galvanizes the strongest sustained resistance. It gives us a revolutionary home where we can build the political power necessary to win in two and four years. The Sanders campaign taught us that it isn't enough to frighten people into sustained action, you must also give them a bold vision to believe in and strive for."
The Democratic establishment's resentment toward progressives is igniting the desire from many on the left to establish their own political party. Many of these voters have repeatedly voted for Democrats but are disenfranchised because they never received the results that they were promised. If the Democratic Party continues favoring wealthy and corporate donors over working, middle class, and low income Americans, the party risks spurring the emergence of a third party. Voters are turning on theDemocratic Party, and it's only a matter of time before a new movement or party fills in the political void that Democrats are creating.