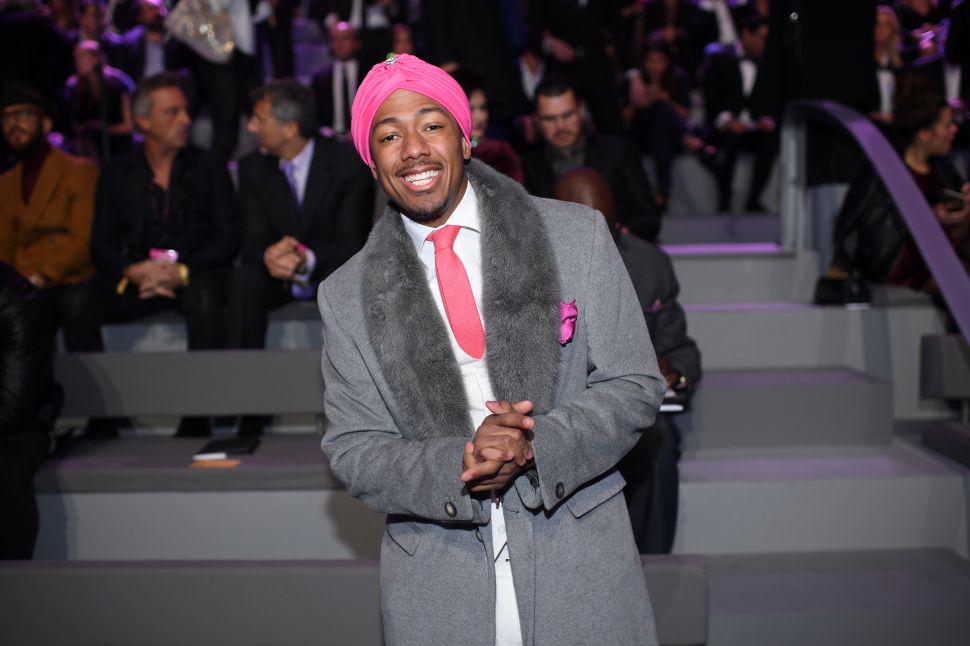 I have never been the biggest fan of Nick Cannon, and it has nothing to do with his leading role in the Rocky of marching band movies—Drumline—it is simply I have never quite understood what he brings to the table. One of the biggest ironies on network TV is that Cannon has been the main presenter for eight seasons of America's Got Talent since he is bereft of any discernible skill.
It seems his judgment isn't much better. In what can only be described as a hissy fit at being reminded of his contractual obligations by NBC, he has quit the show. Spinning the tale to his advantage, Cannon is championing himself as a new guardian of free speech and a martyr of the overbearing corporate machine who has paid him a small fortune for simply grinning like a Cheshire Cat. All of this makes very little sense, for Cannon is hardly to AGT what Seacrest was to American Idol. So, what prompted a person in such a weak bargaining position to act in such a rash manner and bite the hand that is feeding him?
All of this arose out of a series of jokes that Cannon told on a standup comedy special of Showtime, which centered upon the basic theme that NBC does not like black people. I know that there are eyebrows now being raised, first and foremost that Cannon was paid to perform comedy—more on that later—but what on earth prompted Cannon to take public potshots at his long term employer?
Maybe it is that Cannon possesses the subtle turn of phrase of Louis C.K. so the world could see the intelligence wrapped up in his prose? Not the case. Alternatively, is it his Chris Rock-like charisma, which permits a blistering social commentary without breeding animosity? Also absent. There is always the possibility that Cannon is one of those rare specimens, like Mel Brooks, who is just funny. Unlikely, but being fair to the man, he may have hidden depths so let's analyze the offending "gags."
Exhibit A: "I grew up like a real n****r. All that stuff. But I honestly believe, once I started doing America's Got Talent, they took my real n****r card. They did! Because then like these type of people started showing up to my shows."
Exhibit B: "I can't do the real n****r stuff no more, because then they'll put me on TMZ."
Exhibit C: "That's what NBC is gonna stand for tonight: 'N****** better come on, cuz n****** be cussin', so n****** be careful."
If one were to think this was a one-off, a misjudged, unrehearsed routine that went awry, Cannon, dispelling any specter of doubt, told Howard Stern's show "If they fire me from AGT for the things I've said … I can sue them and create a whole new controversy—'NBC hates black people!'"
There is one continuing theme throughout, which demonstrates Cannon's wish to share a deeply held resentment at how he is made to present himself. Similarly, there is a common thread in the exhibits: that Cannon, or his writers, are just not funny—so NBC has a plausible defense to the accusation of not being able to take a joke.
Instead of firing Cannon, NBC simply reminded him of the fairly standard clause in most entertainment contracts that talent should not do anything which might disparage the brand of their employer. To put it into context, one would not expect that Michael Jordan would joke about shoddy workmanship of Nike sneakers or that an actress would speak badly of the studio that produced her latest film. This is not just basic common sense that should obviate the need of a contractual clause, but also elementary law.
Now comes every lawyer's nightmare, when dealing with clients. Rather than taking the hint, saying "thank you for not firing me" and shutting up, Cannon took umbrage. He threw his toys out of the pram at being told to comport himself and adhere to basic standards, like any other employee of the company and declared that he was quitting the show. Moreover, Cannon seems to be laying blame, not upon his own stupidity, but at the feet of others in his Facebook post. "Maybe it was my mistake for signing the contract in the first place, in which I will take full responsibility and have already taken action to restructure my own team of advisors." This is double speak for getting rid of his legal team.
While Cannon wishes to turn this debacle into questions of freedom of speech and freedom of expression, it is neither. The First Amendment should not be used as a smokescreen for disparaging and denigrating language in breach of contract, especially when a person has profited from such words by accepting fees for the comedy special. For Cannon to attempt invoke the language of Dr. Martin Luther King as justification for his ill-thought actions and manipulate a self-destructive path, born out of celebrity, over privilege and over payment into a wider race issue, detracts from the genuine problems that currently exist.
The Exhibits above, while not exemplars of comedic genius, do evidence that there is a tension within Cannon between his identity and his previous role. With such baggage and behavior, even TMZ would doubtless demand a strong non-disparagement clause before going down the precarious path of hiring Cannon.
Robert Garson is Managing Partner of Garson, Ségal, Steinmetz, Fladgate LLP, an intellectual property and international litigation firm in New York, and a leading representative of corporate whistleblowers. He is also a barrister qualified in England and concentrates on IP and First Amendment matters.