Nina Agdal is reportedly renting a penthouse studio at Sky.
StreetEasy
Full-length windows.
StreetEasy
The porcelain-tiled bath.
StreetEasy
The amenities are uber luxe.
StreetEasy
The private park.
StreetEasy
Custom Italian kitchens.
StreetEasy
Leonardo DiCaprio has been very busy with real estate the past few months. The Academy Award winning actor reportedly bought a $23 million Malibu manse, listed another Los Angele home and also sold an apartment in an eco-friendly, wellness-focused building at a loss.
But what about his girlfriend, Nina Agdal? Well, the blonde Sports Illustrated and Victoria's Secret model (this is Leo we're talking about) is reportedly renting a penthouse studio in Sky, a luxury midtown rental building, according to the New York Post. The apartment is part of the Vue Residence Collection at 605 West 42nd Street.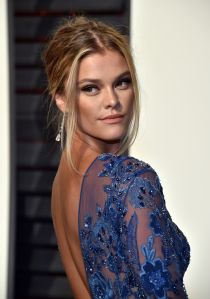 The Rockwell Group-designed rental looks nice—we can't say for certain which specific apartment Agdal is residing in, but a comparable unit is currently on the market for $3,621 per month.
Apartments akin to the one Agdal selected feature Italian-crafted kitchens with quartz countertops and European appliances, as well as porcelain-tiled bathrooms with rain shower heads. There are custom closet interiors as well as full height windows and oak wood floors throughout.
The apartment is perfectly nice, but it's quite a bit smaller than what we would expect a Sports Illustrated model to select—the closet space isn't anything to fawn over, unlike the Morton Square pad Leo's ex Erin Heatherton is offering up. No matter, Agdal apparently isn't planning on staying there much longer; she's reportedly ready to leave it behind and upgrade to larger digs. Agdal did, however, say she recently bought an apartment in the city, so maybe she rented this apartment while renovations were being completed?
Perhaps Agdal, who works out every single day (and sometimes up to three times a day), was taken with the insanely luxe amenities? The very conveniently located 70,000-square-foot Membership Club includes Life Time Athletic at Sky, an indoor lap pool and two outdoor pools, a private park, multi-level athletic club and basketball court. There's also a billiards lounge and café—Agdal does claim she really likes bread and butter. Same.
Anyway, we wonder where Agdal is heading next…for her boyfriend's sake, we hope her new apartment has easy access to a Citi Bike station.