Have you ever known one of those couples that can't so much as make pasta together without fighting? I'm just asking. I don't know anything about it. Why are you giving me that look?
Nintendo, the one major game company that emphasizes fun, silly games over testosterone-drenched violence fantasies, has a new portable console coming out called The Switch, debuting March 3. One of its introductory games is called Snipperclips. When people play it with two or more players, it becomes entirely about effective communication, based on a demo the company has posted on YouTube. It's like couples' therapy without some guy on a leather chair.
In Snipperclips, players' characters look like popsicles with legs. Each level, the players solve a puzzle together. The weird fun of the game lies in this: cutting up your partner's body to turn into a new shape is key to every puzzle. To change the shape of one character, the other character has to make their body overlap with the one to be snipped. The game makes it cuter by giving the characters constantly changing facial expressions that react to these contortions. They seem to think it's pretty funny getting sliced to bits.
Does your therapist have that kind of patience?
'Your experience really depends on the person that you're playing with'
The hard part—in the game as in life—isn't agreeing to cooperate but getting what you want your partner to do across to them, even as he or she pursues their own ideas. In Snipperclips, each player has to get their bodies into the right relative position to make it work. Does this sound relevant to couples at all? (I'll stop.)
In this video, Nintendo Treehouse employees Kindra Nikole and Aaryck Smiff try out the game together in a live demo that's still up on YouTube. Nikole had played it before, but Smiff hadn't.
In the first game, after the tutorial, just as they get their two characters into the right shape, there is just a moment when Smiff thinks Nikole has cut him too much (I thought the same thing for a minute, too). Then he realizes that she was just taking a slightly different path to the same goal, and it would work. Then he was cool.
It's those tiny little misunderstandings in the video that might sound painfully familiar to anyone who's ever had a hard time cooperating in real time with a significant other.
(That's what someone in my office said—I wouldn't know. What?)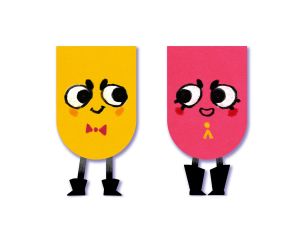 Snipperclips is the kind of game that will engender loads of those little misunderstandings—the kind that don't matter at all unless of course they matter more than anything else in the world.
"Your experience really depends on the person that you're playing with," Nikole says. So true, in so many ways.
For Nikole and Smiff, communication breaks down in a challenge where they need to to gather up a basketball and get it into a hoop. First, Smiff can't understand what Nikole wants him to do when she asks him to cut her character into a scoop shape.
"Get on top of me," she says. He does, but he can't figure it out what she wants him to do from there. Who knew a game console would cause prom night flashbacks?
So she tells him to switch positions. But then once he's in the scoop shape, she gets impatient with his two-dimensional basketball handling skills. Now that he's seen her make a scoop, though, he consents to do it for her, but she proves little better at Snipperclips hoops than he'd been.
At that point, Smiff laughs nervously and says, "I feel like there's a better way to do this." It's the closest he gets to trying to take the lead in their collaboration. Smiff seems like the more chill partner in this fictional relationship that I'm projecting onto these two co-workers.
The basketball game gets painful enough that they eventually give up and move on to the next puzzle just to get it over with, but the next two puzzles go pretty well, fortunately. It's nice. You can hear them coming together as a team as they build on their shared successes. Progress! Is happiness even possible though?
In the penultimate test, Smiff needs to cut Nikole's character into a hook shape that she can use to grab the handles hanging from balloons. She can only reach them, by the way, by jumping off the top of Smiff's character. As she successfully snags the last one, he says, "You have to admit that's a pretty good hook."
He just wants that little affirmation, that's all. Nikole doesn't grant him even that, because she's waiting for him to do his part and pop the final balloon so they can win the game. The game affirms them both, plastering "Great Work!" across the screen, but he wanted to hear it from the person he was working with.
We've all been there, man.
I mean, a lot of people have. I've heard. This video doesn't remind me of anything in particular.
I'm fine.