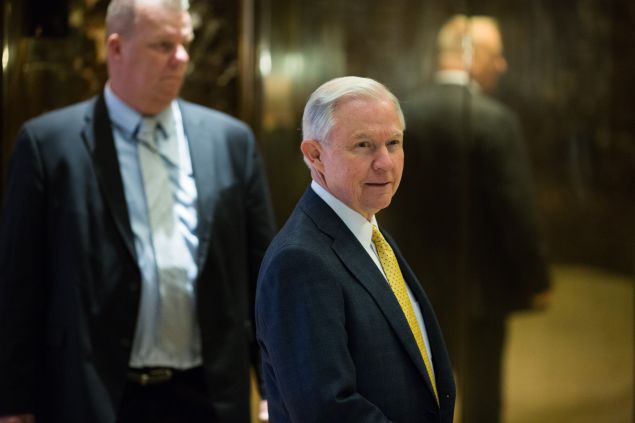 Following news that the administration of President Donald Trump has reversed course on protections for transgender public school students, New Jersey Democrats are voicing their opposition to the change. The decision will make it so that federal agencies including the Department of Justice are not actively encouraged to enforce civil rights protections for transgender students who are not allowed access to the bathroom corresponding to the gender with which they identify.
Attorney General Jeff Sessions said in a statement that the guidelines, put in place under Barack Obama, "did not contain sufficient legal analysis or explain how the interpretation was consistent with the language of Title IX," the federal law that mandates equal protection regardless of gender.
Assemblywoman Valerie Vainieri-Huttle, who has introduced a legislative package that would establish a legislative task force on transgender rights in the state and prohibit health insurers from denying coverage to transgender patients, called the scaling back of enforcement a danger for students who face discrimination.
"Transgender students already face disproportionate levels of bullying and discrimination in public schools.  I am gravely disappointed that they no longer have an ally in the White House," Vainieri-Huttle said. "The antiquated policies put forth by President Trump and Attorney General Sessions are continuing to cause chaos and trample on our civil rights."
Cory Booker, U.S. Senator from New Jersey, said he believes the decision will affect students' safety. Assemblyman John Wisniewski, a progressive holdout in the Democrats' nominating contest for this year's gubernatorial election, echoed that sentiment.
By withdrawing critical anti-discrimination guidance that protects transgender students, the very federal agencies charged with protecting the rights of all children have instead threatened the rights and liberties of students and made school environments less safe," Booker said. "President Trump has just undermined these safeguards, and our children will suffer for it."
"The Trump Administration seems only interested in who they can bully next," Wisniewski said. "Today, it is our transgender youth, seemingly because they do not fit into their neatly checked boxes and narrow worldview. The only people who appear safe from President Trump's bullying are Wall Street executives, oil kingpins and his wealthy donors."
The judiciary is likely to have the final say over Sessions' contention about Title IX, with either the Supreme Court or lower courts deciding whether the law covers transgender students.