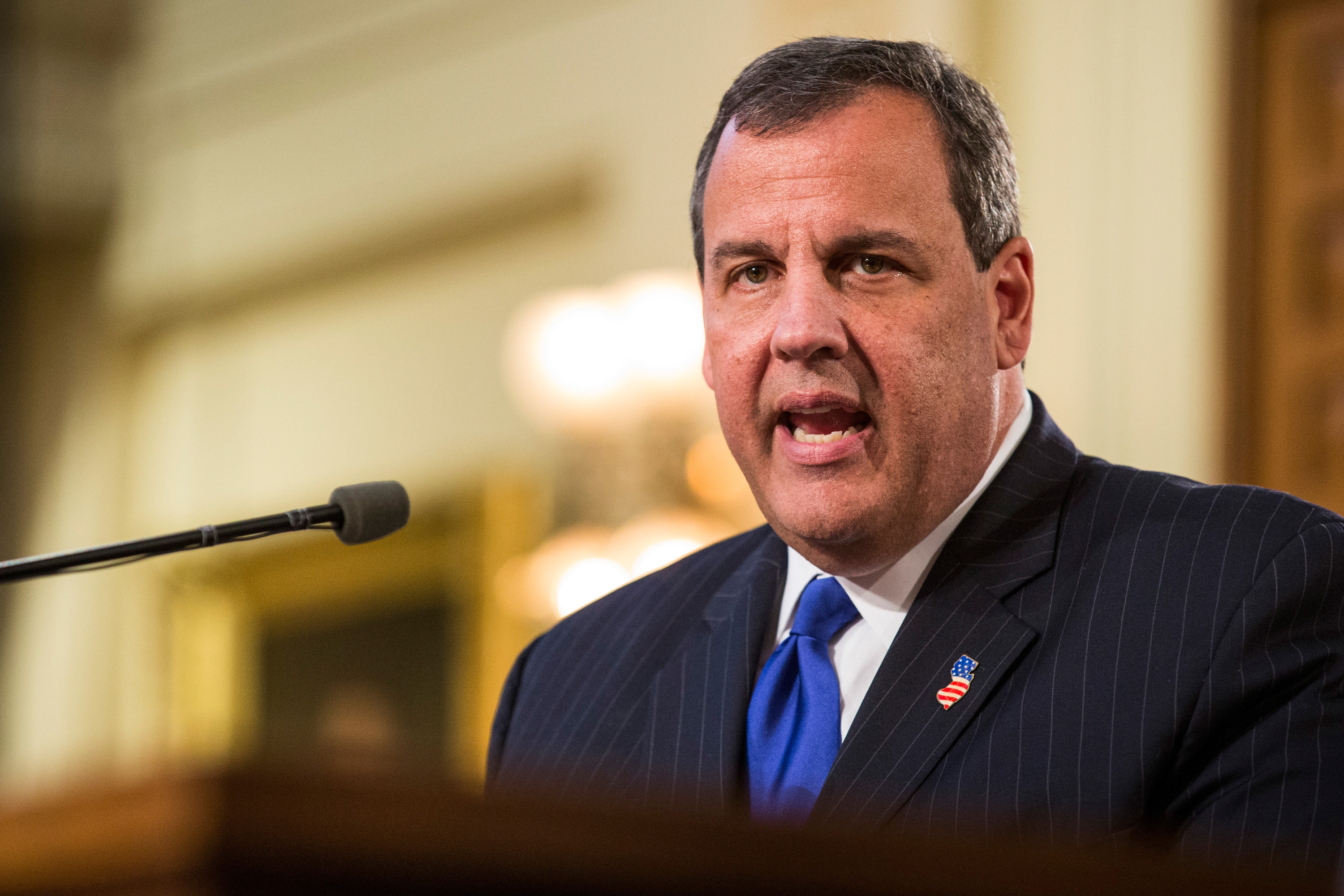 It's Wednesday, the day after two big political speeches, with Gov. Chris Christie delivering his final budget address and President Donald Trump giving his first speech before a joint session of Congress.
In New Jersey, reaction to Christie's $35.5 billion plan was mixed – from politicians on both sides of the aisle and the state's media.
In other news, U.S. Rep. Rodney Frelinghuysen, under attack for refusing to meet with constituents in a face-to-face town hall, defended his practice of avoiding confrontation with angry voters and dealing with questions through the phone lines. In Atlantic City, workers continue to fight the state takeover, in Cape May, there's law enforcement support for the Trump immigration policy and in Vineland, elected officials think they are doing such a good job they deserve big raises.
Quote of the Day: "Everything is on the table; no idea out of bounds for discussion," – Gov. Chris Christie, calling for a revamping of state school education funding.
Christie unveils $35.5 billion state budget plan, his last
Gov. Chris Christie laid out his final budget plan for New Jersey on Tuesday, offering a series of new ideas and arguing in a speech before the Legislature that the state is in "much better" shape despite a series of revenue shortages under his watch and a record number of credit-rating downgrades.
Salvador Rizzo, The Record Read more
Christie: $400M to fix New Jersey's roads and bridges
Governor Chris Christie announced a $400 million infusion of funds Tuesday to fix bad bridges, repair roads and improve NJ Transit infrastructure.
Larry Higgs, NJ.com Read more
Christie challenges N.J. Democrats to revamp school funding in final budget address
Gov. Christie delivered his last budget address Tuesday, unveiling a $35.5 billion spending plan that was perhaps most noteworthy for what it did not include: a proposal he had pushed to dramatically redistribute school funding.
Inquirer Read more
Full text of Christie's final budget address
This is the ninth time I've come before a joint session to address our state's budget. Each time I've had specific goals in mind; guiding principles to follow. Government should get smaller. Taxes shall not be increased. Our core commitments must be met. Each time, with varying degrees of struggle, harmony and acrimony, we have reached these goals – I have stuck to those principles. Let me assure you that today will be no different.
Read more
By the numbers: Christie's 2018 budget proposal
Gov. Chris Christie on Tuesday presented his budget for the 2018 fiscal year, which begins July 1. Here's a look at the broad strokes of his propos
al which now heads to the Legislature for consideration.
Nicholas Pugliese, The Record Read more
Gov. Kissy Face? Christie plays nice, spins record
If you lived in a bubble for the last seven years, you could listen to Gov. Chris Christie's speech Tuesday and think that New Jersey is paradise on earth.
Tom Moran, NJ.com Read more
Christie in final N.J. budget address: Let's use lottery money to help save pensions
In his final state budget address, Gov. Chris Christie on Tuesday proposed using money generated from New Jersey lottery ticket sales to shore up the state's ailing government worker pension fund and offered to jettison his own controversial education funding proposal in favor of collaborating with state legislative leaders.
Brent Johnson and Samantha Marcus, NJ.com Read more
Pension fury: N.J. cops, firefighters just rose up against Christie
Furious after watching pension investment fees triple over the last three years even as their funds lost value, police and firefighter union leaders are seeking to wrest control of their underfunded pensions from the state.
Claude Brodesser-Akner, NJ.com Read more
Christie presses Horizon to fund drug rehab for poor
Governor Christie called on the state's largest insurer to fund drug treatment for the poor and uninsured through the company's 'abundant surplus' in his budget address Tuesday – a notion quickly dismissed by the insurer and several groups.
Mary Jo Layton, The Record Read more
Risky business: 10 percent of NJ parents uninsured in latest count
Ten percent of New Jersey parents — or 175,000 — had zero health insurance in 2015, according to the latest state-by-state KIDS COUNT data from the Annie E. Casey Foundation.
Dino Flammia, NJ101.5 Read more
Roadwork shutdown cost about $41 million — but who should pay?
Despite state assurances that it will work with local governments to cover extra costs incurred when Gov. Chris Christie shut down construction last year during a funding impasse, lawmakers are plowing ahead with plans to mandate such funding.
Michael Symons, NJ101.5 Read more
Lawyer: A.C. takeover law is New Jersey's version of Trump's immigration order
Is the state's vast power granted under the Atlantic City takeover law a matter for a judge to weigh in on?
Amy S. Rosenberg, Inquirer Read more
Support grows on Red Bank council for immigrant protections
When a Red Bank panel announced in January that it would be holding discussions on potentially naming the town a "sanctuary city," Mayor Pasquale Menna wanted nothing to do with it.
Payton Guion, Asbury Park Press Read more
Frelinghuysen talks Trump, immigration in 'tele-town hall'
Some of the residents hoping to ask their congressman a question had their opportunity Tuesday as U.S. Rep. Rodney Frelinghuysen conducted a "telephone town hall" meeting.
Michael Izzo, Daily Record Read more
Passaic endorsement means Guadagno has bare majority of GOP chair support
Lt. Gov. Kim Guadagno's gubernatorial campaign announced the support of Passaic County Republican chairman John Traier on Monday.
Matt Friedman, Politico Read more
Cape Sheriff's Office looking to partner with feds on deportation
Federal immigration authorities are reviewing a request by the Cape May County Sheriff's Office to enter a controversial program that delegates enforcing immigration law to local departments.
Jack Tomczuk, Press of Atlantic City Read more
A.C. firefighters, state battle in court over layoffs and contract changes
A Superior Court judge said he will decide soon whether to block the state's overseers from cutting the city's Fire Department to save the city money.
Christian Hetrick, Press of Atlantic City Read more
Farmland Assessment Reveals Fake Farmers Still Getting Breaks
Faux farmers and hobby farms are still helping celebrities, politicians, and companies qualify for lowball property-tax assessments.
Colleen O'Dea, NJSpotlight Read more
Battle Against Logging in Highland Picks Up Powerful Ally
The Legislature may throw a roadblock into plans to begin logging in the New Jersey Highlands.
Tom Johnson, NJSpotlight Read more
Vineland council approves huge raises for itself, mayor
City Council voted Tuesday to double their municipal government salary, and that of the mayor, by next year.
Thomas Barlas, Press of Atlantic City Read more
Damon Tyner nominated as new Atlantic County prosecutor
Gov. Chris Christie has nominated Superior Court Judge Damon Tyner to serve as the next Atlantic County prosecutor.
John DeRosier, Press of Atlantic City Read more
Security pros: Shrewd, not rude for schools, churches to bolt doors
Two memories surface in Morris County Prosecutor Fredric M. Knapp's mind when he thinks of school safety: one is how he wouldn't be questioned or confronted when he walked through the school halls in his business suit to visit his wife, a teacher.
Peggy Wright, Daily Record Read more
Hospital works to improve as patients claim 'horrific' conditions
Leaders at East Orange General Hospital say they are in the midst of major renovations that will change the face of the facility. It's been nearly a year since the for-profit Prospect Medical Holdings of Los Angeles took over the once-bankrupt community hospital, with the promise of investing at least $52 million into updating and renovating the deteriorating facility.
Jessica Mazzola, NJ.com Read more
N.J. sets record for warmest February ever recorded
The calendar says March is about to start, but it feels like it's just ending.
James M. O'Neill, The Record Read more
County unsure of path at Hackensack Water Works site
Restoration work is in progress at the historic Hackensack Water Works for the first time in years. But unlike the water that used to flow through it, the site's long-term future is still murky.
Matthew Birchenough, The Record Read more
Rutherford asks county to rescind revaluation order
Pointing to positive housing market trends, Rutherford is requesting permission from Bergen County to hold off on conducting a borough-wide revaluation that the county wants performed in 2018.
Meghan Grant, The Record Read more
Elmwood Park renames road to honor late mayor Richard Mola
Elmwood Park celebrates the late Richard Mola, the community's longtime mayor, by establishing Mola Boulevard in his honor on Sunday, which also was his birthday. His daughter, Melissa Collesano, called it a "momentous event for the whole family." Mola, Elmwood Park's mayor for 45 years until his death last October, was the state's longest-serving mayor. Watch a video of Sunday's event on NorthJersey.com.
Alexandra Hoey, The Record Read more
Monmouth University president retiring
Monmouth University President Paul Brown is retiring, the university announced on Tuesday.
Mike Davis, The Record Read more
Case against suspended Brick schools chief tossed
It started in late 2014 when Brick Mayor John Ducey suspected favoritism because the grandson of Brick's schools superintendent was getting rides on a public school bus to private daycare, according to a court document.
Kathleen Hopkins, Asbury Park Press Read more
I was press secretary for 2 N.J. governors: Trump will fail in crusade against leaks
The mission undertaken by presidential press secretary Sean Spicer to identify and punish anyone who leaks information to reporters — unless authorized — will end the way all previous similar efforts have: Failure.
Carl Golden, NJ.com Read more