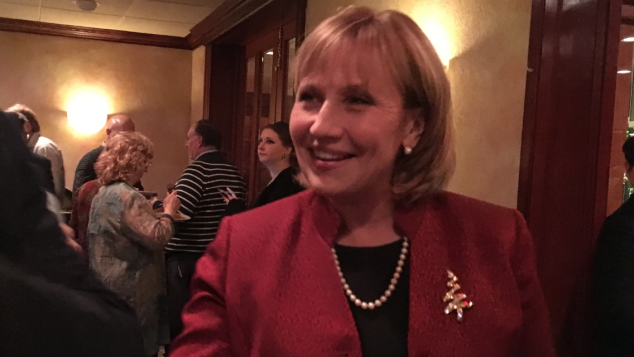 A Republican candidate for governor and an influential national Republican group with deep ties to New Jersey governor Chris Christie are taking aim at the frontrunner in the state's Democratic gubernatorial primary. The Republican Governors Association is criticizing Murphy for his statements comparing President Donald Trump to Adolf Hitler in a recent speech.
The group, for whom Christie served as vice chairman from 2013 to 2014, is calling for Murphy to apologize. Chairman Scott Walker criticized Murphy for the comments, as did gubernatorial hopeful Kim Guadagno, the lieutenant governor under Christie.
Murphy, former Goldman Sachs executive who served as ambassador to Germany, drew parallels between Trump's top-down leadership style and the rise of the democratically elected Hitler.
"I have lived in Germany twice – once as a private citizen and once as the United States ambassador, and I'm a modest student of Germany history," Murphy said in a speech earlier this month. "And I know what was being said about somebody else in the 1920s. And you could unfortunately drop in names from today into those observations from the 1920's, and the moves that have been made early on only aide and abet that argument."
"Phil Murphy's comparison of our president to an authoritarian tyrant responsible for the deaths of millions is shameful," Walker said. "Murphy's absurd statement raises serious questions about his judgment and ability to lead, and proves that he is too extreme to represent the people of New Jersey."
"His stunning lack of judgement and sensitivity is insulting to those whose families suffered, died or fought during World War II," Guadagno said. "It diminishes the slaughter of six million Jews and he should apologize to the people of New Jersey immediately."
The Murphy campaign was quick to fire back, with Murphy campaign spokesman Derek Roseman pointing to what he characterized as the outsize influence of Breitbart News founder Steve Bannon in Trump's inner circle. Bannon has described himself as a right-leaning "stalinist" who wants to dismantle the prevailing political order in Washington.
"It's not surprising that Kim Guadagno would stay silent when Donald Trump appointed alt-right leaders like Steve Bannon to high posts in his administration, and when he responded to repeated questions about the rise of anti-Semitism by talking about his electoral college victory," Roseman said.