Last week we noticed that an especially snarky Twitter account had come back to life after lying dormant since Spring 2016. @NoPoliceman started posting again on January 28.
Just in case yours isn't one of the 198,438 accounts that follow it, here's a taste of its tweets:
It's fun stuff, with a flavor like that of the @SickOfWolves account we recently covered, which is run by a Chicago comic. Beneath the surface, @NoPoliceman couldn't be more different.
We reached out to find out why the account had come back, but we didn't expect to even hear back. We definitely did not expect that it was just one in a much larger network, a web of influential profiles run out of southern California that's also connected to a new social media management startup.
"I have over 20 accounts similar to this," @NoPoliceman messaged us. "I spend all day on Twitter."
In an interview conducted via direct messages, @NoPoliceman told us that he's Johnny Rapp. @NoPoliceman had died down because he "ran out of content to post, but the slang terms have changed since this account has last been used."
He started the account and others like as a high schooler in Nashville. We guessed the cop parody had been inspired by some sort of overly buddy-buddy school cop he had encountered, but Rapp gave us a much more nuanced explanation of both its origin and return.
"Cops are seen as threats to a lot of people when they are supposed to resemble safety. This puts a funny parody on something that many people deal with every day. Bringing it back in 2017 is a game changer. People are not big fans of cops/government right now," he wrote.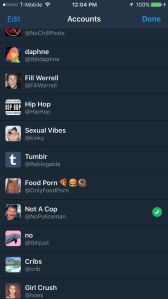 After high school, he went out to California to partner with others who run accounts like this. His personal creations include the much larger accounts @tbhdaphne and @NoChillPosts. With two other friends who work and live together, he said they collectively have 75,000,000 followers. All the accounts in their network function under a company called Iconic Media, whose website promises it can help other accounts grow, monetize popular profiles and repair the trust lost by past social media managers.
When asked about how Iconic monetizes its following, Rapp declined to go into more detail, so we just have to guess about what it might be aiming to do.
The company could be trying to launch competitor to the UK's Social Chain, a giant influencer network run by dozens of twenty-somethings.
In a January radio documentary, journalist Paul Mason visited Social Chain for the BBC. Its team run lots of accounts very similar to @NoPoliceman. The whole business model began when the company's CEO Steve Bartlett met the real person behind the account @StudentProblems (which posts memes that captures college life), which has 180,000 followers today.
Bartlett had been trying to start a website geared toward college students, but @StudentProblems made him realize that social media accounts reach them more effectively. He started recruiting people running other big accounts, and formed them into a network. The documentary claims that, together, accounts in Social Chain reach more people than there are in the United States and that they can make anything into a trending topic.
Iconic Media might be pursuing a similar course, or it might have something new in mind. Scanning through the accounts Rapp told us about, we found very little that looked like it could be monetizable content in the last few days, other than two tweets from the account @Dory, which has 1.74 million followers, about the next season of Stranger Things.
Netflix did not reply to a request for comment on whether or not it's working with Iconic.
None of these posts indicate that they were sponsored, either, and the FTC requires that paid posts come with disclosure. According to the BBC, that disclosure usually comes as a non-standardized hashtag, which might be #ad, #spon or #sp. We asked Twitter if it's working on a standardized way for accounts to indicate sponsored posts, but the company declined to comment.
Rapp said that the group demonstrates its clout by launching memes. On February 1, Complex wrote about a meme that you might have seen online lately (including in our recent meme roundup). It originated from one moment in a BBC mockumentary about a fictional entertainer named Roll Safe. Rapp said that his network found the image on Reddit and started using it, and that's when it blew up.
Here's one recent example of the group using Roll Safe.
The accounts can be seen amplifying each other, such as when @tbhjust, @reblogable and @nopoliceman recently retweeted a post with a video of puppies, originally shared by @tbhdaphne (all of these are accounts that Rapp indicated belonged to the network, though not all necessarily originated by Rapp).
Rapp added that Iconic works with Holonis, a startup that connects all of a user's social media accounts, currently in beta. "We are now working with them to push the platform and to monetize our accounts," he said.
Iconic's president, Hayden Hollis, also appears as a founder on the startup's Crunchbase profile, where it says the service "empowers both businesses and consumers to conduct and manage smarter online commerce."
Rapp wrote, "This platform let's you plug in pretty much every API so everything can be seen in one location." Holonis will launch March 10, at South by Southwest.
We'll be curious to see how it avoids the problems Power Ventures had with Facebook. Power Ventures also put multiple social feeds in one place and Menlo Park quashed it, a story recounted by Planet Money.
We know that this story has left you with far more questions than it answered. We'll follow up. On the bright side, it also answered more questions than we ever thought we would have after reaching out to the person behind one satirical Twitter account.