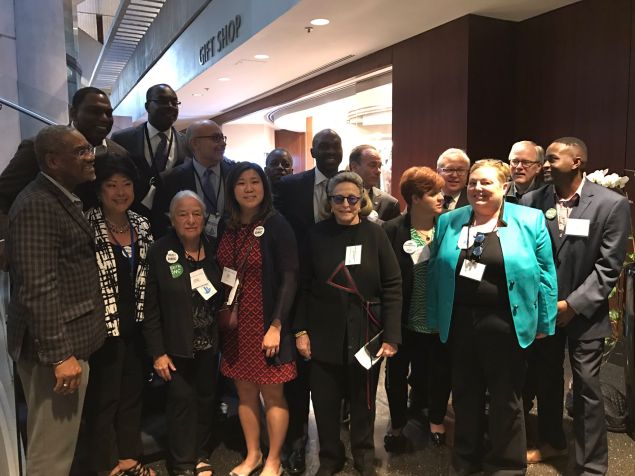 Queens Congresswoman Grace Meng and both Bronx Assemblyman Michael Blake both won their bids for Democratic National Committee vice chair in the vote among party insiders held in Atlanta—and, combined with new Chairman Tom Perez, bring the number of New Yorkers in the leadership echelons of the party organization to three.
Out of 814 votes cast with a 211-vote threshold for election for two female at-large vice chair positions, Meng received 216.5 votes, while Maria Elena Durazo—a prominent Californian labor leader endorsed by Mayor Bill de Blasio—received 228.5 votes.
Blake, a 34-year-old a veteran of former President Barack Obama's presidential campaign and White House, received the most votes—171—for the remaining position, open to a male or female out of 411.5 ballots received, but a second round was held because all contenders fell short of the 206-vote threshold. Blake won 237 votes in the next go-round after several candidates withdrew.
Both Blake and Meng called in their platforms for rebuilding party infrastructure to support new candidates for local office. The race for the chairmanship was divisive, as progressives—led by Vermont Sen. Bernie Sanders—favored Minnesota Congressman Keith Ellison over Perez.
Blake alluded to this tension in his victory speech.
"We have to leave here united," Blake said. "We cannot walk out of here as Obama Democrats or Hillary Democrats or Bernie Democrats, we are a united Democratic Party and that is who we are."
In a show of unity, Perez asked the 400-plus DNC members to elect Ellison his deputy chairman. They complied, and Ellison accepted the post.
Before the ballot casting began, the assemblyman described his humble beginnings in the Bronx to the crowd and predicted the party would recover from last year's Election Day decimation. People yelled "Michael Blake!" multiple times after he concluded his address.
"If we believe in a 50-state strategy and for territories and for those in Democrats Abroad, then we understand that the two votes that happen in Idaho are just as powerful as the two in California," Blake said. "I am not someone that's gonna vote for just one coast, we will fight for everyone across the country. That is leadership for tomorrow!"
Meng was first elected to the DNC last year. In her speech, the congresswoman urged fellow Democrats to compete in races across the electoral map, despite the increasingly citified nature of the party leadership.
"I look forward to continuing to work with all of you across the country in red and blue states, in rural, urban and suburban areas to rebuild our parties and to win elections in 2017, '18 and back the White House in 2020," she said during her nominating speech ahead of the vote.
During her victory speech, she said that people have told her the way forward is for people to work together "no matter what the results" are of the DNC elections.
Gov. Andrew Cuomo, Assembly Speaker Carl Heastie, Senate Minority Leader Charles Schumer, Bronx Borough President Ruben Diaz, Jr., Sen. Kirsten Gillibrand, Queens Congressman Gregory Meeks and former City Council Speaker Christine Quinn all endorsed Blake and Meng.
De Blasio endorsed Ellison for DNC chair and traveled to Atlanta to campaign on the congressman's behalf. But he received some criticism for refusing to support Meng and Blake, both fellow New Yorkers, and his decision to endorse Durazo, according to Politico.
Blake has emerged as a major critic of the mayor over the past few years, while Meng is an ally of Congressman Joseph Crowley, the Queens Democratic boss—who clashed with de Blasio and his left-wing allies for control of the City Council speakership after the 2013 election. The mayor's pick, now-Speaker Melissa Mark-Viverito, ultimately triumphed.