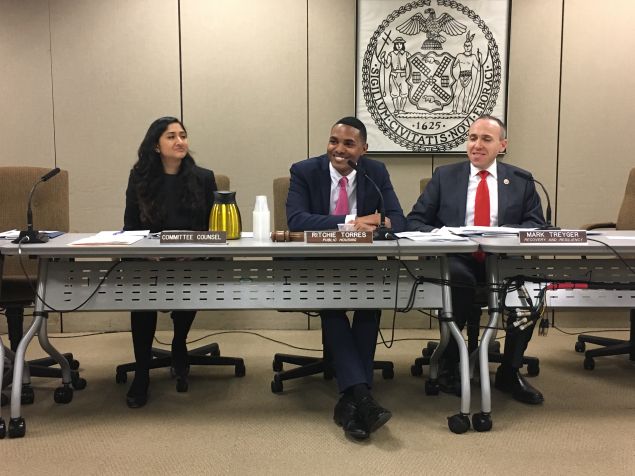 Bronx Councilman Ritchie Torres and Brooklyn Councilman Mark Treyger—the respective chairmen of the Committees on Public Housing and on Recovery and Resiliency—voiced anger and disappointment over the New York City Housing Authority's slow pace of repairs at 33 of its developments afflicted by 2012's Hurricane Sandy.
In 2014, Treyger and Torres's committees held their first joint hearing on Sandy recovery to highlight the "unacceptable conditions" of provisional heating systems. In March 2015, Mayor Bill de Blasio and now Senate Minority Leader Charles Schumer announced a $3 billion grant from the Federal Emergency Management Agency—the largest grant the agency has ever awarded—to help rebuild the impacted developments in Brooklyn, Manhattan and Queens.
But at their second joint hearing in April 2015, Treyger and Torres revealed that only one development's grant had been formalized—and it was not until September 2015, three years after Sandy struck, that FEMA and NYCHA finalized the paperwork for all 33 of the complexes.
"While I truly appreciate the impressive work that NYCHA's Disaster Recovery and Community Outreach team has done to keep residents and TA presidents apprised of updates, early over-confidence and the lack of observable progress have led to tensions in these discussions," Treyger said in his opening statement, noting that NYCHA promised Council members it would break ground on several projects in summer 2015. "Those developments are still in the procurement stage. It is difficult as a non-resident to feel confident in current projections that all work will begin by the end of 2017."
Joy Sinderbrand, vice president of NYCHA's Office of Recovery and Resilience, said NYCHA is currently repairing and fortifying 219 buildings—home to 60,000 residents—and that to date, the agency has spent $490 million and hired 164 residents for the recovery work. She also said that major constructions have begun on seven developments.
By the end of the year, she said, NYCHA expects to begin major construction at every Sandy-impacted development. But the conversation became tense as Torres sought clarification about when exactly NYCHA would finish repairing all 33 developments—and Sinderbrand said she couldn't give an end date with any certainty.
"Everything has uncertainty. Cost has uncertainty, scope has uncertainty. There's no projected timeline for completion of all the 33 projects?" Torres said, visibly perplexed.
Sinderbrand finally answered that, in the worst case scenario, work would conclude by 2021.
Torres called this prospect "horrifying."
"It's horrifying to me to think there are residents who have been waiting eight or nine years or would have to wait eight or nine years to see construction complete and a couple of them don't have a clear timeline for design, even a time frame," Torres said.
Treyger himself said that he thought that the amount of outreach from NYCHA "has significantly increased" but that execution "has been unsatisfactory." He also wondered where the authority would get the money to fund projects if they go over budget.
Treyger also noted that only $122 million out of the $3 billion grant has been drawn out and blasted NYCHA for still being stuck in the design phase of projects.
Sinderbrand insisted upon the unprecedented nature of the recovery work NYCHA was doing: rebuilding its developments to new flood zone specifications created in the 2012 storm's wake.
"This is just unlike any project that has ever been done before," Sinderbrand said, as attendees shouted out in protest. "I don't have any other way to say it that we don't have a blueprint to go from. We are literally creating the guidelines that landlords around New York City are gonna look to."
Treyger concluded the hearing by saying that he appreciated that representatives from NYCHA stayed throughout the duration of the hearing and acknowledged that the agency has "taken a beating by the federal government for decades." But he said now is the time "to get this right."
"At the same time, this grant was secured under the Obama administration and we appreciate that," he said. "We have to execute it. We have to get this done. It's not every day that we have an opportunity like this."