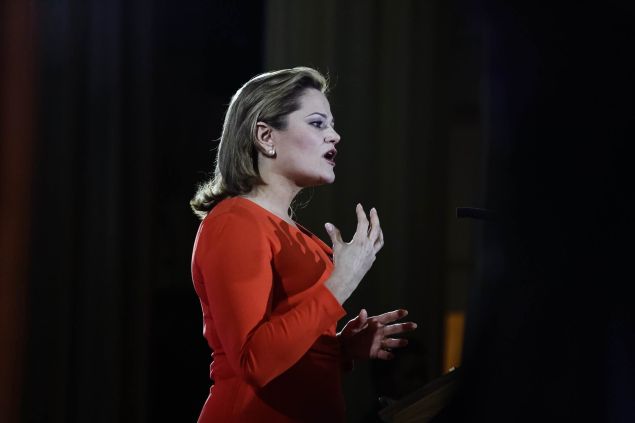 Two days after Mayor Bill de Blasio indicated would be open to slightly amending the New York's sanctuary city policy as a compromise measure with the Trump administration, City Council Speaker Melissa Mark-Viverito announced that she's "comfortable with where we're at."
Under the liberal Democratic mayor, the city booted Immigration and Customs Enforcement officials from Rikers Island and has only honored the federal agency's requests it detain a suspect if that person has committed one of 170 violent felony offenses. But testifying during a budget hearing in Albany on Monday, de Blasio—despite his vows to fight President Donald Trump's executive order severing federal funding to uncooperative municipalities—expressed openness to adding some offenses to that list.
Mark-Viverito, a Puerto Rico native who recently shepherded through a resolution reaffirming the city's status as a haven for undocumented immigrants, would have none of it today.
"I'm very proud—and I think this Council is extremely proud—of the work that we have done, right, to stop needless deportations," Mark-Viverito said during the Council's monthly pre-stated meeting. "We're not gonna succumb to any fear mongering that continues to go out there. I think we have worked deliberately to strike a balance."
Indeed, she said that the Council's bills—which were signed into law by de Blasio in November 2014—were crafted "with extensive consultation" and have been in place more than three years, some even for four years.
Among the list of 170 crimes for which the city cooperates with ICE are rape, gang assault and endangering the welfare of a child. But it does not turn over individuals arrested for low-level crimes such as possession of small amount of marijuana or blowing a stoplight without damaging people or property, or even for more serious nonviolent violations like money laundering, grand larceny or harassment.
"We've struck a balance and we've seen the numbers on that and also not contributing needlessly to the separation of families or to feeding into, sort of as a feeder into this broken immigration system…so I'm comfortable with where we're at," Mark-Viverito continued.
The fiat Trump signed last Friday did not define the term "sanctuary city." De Blasio has expressed hope that vagueness leaves it vulnerable to a legal challenge, like the one San Francisco filed today.
City Comptroller Scott Stringer has warned as much as $7 billion the city receives from the federal government annually is at risk.