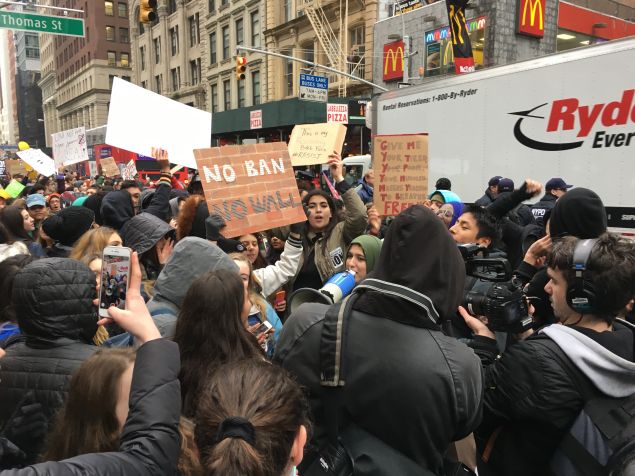 Hundreds of high school students from across the five boroughs cut out early today to rally and march from Foley Square to the Jacob K. Javits Federal Building in the wet cold afternoon weather—a disruption they asserted President Donald Trump's administration has made necessary.
The rally, organized by student activist Hebh Jamal, a 17-year-old Palestinian American Muslim girl and Bronx resident, kicked off in Foley Square, where students started gathering around noon. More young people showed up in groups as the start of the rally approached. Jamal said that her generation faces unparalleled challenges such as endless war, the persecution of indigenous people, the plight of the black community, a segregated education system and "massive amounts" of college debt—not to mention the risks they took students in skipping school.
"We have done this today 'cause we realize that these are not normal times," she said as she formally addressed the students. "We cannot go to school, to class, to our exams as if things were normal, as if things were okay."
She added that they should start with the country's Declaration of Independence, which states "unequivocally that all men are created equal"—noting that the "fight is real" because Trump does not believe in that clause.
"We need a united citywide student coalition," Jamal continued, her peers cheering loudly at her every word. "Scratch that—we need a nationwide student coalition! We need to be united on all fronts to organize on all fronts and I'm calling on all student organizers here today to make that happen. We're not only here to yell at the top of our lungs—we're here because we actually know what's good for us!"
Trump has signed executive orders that call for the construction of a wall on the Mexican border, federal funding cuts for sanctuary cities—cities that offer a haven for undocumented immigrants—and prohibit entry to people from seven Muslim-majority countries. A Seattle judge has temporarily suspended the last fiat, however.
Student activist Yacine Fall, 17, the daughter of Senegalese immigrants, said that she is a "proud hijab-wearing Muslim" as well as an empowered black woman and feminist. She said that on January 20, she vowed not to allow Trump to make any Muslims feel unsafe.
"Never in my 17 young years have I felt as black as I did the day Trump became our president," Fall said. "Never in these 17 years have I experienced as much Islamophobia, discrimination and hate as I did in the past three months. But let me tell you that after I cried, I felt determined more than ever to not sit silently."
Public Advocate Letitia James reminded the crowd that young people have been at the forefront of a number of movements, including women's rights, LGBT rights and the election of former President Barack Obama. She called the rally a "learning space."
"This is an instruction about civics and history and so let me tell you my young friends, my scholars, my students," James said. "Throughout history, it's always been young people, young people who have stood in the face of intolerance and indifference to demand justice and demand love. It's always been young people."
Another source of frustration for the students was today's confirmation of Trump's pick to head the federal Department of Education, Betsy DeVos—a decision that split the Senate 50-50, with Vice President Mike Pence casting the tiebreaker votes.
Downtown, students yelled "DeVos got confirmed, how are we gonna learn?" and "We love public school, Betsy DeVos is a fool!" They even booed at the mention of her confirmation during the rally.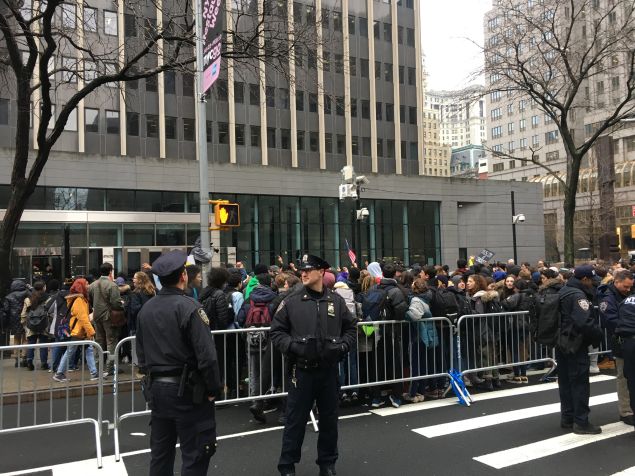 Facing the Federal Building—where the Department of Homeland Security has its New York City office—and some students facing the street, the students yelled "Let them in!," "The roof, the roof, the roof is on fire—Donald J. Trump is a racist liar!" "No human being will ever be illegal!" "Education, not deportation!" and "From Palestine to Mexico, all the walls have got to go!" The students also shouted at a Trump supporter who seemed upset over their protesting.
Other students expressed concerns about what Trump plans to do with abortion and LGBT rights and the normalization of hate under the Trump administration.
Carlene Pinto, the New York Immigration Coalition's immigration campaign manager, helped Jamal organize the rally. NYIC has organized a number of actions in response to Trump's executive orders.
"My coalition has essentially just stepped up to make sure that every event that people reach out to us to support is nonviolent, the messaging is strategic, the targets are clear," Pinto told the Observer.