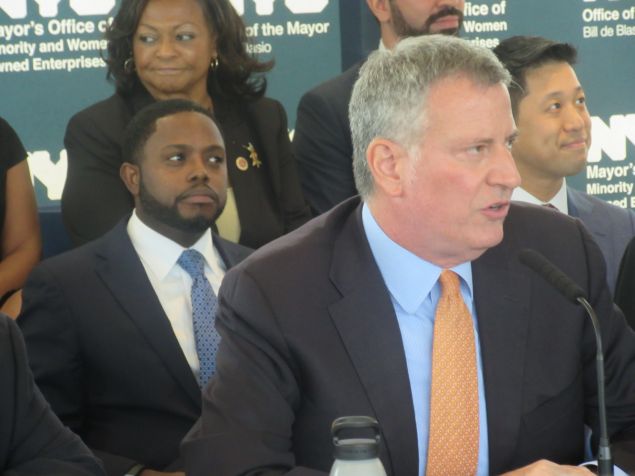 The city has kicked off a new program with five organizations to help minority- and women-owned business enterprises learn how to increase their chances of winning public contracts—part of Mayor Bill de Blasio's larger goal to award 30 percent of contract dollars to MWBEs by 2021 and $16 billion to the businesses by 2025.
The city and its partners—one for each borough—will coach MWBEs on how to enhance their profiles in the New York City Business Directory, which city agencies use to select contractors, so that they can attract attention and be more competitive. The city will also work with the groups to identify and target the minority and female-owned firms, and help them through the certification process for becoming a designated MWBE contractor.
"This new partnership will ensure that all businesses and firms led by diverse individuals have the chance to compete for city contracts," de Blasio said. "We know that when all people—regardless of race, gender or ethnicity—have the proper resources to thrive, communities across the five boroughs will flourish economically."
The initiative will help MWBE firms improve their directory profiles by highlighting each firm's strongest areas of expertise given that city agencies tend to seek providers who specialize in particular services.
The community partners are SoBRO, a nonprofit organization in the South Bronx that works to strengthen businesses and implements economic, housing, educational and career development programs for youth and adults; the Brooklyn Alliance; Manhattan's Jean Kristensen Associates, a full-service consulting firm that provides tools and resources to small, minority- and women-owned firms; the Queens Economic Development Corporation; and the West Brighton Community Local Development Corporation on Staten Island.
"City contractors should reflect the diverse talents and skills of all of our people, and that is why Mayor de Blasio has made a historic commitment to expanding contracting opportunities for minority- and women-owned businesses," SBS Commissioner Gregg Bishop said. "Through this new partnership, we are working with partners in each borough to help MWBEs highlight their services and best compete for city contracts."
Earlier this month, the agency kicked off the application process for its 28-week Corporate Alliance Program/Entrepreneurs' Organization initiative, which connects MWBEs with established entrepreneurs so they can learn how to better secure private contracts.
Last year, SBS announced that MWBEs would be able to borrow up to $500,000 from the city at an interest rate no higher than 3 percent if they do not qualify for funding from other sources starting in early 2017. Before, MWBEs could borrow up to $125,000 and the interest rate fluctuated between 6 percent and 9 percent.
In September, de Blasio unveiled a new 30 percent MWBE participation goal to bet met by 2021—which would include prime and subcontracts with mayoral and certain non-mayoral agencies—and the appointment of Deputy Mayor of Strategic Initiatives Richard Buery as the city's new MWBE director. In July, the mayor announced the appointment of Rev. Jonnel Doris as the city's new MWBE senior adviser.
In addition to the $16 billion goal, the mayor has set a goal of doubling the number of certified and re-certified MWBEs at SBS from 4,500 to 9,000 by 2019.
The mayor has butted heads repeatedly with his biggest rival in local government, Comptroller Scott Stringer, have over the city's MWBE program.
In Stringer's annual MWBE report card in October, the city received a D+ on spending with MWBEs for the second year in a row. Stringer said that the city spent $15.3 billion on goods and services but only 4.8 percent went to MWBEs—a drop from his report the previous year that found that only 5.3 percent of $14 billion was granted to MWBEs. At the time, Buery disputed the comptroller's findings.