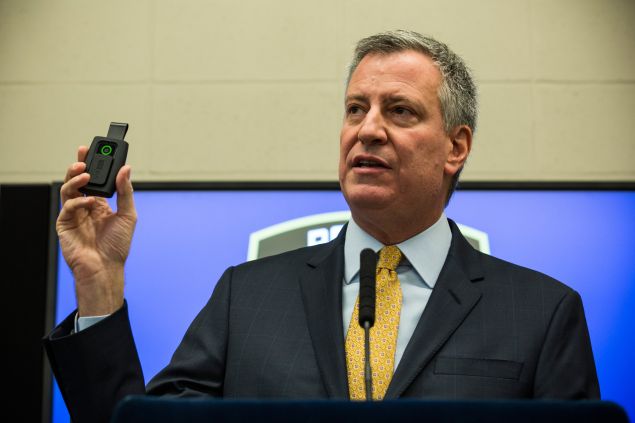 Mayor Bill de Blasio and city Comptroller Scott Stringer collided again this morning over the administration's $6.4 million contract video recording devices to be mounted on NYPD officers—as de Blasio accused his potential Democratic primary rival of pulling a "cheap stunt" by calling public attention to a city Department of Investigation probe into the deal.
Stringer initially refused to refused to sign off on the city agreement with Vievu for 5,000 police body cameras, citing DOI inquiry as a reason. The NYPD, which de Blasio controls, overruled the comptroller and asserted he was acting beyond the scope of his office's powers—which the mayor reiterated this morning in his weekly appearance on WNYC.
"I'm going to use a legal term," the mayor said, noting Stringer agreed to sign off on the contract on Wednesday. "That was a cheap stunt by the comptroller, and he had to retreat from it very quickly. The role of comptroller is if there is a specific problem with a contract procedurally, they can weigh in there. They cannot weigh in on the larger policy matters. That is a decision that the executive branch, NYPD, City Hall have to make."
An agreement to have all patrol officers wear body cameras by the end of 2017 was a hallmark of the mayor's long-awaited contract with the city's largest police union in January.
Last year, the Observer discovered that Safariland, the parent company of VieVu, had been forced to cough up millions of dollars in fines and ill-gotten profits for knowingly manufacturing defective flak jackets and for bribing a United Nations procurement official. Safariland failed to disclose this history on the Vendex forms it submitted to do business with the city, despite specific questions on the documents about whether the company had had any recent legal troubles.
It is unclear whether the DOI's investigation concerns any of that. The mayor insisted the probe would not deter his administration from going ahead with the deal.
"This contract's moving forward. We have the legal authority to move it forward," he said. "If any agency like DOI wants to look at a situation, that's fine. That's their choice. But it does not stop us from moving forward a contract that everything we know about says is the right thing to do."
"We have to keep body cameras on track, because people in this city fundamentally want that accountability and transparency," he continued.
The comptroller slapped back at the mayor with a seeming allusion to his ongoing legal troubles. He also directly referenced the scandal over the Rivington House, a former Lower East Side AIDS hospice that got converted to luxury condos after the administration lifted two deed restrictions on the property—which an audit by Stringer's office chalked up to "mismanagement."
"It's clear that investigations don't concern the mayor," spokesman Tyrone Stevens said. "Perhaps if he understood the value of quality control, oversight and transparency, debacles like Rivington House—which robbed the community of essential services—wouldn't occur. That's why we scrutinize and ask the tough questions.
The comptroller's office also took a jab at the mayor's treasured liberal credentials.
"Open and honest government is what being progressive is all about. It's unfortunate that the mayor can't accept that," Stevens continued.
The mayor and comptroller have engaged in bitter public relations battles going back to their first year in office—giving rise to rumors that Stringer will challenge de Blasio in this September's Democratic primary instead of running for re-election. Stringer has yet to take any official steps in that direction, and the mayor's campaign has begun racking up influential union endorsements.