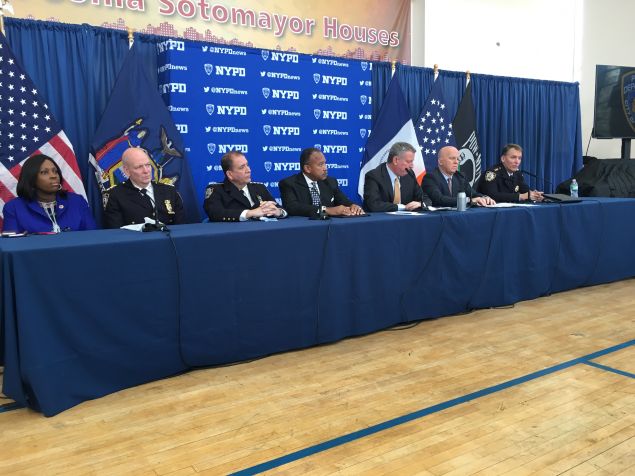 After reporting a "huge spike" in the number of hate crimes in the immediate aftermath of President Donald Trump's victory in November, the NYPD said that the hate crimes have since "leveled off"—though they are still up compared to the norm.
In December, NYPD Chief of Detectives Robert Boyce said that the city saw a 115 percent increase in bias crimes since Trump defeated Hillary Clinton on a platform that included promises of a wall along the Mexican border and a "shutdown" on Muslim immigration. At the time, Boyce noted that hate crimes were up 35 percent for all of 2016 in contrast with the previous year, and that in the weeks following the November 8 election, there were 43 incidents—compared to 20 during the same time period of 2015.
"We saw a tremendous uptick—I'm using the word 'tremendous'—but quite a bit of uptick directly after Election Day," Boyce told the Observer during an NYPD crime statistics update press conference in the Bronx today. "That has now since leveled off from what we can see."
Of the 43 incidents following the election, 24 were directed at Jews, three times as many as that occurred the previous November. The number of bias incidents against Muslims doubled, from two to four.
The NYPD had also witnessed an increase in hate incidents committed against whites and against members of the LGBTQ community. The department sought to reassure the public by noting that arrests for bias crimes were up 45 percent.
"Most of that uptick came from hate speech or graffiti that we saw and we continue to see graffiti," Boyce continued today. "So it is remarkably up since then but we've seen it leveling off from that first point after Election Day in November."
A week after Trump's victory, incidents, Gov. Andrew Cuomo launched a statewide emergency call-in system. Two days later, State Attorney Eric Schneiderman, flanked by the National Action Network's Kirsten John Foy and civil rights leaders, issued a bulletin to law enforcement agencies and district attorney's offices statewide that identifies hate crimes statutes and stresses that law enforcement has to properly identify incidents as possible hate crimes promptly.
Sen. Kirsten Gillibrand called on Washington to increase anti-terror funding for religious institutions in the New York City metro area from $20 million to $25 million in the wake of the spate of hate crimes.