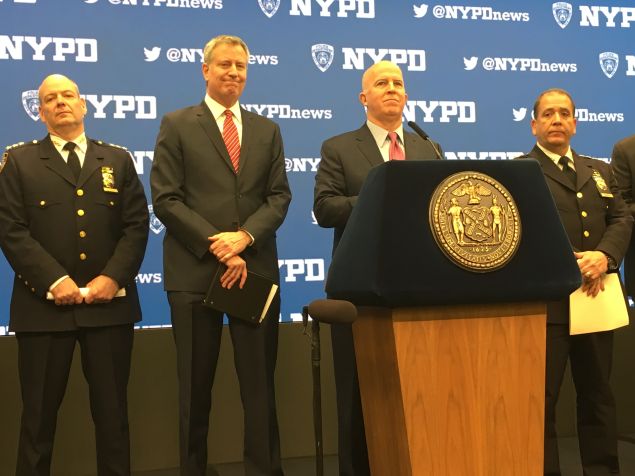 Police Commissioner James O'Neill said the NYPD has so far been able to handle the citywide protests against President Donald Trump over his recent executive orders targeting undocumented immigrants and travelers from Muslim lands—but warned that if they continue, they could "have an impact on our operations."
The city has tried—so far without success—to get Washington to reimburse it $35 million in expenses it incurred safeguarding Trump Tower between Election Day and the Trump's inauguration. The mayor previously reported that Trump had personally promised to help the city get repaid in a private phone call.
O'Neill, who previously said that the perimeter around the Fifth Avenue building was "taking resources from around the city," asserted that sustained protest risked stretching the department even further.
"We're still in the process of working this out with the Secret Service but when the president is not in town, the costs are a little bit lower," O'Neill said during a crime statistics update press conference in the Bronx today. "But the demonstrations do have an impact on operations 'cause we have to get those cops from somewhere, too. So again, you know, short term, we can handle, it but if it continues to go on, it could have an impact on our operations."
But the commissioner said he would not seek reimbursement from the federal government for policing protests, as they are a regular occurrence in the city.
The city has seen demonstrations almost daily during the run-up to Inauguration weekend and in the weeks that followed. Outcry intensified after he signed executive orders barring entry for people from seven Muslim-majority countries, calling for slashing federal funding for sanctuary cities and initiating the construction of a wall along the Mexican border.
Ironically, Trump's executive order could cut counter-terror funding that partially underwrites the NYPD's constant vigil outside Trump Tower.
Mayor Bill de Blasio, for his part, said that the city does not anticipate more shutdowns on Fifth Avenue—and insisted that protecting Trump Tower and dealing with protests are "two very different things."
"Trump Tower is, you know, a public, accessible space with the obligation to protect the president and president-elect, his family, his staff, all the people who work in the building, the surrounding area and the building itself, which has become a symbol," de Blasio said. "I think the protests are something that we're much more used to dealing with and that occur regardless of where a president lives."
There are also security concerns surrounding Trump's intention to periodically return to the city of his birth during his presidency. De Blasio said that the city has not yet received word of any upcoming homecoming.
He acknowledged Trump will likely pass through at some point, but added that it is hard to say how the city will prepare—and predicted his presence in Manhattan "might be very occasional."
"We assume based on past practice that it would be definite," he said. "We don't know yet, though. You see, he's gone to Mar-a-Lago and, you know, other places, so I would just caution that it's a good question as far as what might happen, but we don't have the facts yet about what his intentions are."
But he was able to say definitively that Trump's absence at Trump Tower has somewhat alleviated the burden on the city.
"The situation has changed," de Blasio added. "The minute the president left Trump Tower as a residence, the situation changed remarkably and that's good for obviously [the] ability of people to get around Midtown and it's good in terms of the impact it's having."
O'Neill agreed with the mayor but said that the cost "is still significant." Even so, the commissioner said was not worried about a potential visit from the president, since the NYPD has experience dealing with major events.
"If that does happen, then, you know, we're very good at handling large-scale events as we do all year long, so then we'll make any adjustments we need," he said.