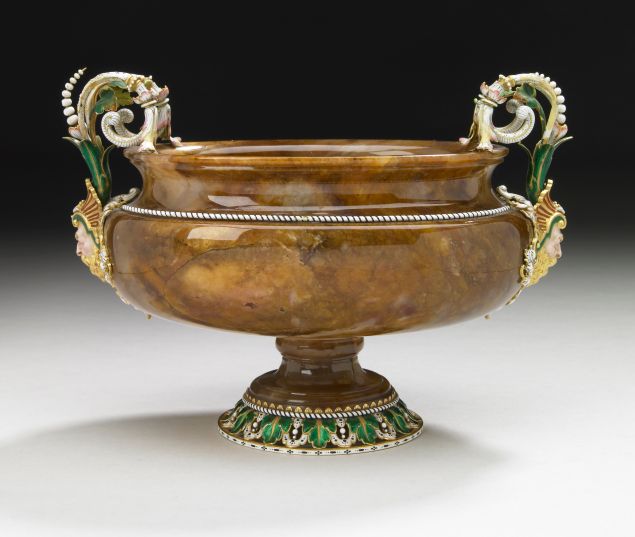 Probably every item that Sotheby's sells can be considered a luxury item—artworks, fancy watches and pens, bottles of centuries-old wine, and on and on—but some objects it auctions were created to be nothing other than a mark of wealth. Sure, you can still use that 1855 cobalt blue enamel with diamonds snuff box that was made by the imperial goldsmith of French emperor Napoleon III as a gift to Queen Victoria when she and her husband visited France for the world's fair that year. However, it is unlikely that either Victoria or Albert used snuff, and the collector who purchased the box last October at Sotheby's for $60,000 probably doesn't use snuff either, so it was and remains a conversation piece. Or, take that Faberge needle case that is made of gold with diamonds forming the monogram of Maria Feodorovna, the wife of Tsar Alexander III, which sold in 2014 at Leslie Hindman Auctioneers in Chicago for $21,250. You can still put your needles inside, but people who can afford to pay that much probably send out their mending or just buy something new when there is a rip.
Within the overall category of luxury is a subset referred to by auctioneers as "objects of vertu" (pronounced vair-TOO), consisting of otherwise ordinary household objects that are made of gold, silver, expensive wood or diamonds or some combination of all of those. Gold snuff boxes appear to lead the category, such as the c.1810 gold and jeweled enameled three compartment snuff box and time piece that Christie's sold in 2015 in London for $456,775, but one finds other types of containers, including the occasional vinaigrette (a small box in which a sponge soaked in a sweet smelling liquid that a lady would hold to her nose when passing by an acrid area) or the necessaire de voyage (a survival kit for the upper class, containing tea caddies, silver wash bowls, curling iron and sewing kit). In 2015, Bonhams sold a 1930 Cartier Art Deco-style emerald inset silver letter opener that is also a working watch for $106,250.
"The field of Gold Boxes and Objects of Vertu is currently one of the strongest and fastest growing markets at Christie's," said David McLachlan, a specialist in that area at the auction house. "We have buyers and collectors from all over the world and have recently seen an increase in demand from the Far East where beautifully made and brightly colored small precious objects have always been prized."
The category has a French-ish name, referring to "virtue," which does not seem to apply to expensive snuff boxes and letter openers. "It's a problematic usage," said R. Howard Bloch, professor of French at Yale University. "What's good morally comes down to us as what's valuable monetarily." Pascale Hubert-Leibler, director of the French Language Program at Columbia University, claimed that "'vertu' means courage, moral quality or chastity, and the expression 'objet de vertu' does not exist in French." No matter, it just sounds better than Rich People's Stuff, and virtue can be defined here as quality unshackled from any moral sense. (A lot of rich people can be defined that way, too.) John Ward, senior vice-president at Sotheby's in the area of silver and vertu, said that "vertu doesn't directly translate" from the French, but refers to "preciousness and virtuosity, because these objects are made from precious metals and are produced by virtuoso silver- and goldsmiths."
Besides all the gold, silver and diamonds with which many of these objects of vertu are made, much of their value stems from the names associated with them, such as Faberge, Van Cleef and Cartier or, in the case of that diamond-encrusted snuff box, Napoleon III and Queen Victoria. "Provenance can be very important in setting value," Ward said, "and there is another interesting bit of history to it as well. The imperial jeweler for that box was Jewish, Maurice Mayer, and there weren't many Jews working as jewelers at the time."
Americans like these kinds of things, although "collectors in the U.S. are not as large a percentage as before the Great Recession," said Aileen Ward, director of silver and objects of vertu at Bonhams. She noted that Chinese industrialists and Russian oligarchs – "people who like to show their new wealth" – have become an increasingly large portion of the buyers, although sometimes it is difficult to know where they end up. Approximately forty percent of the bidders at these auctions at both Bonhams and Sotheby's and 50 percent of those at Leslie Hindman are London dealers, who may be purchasing items for specific clients or for their own inventory.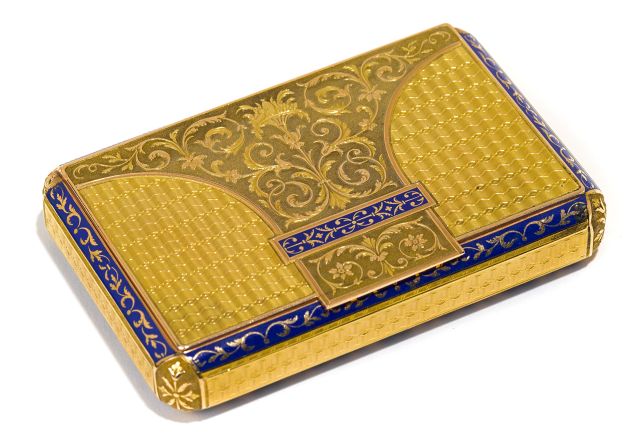 Although objects of vertu continue to be produced to this day, most of the objects in auction house sales are European, dating from the late 17th to the early 20th centuries. (The designers of the Art Deco period appear to have produced a lot of these things.) "There is a nostalgia element" to the collecting of objects of vertu, said Corbin Horn, a specialist in European decorative arts at Leslie Hindman, and some of the buyers also purchase antique glass cabinets, or vitrines, in which to store them. "We get them coming and going." The vitrines actually have a practical purpose as well, since some objects are breakable and silver will tarnish if exposed to the air.
McLachlan noted that some collectors "actually use their snuff-boxes as snuff-boxes, others use them for keeping their cuff-links in and ladies use them for face powders and creams. The majority, however, simply admire them for their beauty and exquisite workmanship."
At times, there is an Antiques Roadshow element to obtaining consignments, as the owners of something "interesting and quirky" bring an item in that they found hidden away somewhere and hope has value, Aileen Ward noted. The executor of an estate brought in "a pair of spoons made of carved quartz with carved boxwood handles, and he didn't know what these were for." The California owners had kept them hidden away, not wanting their children when younger to play with them and break them, so no one in the family had seen them ever before. Still, Ward recognized these spoons as 1880s Austrian and included them in an "Elegant Home" sale in 2015 where they sold for $875.