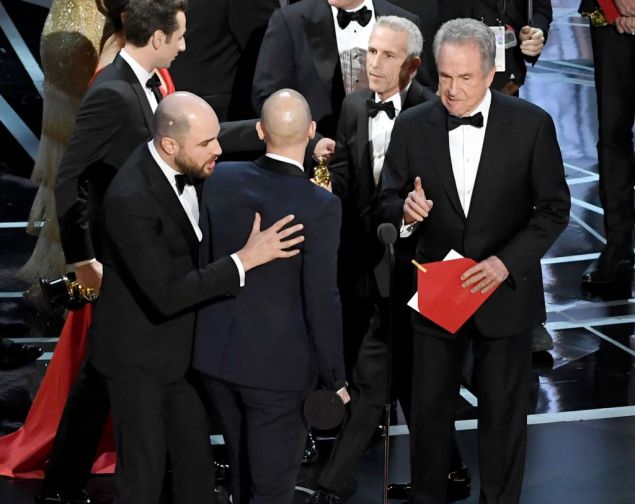 Did you skip the Oscars last night? For 99.9% of the 89th Annual Academy Awards ceremony, I don't blame you! The award show machine chugged along as it usually does. Viola Davis won Best Supporting Actress for Fences and delivered an acceptance speech that probably could win a Pulitzer by itself. Mahershala Ali took home Best Supporting Actor for Moonlight, a pitch-perfect moment despite his lack of yellow raincoat. Emma Stone nabbed Best Actress and failed to thank her aunt, who used to live in Paris, and Casey Affleck gave history's lamest Best Actor speech from underneath a hobo beard, while Denzel Washington tried to blow him up with his mind. It was all…okay. Occasionally poignant, often pointless, but mostly just okay.
And then, it happened. And then, the greatest live TV moment since the Jackson-Timberlake Nipple Dilemma of 2004. And then, AND THEN…
ACT 1: Bonnie & Clyde
Despite the crowded field, the Best Picture category was always going to come down to two movies: Moonlight, a beautiful story about growing up black and gay in Liberty City, Miami, and La La Land, a beautiful story about growing up white and handsome in Los Angeles, California. The honor of bestowing Hollywood's biggest prize came down to a Bonnie & Clyde reunion, as Warren Beatty and Faye Dunaway took the stage.
After the mandated banter, Beatty opened the winning envelope and said…nothing. Then he kept saying nothing. Warren Beatty scrounged through the open envelope and continued to say nothing. The audience laughed. Faye Dunaway laughed. Warren Beatty did not laugh; Warren Beatty looked offstage as if the card inside that envelope predicted the exact date and time he was going to die: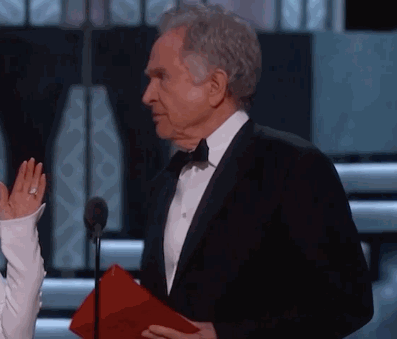 After a few moments, Beatty showed the envelope to Dunaway, presumably to alleviate some of the ten tons of pressure that had descended on his 79-year-old head. Dunaway, believing Beatty was just being a loveable old scamp (a fair assumption), simply read the first movie title she saw: LA LA LAND. Cue cheers! Applause! Finally, a break for movies about white Hollywood! The cast and crew of La La Land, all 1,000 of them, approached the stage.
But underneath it all, a microphone caught a voice. It was Beatty's: "It says Emma Stone."
Dunaway's response: "WHAT?"
ACT 2: Dancing in the Moonlight
Watch very closely, look at the people in the background, their faces, my God, their faces:
Those are the faces of hard-working Hollywood executives being told the award for BEST PICTURE they're holding belongs to someone else.
Moonlight, not La La Land, had won.
La La Land producer Fred Berger, understandably caught up in the utter madness of what seemed like a fever dream, nevertheless demonstrated how not to handle this with grace. Berger took the mic, gave roughly 1/4 of an acceptance speech, before deflatingly saying: "We lost, by the way, but…you know."
Another La La Land producer, Justin Horowitz, uber-mensch supreme, then demonstrated exactly how to handle this situation. "There's a mistake," he said, pointing to director Barry Jenkins in the audience. "Moonlight, you guys won Best Picture."
Horowitz, sensing the crowd's uncertainty, straight ripped the winning envelope from Beatty's hands and displayed it for the cameras. Seriously, look at the pure, unadulterated spite of this envelope grab. Warren Beatty hasn't had something taken from his grasp so aggressively since Jeremy Irons took Best Actor over him in 1991.
ACT 3: The Smoking Envelope
The aftermath to Horowitz holding up that envelope is perhaps the purest mixture of chaos and elation in live TV history. Mahershala Ali embraces Trevante Rhodes as realization sets in. Oscar statues are grabbed by PAs and handed to their rightful owners. Host Jimmy Kimmel wandered onstage, dead-eyed, trying to diffuse the situation with jokes while also trying not to vomit. Faye Dunaway was apparently incinerated by the heat of the situation, as she was nowhere to be seen.
Beatty, poor old Beatty, offered up an explanation: "I opened the envelope, and it said, 'Emma Stone, La La Land.' That's why I took such a long look at Faye."
Meanwhile, in the shadows, La La Land director planned a film inside his head in which all parties are murdered horrifically on an L.A. freeway.
Backstage, Emma Stone seemed to poke holes in Beatty's explanation: "I love Moonlight so much," the actress told reporters, but, "I was holding my Best Actress in a Leading role card the whole time…I'm not sure what happened." 
But, much like jazz as explained to me by Ryan Gosling, this story still had a few twists and turns. As pointed out by Neil Patrick Harris, of all people, Beatty did appear to be holding an envelope marked "Actress in a Leading Role."
Early this morning, PricewaterhouseCoopers, the accounting firm responsible for counting Oscar ballots, released this statement:
We sincerely apologize to Moonlight, La La Land, Warren Beatty, Faye Dunaway, and Oscar viewers for the error that was made during the award announcement for Best Picture. The presenters had mistakenly been given the wrong category envelope and when discovered, was immediately corrected. We are currently investigating how this could have happened, and deeply regret that this occurred.

 We appreciate the grace with which the nominees, the Academy, ABC, and Jimmy Kimmel handled the situation.
So far, the closest thing we have to an actual explanation is a Shyamalan-ian plot device involving not one, not two, but three separate envelopes. The story is still developing a day later, automatically making this the most interesting Oscars ceremony, um, ever? Yes, let's go with ever. Sorry, Franco/Hathaway debacle.
But what does this mean, really? A couple things. For one, pretty much everyone involved across the board handled this literal definition of clusterfuck with an incredible amount of grace. "The folks from La La Land were so gracious. I can't imagine being in their position and having to do that," Jenkins told reporters, after the mix-up. "I wasn't speechless because we won. I was speechless because it was so gracious of them to do that."
Added Ali: "I just didn't want to go up there and take something from someone. It's very hard to feel joy in a moment like that."
But the thing, I think, to focus on is the actual, tangible miracle that Moonlight won Best Picture in the first place, despite everything. A film with virtually no white actors in the cast, and by far the most LGBTQ-friendly film to win this category, Moonlight is a gorgeous film that was pretty much written off on this stage from the start. Over the next few days, you'll probably read a lot of takes about how Moonlight's win is a result of "PC Culture," or a make-up win for last year's #OscarsSoWhite. Those are bad takes, and the takers of those takes should feel bad. It's a shame Moonlight had to win this way, that the cast and crew don't get the undiluted experience of hearing Best Picture: Moonlight, and rushing to the stage as one. But it's not a shame that it won. Moonlight is a beautiful story. La La Land, in its own way, is a beautiful story. Leaving it at that, two pieces of art that do not need to go to war with each other, is perfectly fine.
And, finally, one last thing: Faye Dunaway saying "La La Land!" is perhaps the only actual example of mainstream Fake News. And, like all hypothetical Fake News, this was done to distract from the Real Issues. The Real Issues, in this case, being that Nicole Kidman does not know how to applaud like a human being: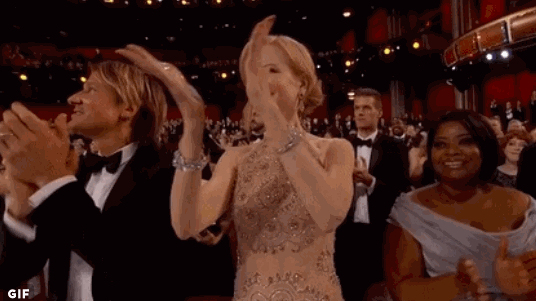 Thank you, this has been an explanation of