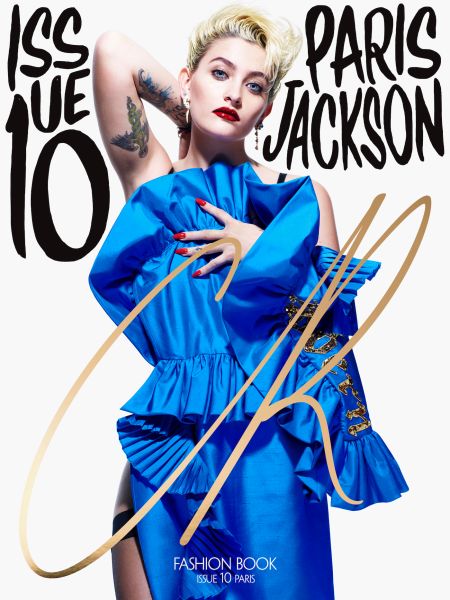 Carine Roitfeld has a penchant for catapulting people into the fashion stratosphere. Take Gigi Hadid, for example, who has become a global superstar since Roitfeld was the first person to put her on a magazine cover.
Now, it seems Paris Jackson is bound to become fashion's latest obsession, as she has landed on the cover of CR Fashion Book's 10th issue. The daughter of Michael Jackson has been the subject of plenty of tabloid fodder (and has landed a cover for Rolling Stone). But this image, shot by Mario Sorrenti, where she's wearing a Gucci dress, puts her in a whole different perspective. One that is rather highly regarded and is ready for takeoff. Seriously, the story of her cover online reads "Introducing Paris Jackson On the Cover of CR 10."
"She does not have an album in the works or a modeling contract signed or a book deal inked or a television cameo confirmed. (Well, maybe she will after this interview.)," wrote Lee Daniels, who interviewed the 18-year-old starlet for the magazine.
While the famed producer and director talks to Jackson about what she's currently doing with her career (modeling and forming a band with her boyfriend), he also touches upon her current activist initiatives (she's against animal cruelty and has been vocal about protesting the Dakota Access Pipeline). He even delves deep, asking how her late father inspires her.
"He was the strongest person I know and tried to do everything with as much love and kindness as possible," she told Daniels. "All of my inspiration, I would say 99 percent of my inspiration, comes from him, because he has always been my world. He is my roots."
However, Jackson isn't the only cover girl for this celebratory issue; Halima Aden, a Somali-American model, and Karlie Kloss were given covers of their own. Aden, who made headlines in November 2016 when she wore a hijab during a Miss Minnesota pageant, proudly wears one in her CR Fashion Book photo. The photo, also captured by Sorrenti, is accompanied by an interview that was conducted by Iman, who also hails from Somalia, and is one of Aden's biggest heroes.
"I did it for a number of reasons. First, I wanted to meet other young women in my state—you don't get that kind of chance every day. But I also wanted representation. This is a pageant that goes far beyond physical beauty, so I wanted young women who wear the hijab to realize that you could participate in such a thing," Aden told her idol about her pageant role.
CR Fashion Book's 10th issue hits newsstands on March 2, but check their websites for teasers leading up to the magazine's launch.