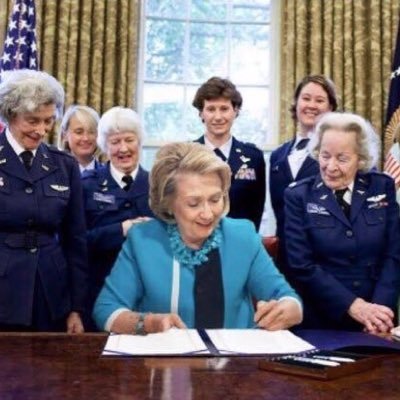 Since the inauguration there have been many demonstrations against the GOP and President Donald Trump's agenda, most famously the Women's March on Washington. This weekend, three comedic Twitter accounts even got in on the action.
First, on Saturday Sarah Lerner, who runs the account Alt-POTUS 45 (which imagines what Hillary Clinton would tweet as president) decided to help support good journalism by crowdsourcing an effort to buy every Republican in Congress a subscription to Teen Vogue (the magazine which wrote that Trump was gaslighting America).
As part of the project, dubbed #TeenVogue4Repubs, Lerner created a public Google Doc listing every GOP congressman and senator, along with Republicans in Trump's cabinet and independent senators like Bernie Sanders who may need an extra incentive to reject Trump's policies.
So far 31 GOP senators and 25 Republican congressmen, along with Vice President Mike Pence and Trump's chief strategist Steve Bannon, have been gifted with Teen Vogue subscriptions.
Lerner also started an effort to buy magazines for inner city libraries, though so far only one Los Angeles branch is on that list.
But that wasn't the weekend's only hashtag activism—another campaign was inspired by a joke tweet from former Arkansas governor and presidential candidate Mike Huckabee:
Huckabee is referring to the fact that Senate Minority Leader Chuck Schumer got choked up last week during a press conference about Trump's immigration ban. However, many people were quick to criticize him for referencing Boys Don't Cry, a film about the brutal murder of trans man Brandon Teena.
Lesbian comedian Cameron Esposito turned this anger into action by donating to Trans Lifeline, a suicide prevention hotline for transgender people, in Teena's memory. Her 70,000 Twitter followers also sprang into action, donating over $18,000 thus far (Trans Lifeline's fundraising goal for the entire year is $25,000).
The final bit of Twitter-based charity came during last night's Super Bowl. Given that New England Patriots quarterback Tom Brady, coach Bill Belichick and owner Robert Kraft are all friends with Trump, comedian Josh Gondelman (a writer for Last Week Tonight with John Oliver) decided to donate to the NAACP every time the Patriots scored. He asked others to do the same thing for the charity of their choice and share their contributions using the hashtag #AGoodGame.
Given the Patriots' late rally, donations to the ACLU, Planned Parenthood and Save the Children, among others, began pouring in, proving for the third time in 36 hours the power of social media charity.