A palatial abode.
Douglas Elliman
A breakfast area, perfect for high tea.
Douglas Elliman
John F. Kennedy is among past guests who stayed in the suite.
Douglas Elliman
The Duke and Duchess of Windsor stayed here, too.
Douglas Elliman
There are 14-foot ceilings throughout.
Douglas Elliman
Very regal.
Douglas Elliman
Four-poster bed, because #royalty.
Douglas Elliman
One of four bathrooms.
Douglas Elliman
The kitchen.
Douglas Elliman
Oh hello, Queen Elizabeth II.
Douglas Elliman
All marble bathrooms.
Douglas Elliman
An additional powder room.
Douglas Elliman
A Plaza residence with royal ties is yours for the taking, granted you have nearly $40 million to spare.
The three-bedroom, 4.5-bath apartment, known as the Astor Suite, is currently owned by Esprit founder and former CEO Jürgen Friedrich. It's the guests who stayed in the suite pre-condo conversion, however, that are likely to appeal to the royal-obsessed.
The 4,299-square-foot corner unit was considered the best suite at the Plaza, per the listing shared by Douglas Elliman brokers Melanie Lazenby and Dina Lewis, often chosen by guests like John Jacob Astor (whose name apparently stuck) and John F. Kennedy, as well as the Duke and Duchess of Windsor. Sure, Prince Harry hasn't stayed here, but JFK is pretty much American royalty.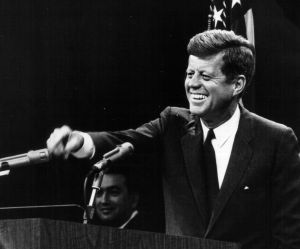 Freidrich bought the apartment at 1 Central Park South for $25 million in 2007, after the partial condo conversion of the storied hotel, and proceeded to put it back on the market just a year later for a staggering $55.5 million. There were apparently no takers, but he did offer it as a $125,000-a-month rental (the most expensive rental listing in the city, for a short time), in 2011.
Now, the palatial abode is back, with a reduced asking price of $39.5 million. And its past residents aren't the only royal part of this space—apparently, interior architect S.R. Grambrel Inc. brought in the artisans who rebuilt Windsor Castle to transform the apartment. So it's kind of like your own castle in the city, which means you're just like Kate Middleton.
Aside from it's location inside the luxurious, famed hotel, the plush abode features 14-foot ceilings, English oak paneling, antique fireplace mantles and hand-hammered leather walls imported from France, as well as hand-drawn plaster ceilings.
In keeping with the American royalty theme, there is another home on the market that fits right in, and it has Kennedy ties, too—the famed Grey Gardens estate in East Hampton, listed for $20 million.