If you were to read into Prabal Gurung's front row celebrity presence, you could anticipate that some political statement was going to be made. There, alongside Sarah Jessica Parker, Diane Kruger and Priyanka Chopra was Huma Abedin. Perched a few seats down from the vice chair to Hillary Clinton's 2016 campaign was Cleo Wade, the empowering poet and speaker who is rumored to be dating Senator Cory Booker.
After a procession of Gurung's greatest hits, including sumptuous knits, lush fur coats and elegantly fluid evening dresses, Gurung's political statement walked out.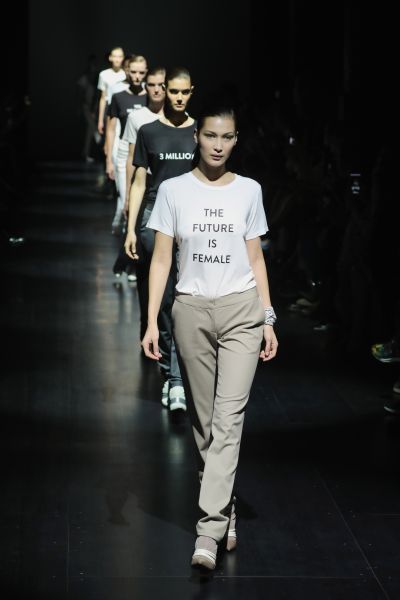 The charge was lead by Bella Hadid, wearing a t-shirt that read "The Future is Female." The rest of the models followed suit, bearing empowering messages of their own. Their shirts read "Break Down Walls," "I Am An Immigrant," and "Revolution Has No Borders." Some of the slogans paid homage to Martin Luther King Jr., while others were a shout out to Rosa Parks or Senator Elizabeth Warren.
Gurung even pledged his allegiance to Planned Parenthood, adorning a shirt that said "PG x PP" with the pink pin that was created as an initiative between the organization and the CFDA.
Closing the show was Joan Smalls, a model who was born in Puerto Rico, wearing a white T that read "We Will Not Be Silenced." She was followed by Gurung, who took his bow to a standing ovation; his own shirt said "This is What a Feminist Looks Like" and he accessorized with a white bandana, a symbolic accoutrement proposed by Business of Fashion, to mark standing in solidarity with all people.
The designer's show notes echoed this theme. "Today I bring to you the women who inspire me―those made of strength, inner beauty, graceful femininity and vigilance. We are awake, alive and inspired to celebrate women from all walks of life. This is the time to speak our conviction and use our voices to invoke change. This is the upside of the downside," he wrote.
The Nepalese designer finished his statement: "This is my love letter to you. Our woman who inspires us to present our unabashed and unapologetic definition of femininity with a bite."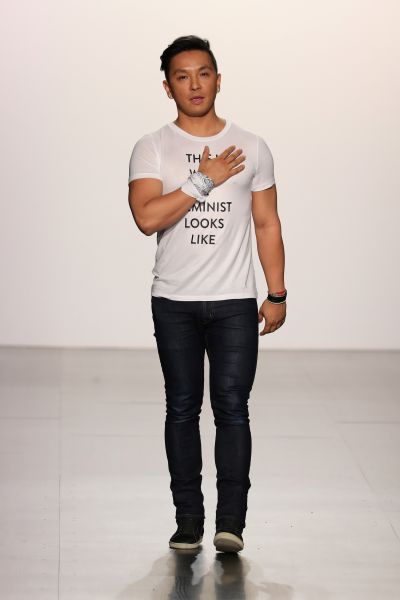 Gurung was hardly the only designer to use his runway as a platform for a political statement. At Public School, sweatshirts featured the face of Michael Jordan on the front, while the back read, "We Need Leaders." Raf Simons chose to open and close his debut at Calvin Klein with the David Bowie tune "This is Not America," and Christian Siriano paired a pink satin evening skirt with a t-shirt that shouted "People Are People."
However, it's clear that Gurung made the largest statement thus far. We'll see what messages the rest of the NYFW runways hold.