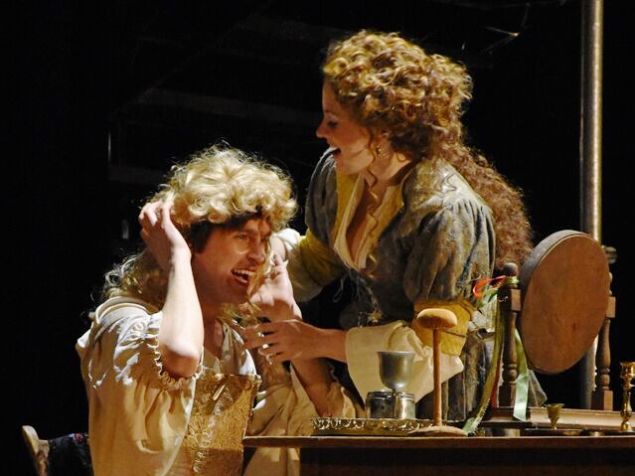 Venerable composer Carlisle Floyd—he celebrated his 90th birthday last year—has in his long career created at least two candidates for the title of "Great American Opera": Susannah (1955) and Of Mice and Men (1970). So it's shame that his most recent (and perhaps final) work, a feeble period melodrama called Prince of Players, is a flop in every important way.
The opera, which was first heard in Houston last year, made its New York premiere in a ragtag production by The Little Opera Theatre of NY last night at the Kaye Playhouse, and aside for a couple of sweetly melodic orchestral interludes, the music sounded faceless and banal. What's worse, the score seemed marooned in the predictable mild dissonances of 1950s classical music, leaving the improbable storyline of the piece to flounder on its own.
The plot will be familiar to those who remember the 2004 film Stage Beauty: in 1661 the actor Edward Kynaston, who specializes in playing women, hits the skids when King Charles II decrees that actresses may appear on stage. But all turns out well when Kynaston generously coaches his (female) former dresser to play his "lost" roles.
There's a ton to unpack in this slim tale, in particular some rather retrograde notions about gender (the actors finally find success and happiness playing sex-appropriate roles) and sexuality (the seemingly gay Kynaston goes hetero for his nubile acolyte Margaret.) But Floyd's treatment of this material (he wrote both music and libretto) hardly skims the surface: it's like a Restoration remake of A Star is Born in which nobody drowns.
One particular failing in the piece is that the all-important plot point that Kynaston's genius at portraying women is never shown to us. The opera opens with a scene from Othello, but Floyd's music for Kynaston's character of Desdemona is instantly forgettable. Similarly, when Margaret takes over the part for the finale of the opera (with Kynaston now playing Othello) the music sounds noisier, more veristic, but still leaves us wondering what the onstage audience is yelling "bravo" about.
Once past the stumbling block that the opera makes no emotional or aesthetic sense, there were some attractive vocal performances to enjoy, in particular that of Maeve Höglund as the earnest Margaret. Her rich, shimmery soprano so filled out her last act aria that you wished Floyd had found the big melody the piece seemed so desperately to be searching for. As Charles II's mistress Nell Gwynn, soprano Sharin Apostslou wielded more that sufficient brilliance of voice and personality to fascinate a monarch.
If Michael Kelly failed to convince as the superstar male diva Kynaston, that's only partly Floyd's fault. With his slender baritone and gawky stage demeanor—not to mention tragically tatty costumes and wigs—he seemed to have wandered in from a summer stock production of Charley's Aunt.
Even the orchestra sounded listless under the baton of Richard Cordova, which is understandable, because the performers easily outnumbered the sparse audience in the small Kaye Playhouse. Despite the participation of some generally creative people, the only distinction this Prince of Players can claim is as the worst drag show in Manhattan.