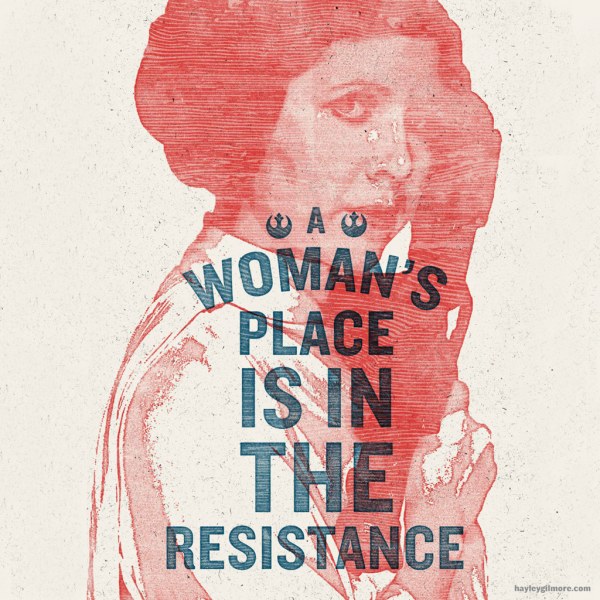 The Women's March on Washington was almost a month ago, when just under 5 million people worldwide grouped together to stand in solidarity for women and a variety of issues stemming from the inauguration of President Donald Trump. This article is part of our Marching On series about activists who are keeping the momentum going.
There were plenty of memorable signs at the Women's March on Washington—so much so, whole posts were published about them. But some of the most common were the Princess Leia-themed posters. One version of the Princess Leia sign, with the slogan "We are the resistance," was made by L.A.-based artist Vanessa Witter.
The other, "A Woman's Place Is in the Resistance," was made by Mississippi artist Hayley Gilmore. Gilmore told the Observer she doesn't have much planned for activism after the Women's March, but that's not because she isn't interested.
"I haven't had time to think about plans for future political art," Gilmore said in an email, "due to the bombardment of messages and the legal issues with the Princess Leia image I used."
We were able to find out little more about the legal issues Gilmore is dealing with and even a few ideas she has for future projects.
Not even legal setbacks can't keep this woman out of the rebellion.
Observer: Did you go to the Women's March? Was there a particular issue you marched for?
Hayley Gilmore: I was unable to attend the Women's March in Jackson, Mississippi due to helping others print the posters. I was making sure they had access to the files and such. If I had attended though, my reasons for marching were for equal pay and equal representation of minorities within this new movement.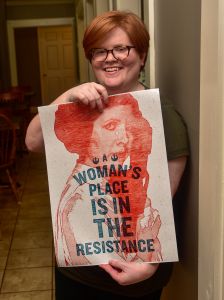 Before the Women's March, were you in the art-activism realm much?
Before the women's march, I designed graphics and posters for activist groups in Memphis while in graduate school at the University of Memphis. I also attended Mississippi University for Women, where a special emphasis is placed on women's education and rights. So, women's rights have always been at the forefront for me. Other than pro bono work though, I was not an active protester in the realm of activism.
What lead you to make these posters? Why do you think they struck such a chord with marchers?
My main reasoning for making these posters was to offer protest signs for those who maybe didn't have to time to make their own. I also wanted to promote Ladies Who Design, a group I started for women creatives. The images I chose were all based on themes discussed online for the Women's March and relating to the past presidential campaign cycle. The Princess Leia poster was more about making art to grieve Carrie Fisher's loss. I wanted to make a tribute piece to honor her life and legacy. She has influenced so many women, and in some ways, she has become a feminist icon.
Tell us about Ladies Who Design.
Ladies Who Design is a group I started last year that strives to build a strong community of female designers and creators through mentoring, collaborations and support. I host events in Mississippi every month that focus on specific themes related to to creativity, business and life. It definitely goes hand in hand with some of the concepts and practices that have emerged from the Women's March on Washington.
I know you said you haven't thought much about the future, but is there even a germ of an idea?
I would like to do a series of resistant posters focusing on images from art history. I have come across a lot of amazing prints in the public domain that were created in the 1700s, and I would somehow like to remix them and add my own meaning to them. Maybe even expand on their original meaning through research. Before the march, I was going to start the 100 Day Project on January 20 as well. I was going to post a drawing a day based on powerful women throughout history, film, pop culture and literature, but I've fallen behind on that. Hopefully, I can start it soon.
Can you tell us about the legal issues you're facing?
I can't go into great detail because it's still being worked out…The legal stuff has more to do with the unauthorized permission of third parties selling my work now, and how it goes against LucasFilm's current trademark and copyright on Star Wars. I've been in contact with Harvard's Cyberlaw Clinic and they are assessing whether to take on my case, so I'm hoping that works out in the future. The intent of "A Woman's Place Is in the Resistance" was to honor the life and legacy of Carrie Fisher. I didn't intend on selling it, because I didn't think it would be used for anything other than the march. Now, I'm dealing with people selling my work without permission, and it's been overwhelming having to work with attorneys and find ways to resolve it fairly. I understand that many people love the designs, but I also wish they would respect the copyright laws set in place.
---
Marching On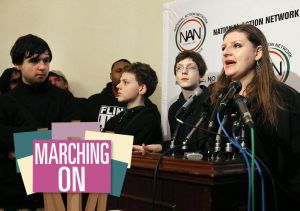 Flint Water Crisis | Flint Water Activist's Battle Continues Into Day 1,028, While US Cities Benefit
Read more.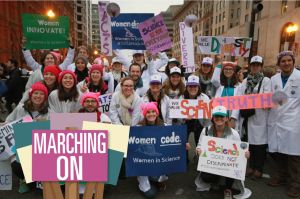 500 Women Scientists | Post-Women's March, These Scientists Focus on Education, Gender Diversity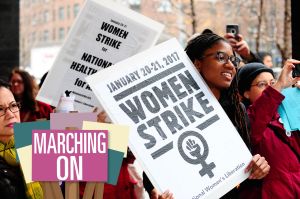 Activist Paulina Davis | For Activist Who Grew Up Seeing Black Women Lead, Women's March Is Familiar Terrain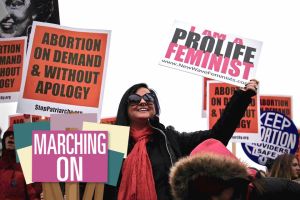 New Wave Feminists | Pro-Life Feminist Fights to Keep Women Empowered, Connected to Health Care