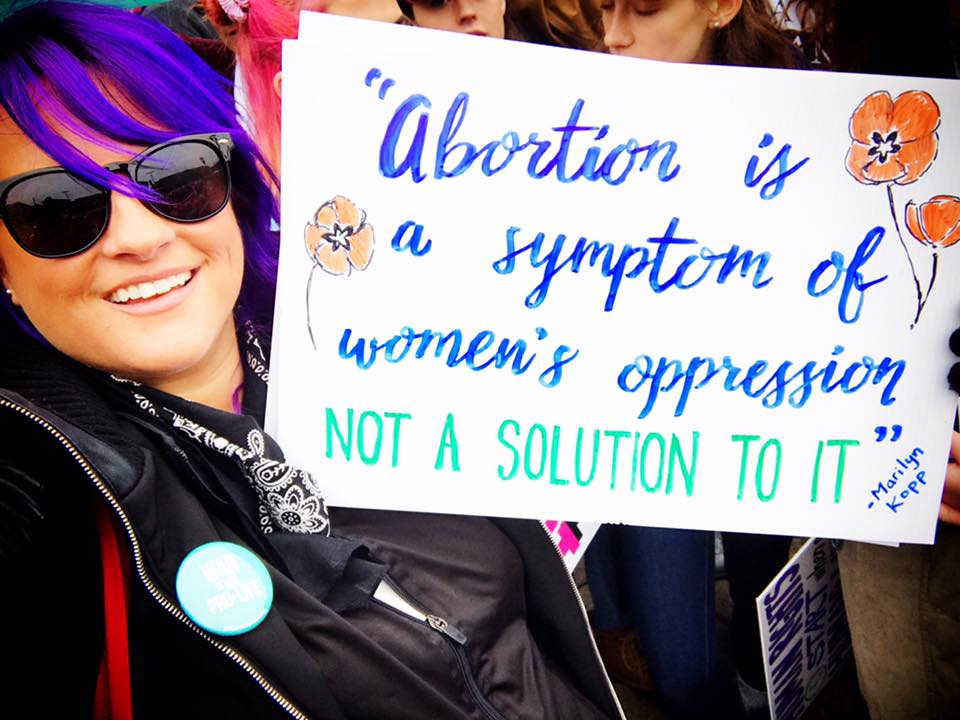 The Women's March on Washington was almost a month ago, when just under 5 million people worldwide grouped together to stand in solidarity for women and a variety of issues stemming from the inauguration of President Donald Trump. This article is part of our Marching On series about activists who are keeping the momentum going.
Destiny Herndon-De La Rosa was on edge about participating in the Women's March on Washington.
"I was really afraid there was going to be confrontation," Herndon-De La Rosa told the Observer, "that we'd be beat up or something was going to happen."
Her fears might have seemed unfounded since the event had been advertised, and was later reported, as a peaceful protest. And at first, she had had no reason to worry.
'It was just three of us in my living room, and it grew and grew and grew.'
Herndon-De La Rosa is a feminist and founder of New Wave Feminism, or NWF.
The group, she said, was conceived over a decade ago in her living room in Dallas and grew from there—mostly on social media platforms, like Facebook, where the group now has around 26,000 followers. The group participates in peaceful protests and even speaks at colleges, none of which pays much if anything. To supplement what she called her "feminism habit," she works part time as an architectural recruiter—she's also a full-time mother of four.
Herndon-De La Rosa is also pro-life, a platform at the heart of NWF.
Before the Women's March, she had heard a rumor that organizers weren't inviting pro-life women. But, that did not faze her: "It was laughable to me because nobody is invited. It's a public march: Anybody can go." The group even applied for partnership and had been accepted.
"We were very clear we were pro-life," Herndon-De La Rosa said of NWF's application for partnership. It was when The Atlantic published an article about NWF and its attendance at and partnership with the Women's March that Herndon-De La Rosa found reason to worry.
"Within a few hours of that article going live, there was a lot of backlash from some prominent pro-choice feminists on Twitter," she said, "demanding for us to be removed."
And, "Unfortunately, they caved to it." NWF's name was removed from the website soon after.
Women's March released a statement on social media, days before the event, saying pro-choice had been a part of its platform since the beginning and that "the anti-choice organization in question" was not a partner.
As Herndon-De La Rosa said early on, the march was public and anyone could go: "Nothing changed. It's not like because we weren't a partner anymore, we weren't gonna go. We were always participating no matter what."
The whole ordeal produced an unexpected outcome: NWF had been given a spotlight, and a national discussion based around the group and its principles had begun. And whether or not that aforementioned confrontation would ensue because of said principles, Herndon-De La Rosa could not be sure.
NWF went anyway, and once they got there, Herndon-De La Rosa realized her fear was yet another thing that was "laughable."
"It was such an overwhelmingly positive reception from the women out there," she said. "We received nothing but support."
NWF marched next to women with signs championing pro-choice, who even remarked about NWF's pro-life signs. But, they did so kindly and were just glad the group made it out to represent their perspective. Herndon-De La Rosa really found a peaceful protest.
"Even if organizers weren't sure about partnering with us, the actual women we met out there were incredibly kind," she said. "At the end of the day, they get it: This is good for feminism. I had women all week reaching out to me: 'I didn't realize I could be a feminist. Thank you, now I can tell people I'm a feminist. Cause I'm pro-life. I never thought I could be in this club and now I can.' That's pro-woman feminism. This is definitely a positive thing, I think, for everyone."
'The first time someone hears the term "pro-life feminist," they have a very strong opinion on it usually right off the bat.'
NWF looks to dismantle our understanding of the pro-life and feminist movements and reassemble them into something more cohesive forming around a few keywords: positivity, nonviolence, support, empowerment. That "pro-woman feminism" she mentioned.
The pro-life movement, for instance, misses something big, according to NWF's platform: women, and humans in general.
"The pro-life movement does a really great job of focusing on the fetus but not a great job of focusing on the dignity of the woman and understanding that we really need to be helping her just as much as trying to save the child," she said.
And this dignity, she said, should be applied across the board to all people because, for NWF, pro-life shouldn't stop with reproductive rights but reach into all matters of violence, like human trafficking, torture, war. "When you have people talking about protecting life in the womb but don't necessarily see them trying to respect the human dignity of other people the rest of the time, I'm not a big fan of that."
As for feminism, NWF finds abortion is not representative of pro-woman ideals. While the Women's March unity principles describe "access to safe, legal, affordable abortion" as being a basic right for women, NWF views abortion as a symptom of the larger illness that forgets about the individual.
"There is a lot of pressure that goes into creating the system where women feel like they need abortion and where they feel like they're not good enough and not strong enough and can't have a child. It kind of breaks them down, and they turn to abortion," Herndon-De La Rosa said.
"We noticed feminism touted abortion rights as a positive thing without understanding that this isn't something that any woman actually wants…We don't work toward making abortion illegal, but we work toward making it unthinkable and unnecessary by supporting women."
And, that's exactly where Herndon-De La Rosa is directing her future endeavors: supporting women.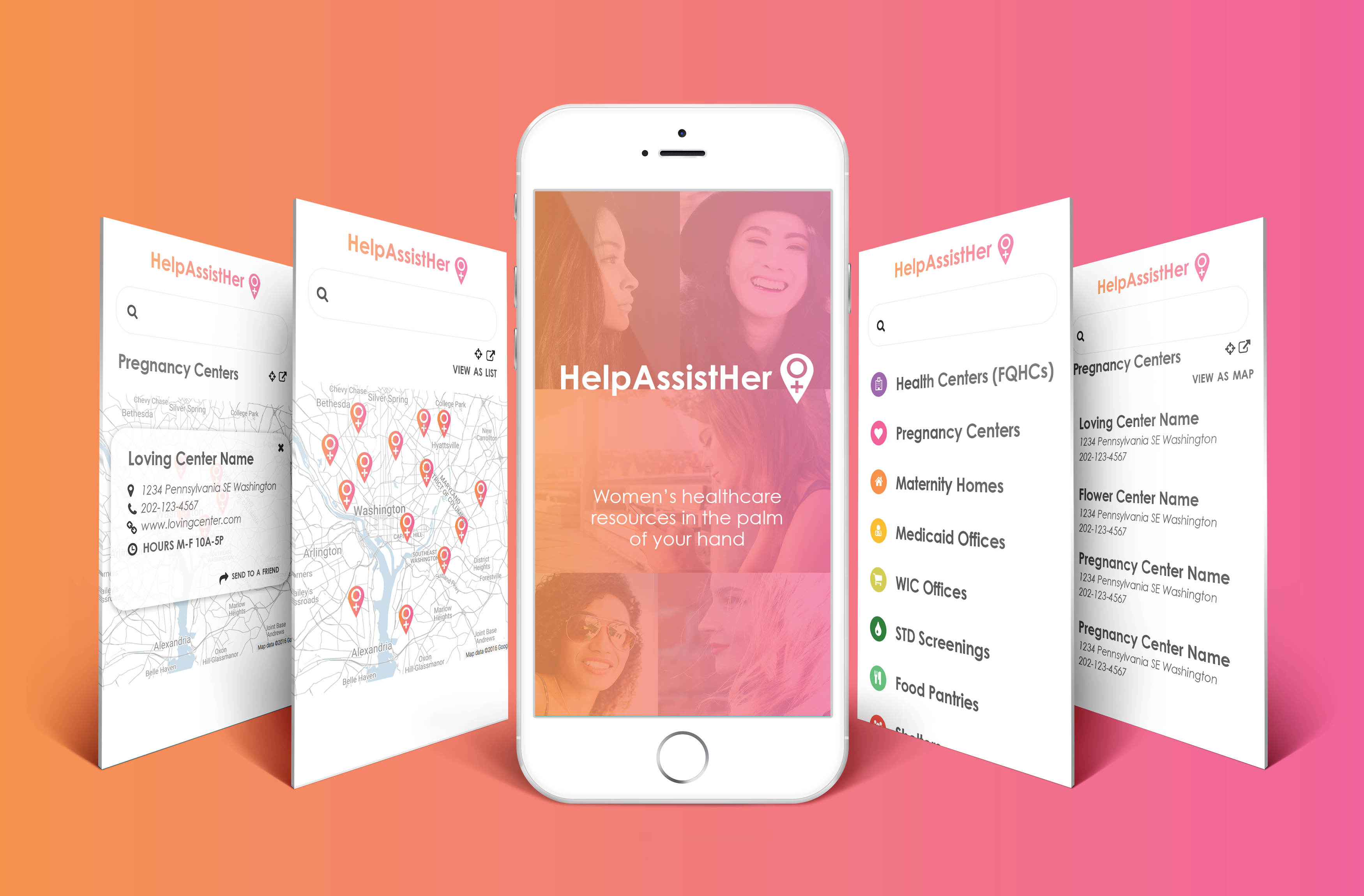 Since December, Herndon-De La Rosa and four other women have been working on a new app called Help Assist Her, or HAH.
"Help Assist Her will be an app that will allow people to very easily and quickly lookup local women's health care resources for themselves or someone else," said Karen Rose, a developer working on the app, in an email to the Observer. "It will contain all of the resources that we believe women (either pregnant or not) should have access to for their health care needs."
For now, the app will only service New York, the state with the highest rate of abortions at 24.3 per 1,000 live births, Rose said. HAH's resources will be free or at a reduced cost, since the app is mostly for uninsured women, and will include pregnancy and health centers, housing options, food pantries, WIC offices, medicaid offices and emergency services. They hope, with a user-friendly, simple design and extensive, broad data—mostly obtained through volunteers—HAH will fill the void that exists in connecting women with the local health care they need.
"There's lot of databases out there, but they haven't been vetted, and so when you pull them up and try to find a resource, you might end up going all the way across town, and they don't actually have the service that you need," Herndon-De La Rosa said. "One case in Texas, someone went to—it was like a women's prison, which was listed in this app for women's resources."
The app at this point is still in the early stages, and they're taking their time, Rose said, to make sure they create a high-quality product that actually helps women. But the product is forthcoming, if not for the current void in help, then for the potential that Planned Parenthood loses funding.
"We're hoping it will be something that, if Planned Parenthood does get defunded, will help offer alternatives to women by connecting them to smaller charities and sitters and things like that," Herndon-De La Rosa said.
"I'm an uninsured woman myself, and I think it's unfortunate that for me they kind of have a monopoly on women's health care. Why just because I'm poor or uninsured do I have to go an abortion provider for my health care? I would like to see that money reallocated and earmarked for well-woman care. We're kind of in a scary time. We're afraid that, if Planned Parenthood is defunded, that money is just going to go into healthcare coverage and not necessarily into well-woman care. At the end of the day, we still need health care. Whether you've agree with abortion or not."
'I don't think what lawmakers do is nearly as important as what the individual does.'
And that's the battle going forward. With the current, and male-dominated, administration and its talks about defunding health care, the future of women's health care is uncertain.
"I'm very concerned that in 2017 we selected a man who has that much blatant misogyny in the past," Herndon-De La Rosa said. "When I hear someone like Mike Pence who doesn't have a uterus talking about defunding health care that a lot of women depend on, it disappoints me."
But for Herndon-De La Rosa there's hope outside the government—and that's in people.
"Laws might change, but until we address the root of a problem, I don't think what lawmakers do is nearly as important as what the individual does," she said.
"Seeing the size of the crowds [at the Women's March], seeing the women standing together, united in this message, That's not gonna fly in the white house—I think that is very encouraging to me and definitely reaffirms my faith in humanity."
---
Marching On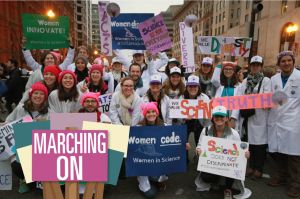 500 Women Scientists | Post-Women's March, These Scientists Focus on Education, Gender Diversity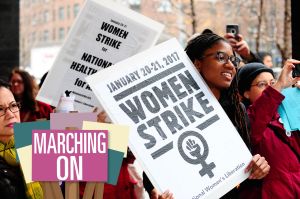 Activist Paulina Davis | For Activist Who Grew Up Seeing Black Women Lead, Women's March Is Familiar Terrain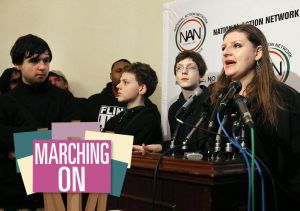 Flint Water Crisis | Flint Water Activist's Battle Continues Into Day 1,028, While US Cities Benefit
Read more.
Princess Leia Poster | Legal Issues Won't Keep This Artist Out of the Rebellion