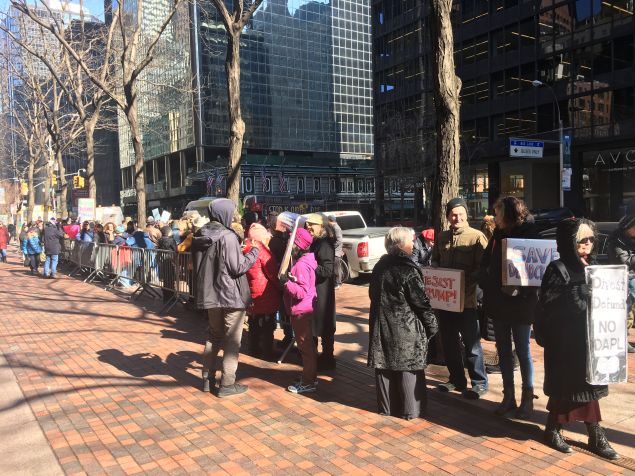 Members of the liberal group MoveOn.org rallied in front Senate Minority Leader Charles Schumer's Manhattan office this afternoon to call on him and the rest of New York's delegation to the Hill to set up town halls where constituents can discuss President Donald Trump's policies and urge politicians to stand up to him more aggressively.
The rally urged New York's two senators and 27 members of the House to schedule open forums in their districts during the February congressional recess, which starts this weekend. They want the town halls to focus on Trump's executive orders expanding federal deportation parameters, barring travelers from Muslim lands, encouraging the completion of the controversial Dakota Access Pipeline, his public attacks on judges and his "dangerous Cabinet picks."
Upper West Side resident Sheila Hopkins said that the town halls would be an opportunity for individuals to encourage Democrats like Schumer to vote in a manner that "reinforces liberal values in this country."
"The bottom line is it's about hearing our voices and I think Chuck probably thinks that, you know, he's good and that he's doing everything he should be doing as a liberal senator but in fact, he could be doing more," Hopkins said. "And he needs to understand that—he needs to understand that people are not going to just arbitrarily vote for him because he's got a D next to his name."
But she appeared to indicate that the burden should not be exclusively on Schumer, the most powerful member of his party in Washington, to listen to the people.
"Congress is in recess right now and so the basic idea is they should be in their home districts and they should be engaging their constituents, hearing their constituents' voices on key policy issues, knowing what their constituencies, all of their constituents want them to represent them in Washington," Hopkins continued.
East Village resident Colin Clark said he was pleased with some of Schumer's actions, including supporting Minnesota Congressman Keith Ellison to become the next chairman of the Democratic National Committee and speaking out against Trump's edict barring entry to people from seven Muslim-majority countries, which is now under a temporary court injunction. But he claimed that, aside from Trump's Department of Education Secretary Betsy Devos, the senior senator from New York had voted to confirm "almost all of the other appointees."
In fact, Schumer has voted against seven of 12 Trump nominees.
"I think he's been more vocal as of late about, he' definitely been vocal about the Muslim ban which I like," Clark said, calling on the Democratic leader to follow the example of the two most left-wing members of his conference: Vermont Sen. Bernie Sanders and Massachusetts Sen. Elizabeth Warren. "I feel like there's a fear of dissent in the White House and aside from Sanders and Warren, they're really the most outspoken. I wanna hear him."
Staten Island resident Patricia Okoumou, an immigrant from the Republic of Congo, called on Republicans like her own representative, Congressman Daniel Donovan, to push back on the president.
"Chuck Schumer is coming out and having a voice for us who cannot be seen on TV or newspaper to reflect what we are doing on our end on the street," Okoumou said. "So he's putting a lot of pressure and we are putting a lot of pressure on him. But I think it's about time that the Republicans act bipartisan sometimes because they are issues, they're not about parties."
Harlem resident Cynthia Wiseman argued the town halls would give people a platform and blasted Schumer for a recent op-ed in which he recounted his interview with Judge Neil Gorsuch, Trump's Supreme Court nominee and Gorsuch's failure to provide more specific answers.
"He needs to grow a pair and he needs to step up to the plate," Wiseman said, saying that Schumer should "get the fucker [Gorsuch] out!" "He's giving lip service to how much he cares about the people. He comes every year to my graduation. He's always got the same story about how much he sticks up for the people. God dammit, get up there and do something!"
Angelo Roefaro, a spokesman for Schumer, said that from day one, Schumer has been a key opponent against cabinet nominees—whom he called the "Swamp Cabinet"—"who are extreme, unqualified or riddled with conflicts of interest." He also said Schumer spearheaded the effort to forestall the GOP push to rush them through.
"Senator Schumer has said, time-and-again, that he and his caucus will be guided by their values when dealing with the agenda of the new administration, which, so far, has been heavy-handed, incompetent and extreme—as with the refugee-and-Muslim ban," Roefaro said in an emailed statement, adding his role in fighting for the Affordable Care Act and pointing to Trump's plans to weaken Medicare and gut consumer protections against Wall Street.