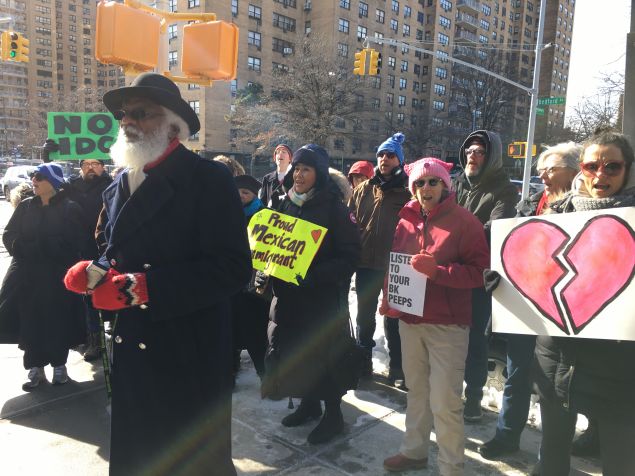 Demonstrators tore into Brooklyn State Senator Jesse Hamilton for his decision to join the Independent Democratic Conference—a breakaway faction of Republican-aligned lawmakers—and accused him of "running away from his constituents" by deciding to close his district office for the day.
Hamilton announced his decision to join the IDC just prior to Election Day, making him the splinter caucus's the first nonwhite member since it expelled the disgraced Malcolm Smith after his arrest in 2013. With the protest two weeks in the making, Hamilton tweeted after 8 pm on Wednesday that his office would be closed all day Friday for a Valentine's Day event.
At 1 pm, the time the demonstration was scheduled to start, he took part in an IDC presser opposing national right-to-work legislation, which would hamper unions' abilities to collect dues.
"This was not announced before Wednesday night on Twitter," said Harris Doran, a member of Rise and Resist, the group that organized the protest. "So you don't have to be Sherlock Holmes to put two and two together. So here we are protesting and he's running away from his constituents."
Upper Manhattan State Senator Marisol Alcantara agreed to join the IDC shortly after her primary victory last year, making her its first Hispanic member. Queens State Senator Jose Peralta became latest senator to join the rogue group last month.
Hamilton did not immediately respond to a request for comment.
Established in 2010, the IDC struck a deal in 2012 with the then-minority State Senate Republicans that allowed them to run the body together. After the GOP regained a majority in the 2014 elections, they revamped the agreement so that Bronx State Senator Jeffrey Klein could keep his title of "co-leader" but lost much of his power over legislation and the chamber's internal operations.
Doran said that they want to educate people about the IDC by putting flyers around the city and that President Donald Trump's election triggered interest in learning about the IDC.
"Now that everyone's woke, you realize, 'Oh actually, our State Senate is not Democrat and then you find out we actually have a majority of Democrats elected and yet the Republicans have the majority, right," Doran continued. "And you start wondering what happened and everyone is now figuring that out. What happened is some shady ass shit, right."
Protesters chanted slogans such as "Democrat majority, shut down the IDC!," "The IDC gave the GOP the Democratic majority!," "IDC equals GOP!" and "Hamilton, cut the crap. No fake Democrats!"
Hamilton, and African-American, has asserted that the opposition to his decision is racially tinged, as it allows him to enjoy a committee chairmanship, more office funding and other perquisites denied to most other Democrats. His district consists of the predominantly black neighborhood of Crown Heights and the mostly Hispanic and Chinese-American area of Sunset Park, connected by strips of mainly white Park Slope and Prospect Heights.
Most of the protesters at today's event were Caucasian. But Ernest Skinner, one of the few African-American attendees, argued that it should not matter because many of them are still constituents—though he would have liked to see more people of color.
"The problem we have is that some of the people who are most impacted by these things, they prefer to stay home and watch TV and unfortunately, most of those people who look like me," Skinner said. "People of color complain, but they don't participate."
Susan Kang, a resident of Peralta's district, said the demonstrators had an IDC "fact sheet" that has already been translated into Spanish and will soon be translated into Mandarin and Creole. She said they were looking to take more actions at community forums and town halls, on top of their social media outreach.
"I think that one of the things we are gonna try to do at this meeting we have coming up is gonna do much outreach as we can to different constituencies," Kang said.
Claudia Galicia, president of Sunset Park Latino Democrats, told the Observer that she thinks Hamilton is preventing the passage of the DREAM Act, which would extend eligibility for state financial aid to undocumented students. She also said that the State Legislature would be able to pass the New York State Liberty Act, which provides undocumented immigrants with sanctuary protections—and called on him to "step aside" if he's not willing to represent his constituents.
"We're all trying to find a candidate that can really represent our voices. Our community is really struggling, we've been trying to meet with Jesse Hamilton," Galicia said. "We're trying to schedule a meeting and then we never get a meeting with him. He's never available and we have asked repeatedly that we want the DREAM Act to be passed and the Liberty Act to be passed."
Most members of the IDC support the DREAM Act and elements of the Liberty Act, but the Republican leadership they have aligned with oppose the measures and have declared their intention to prevent them from coming up for a vote.
Marvin Edwards, who has lived in the district for 20 years, became interested once he understood what the IDC was.
"I'm about to drop my bags off in the house and come back and join the rally because this represents me," Edwards said. "I like stuff like this. We need to get more involved. A lot of people don't get involved in government because they feel like their voice doesn't have power but collectively, we have power."