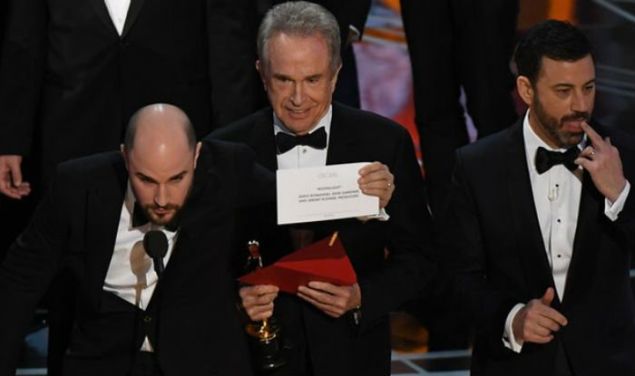 It was the screw-up seen round the world: at the end of Sunday night's Oscars, presenters Warren Beatty and Faye Dunaway announced that La La Land had won the Oscar for Best Picture. While the film's producers were giving their acceptance speeches, they found out that Beatty had opened the wrong envelope and, in fact, Moonlight was the winner.
The chaotic scramble that followed was immediately dubbed "Envelope-Gate," and even now, two days later, the incident is still being talked about and analyzed on newspaper front pages.
So how the hell did this happen, and what can the Academy do to ensure it doesn't happen again? It all comes down to the accountants.
Rather than giving Beatty the Best Picture envelope, Brian Cullinan, a partner at the accounting firm PricewaterhouseCoopers (PwC), which has tabulated the Oscar results since 1935, handed him a duplicate envelope for Best Actress, the award Emma Stone had just won for La La Land (PwC uses two complete sets of envelopes, one on each side of the stage).
Yesterday the Wall Street Journal reported that Cullinan was tweeting pictures of Stone backstage after her acceptance speech, and may have been distracted when handing Beatty his envelope.
PwC did not respond to the Observer's requests for comment, but last night it released a statement taking full responsibility "for the series of mistakes and breaches of established protocols during last night's Oscars." The press release also referred to Cullinan by name and stated that he did not "follow through quickly enough" when the La La Land error occurred.
"For the past 83 years, the Academy has entrusted PwC with the integrity of the awards process during the ceremony, and last night we failed the Academy," PwC's statement read.
Deborah Hileman, president and CEO of the Institute for Crisis Management in Denver, agreed that the situation "was handled very poorly in the moment."
"Nobody reacted quickly enough," she told the Observer.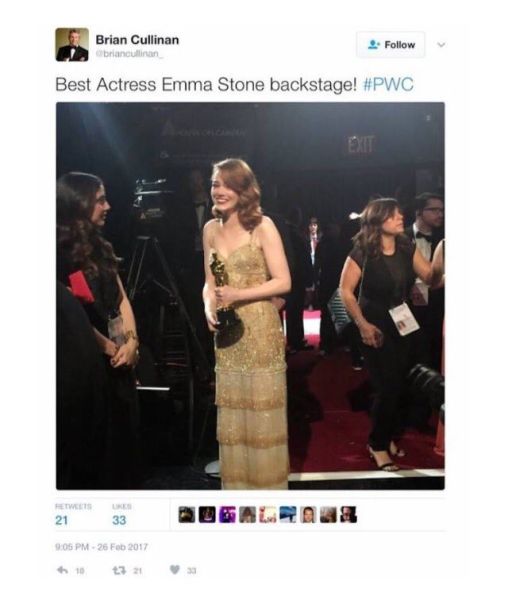 From a public relations perspective, naming the accountant responsible and then letting gossip creep out about Cullinan's Twitter habit is also problematic, according to Hileman.
"He was front and center when it happened, but it seems like it was throwing him under the bus," she said. "We all are aware of how our smartphones create distractions in our lives, and in hindsight I'm sure he wished he left his phone in his pocket."
Richard Levick, founder and CEO of an eponymous Washington, D.C. crisis PR firm, was not so forgiving. While he acknowledged that PwC's delayed response was a problem, he said that naming Cullinan was fair game, especially since the accountant's Twitter bio reads "Counting Oscar ballots and keeping secrets."
"He was already outed instantly," Levick said.
It was also "bad optics" for Cullinan to delete the Stone tweet because it makes him look more guilty—this gives him an even greater chance of losing his job, according to Levick.
'They've got an eight decade history with the Academy Awards, and I would hope they'd be able to overcome this one very public mistake.'
While PwC's media and entertainment branch is relatively small (accounting for only 4.2 percent of its $36 billion in sales last fiscal year), Hileman said this very public gaffe could affect the entire business.
"They've got an eight decade history with the Academy Awards, and I would hope they'd be able to overcome this one very public mistake," she said. "But society is not very forgiving these days, and it may cost them more than one very important client."
Levick was more optimistic.
"PwC is a great company with a historic reputation, and most sophisticated buyers understand this was just a momentary error," he said.
If the Academy is out for blood, however, both Hileman and Levick said PwC could lose the Oscars gig.
"Anything is possible," Hileman said.
There is some silver lining, however—Levick said that President Trump's address to a joint session of Congress tonight will focus the public's attention on other things.
"It will take almost all the oxygen out of this story," he predicted.
Indeed, in the long run this scandal could end up being good for PwC and the Academy, according to Levick.
"The fiasco was good live TV, and the Oscars haven't had good live TV in a long time," he said.