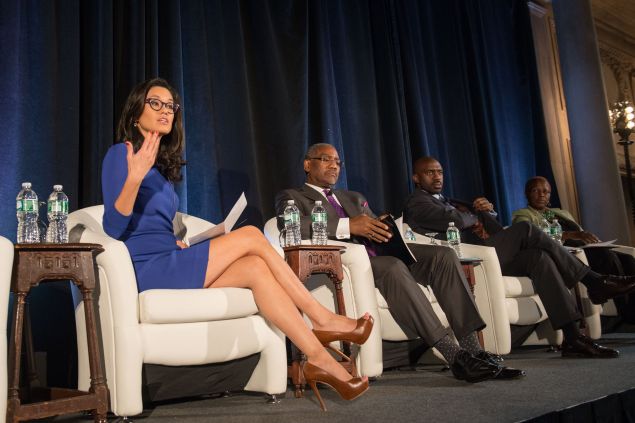 Queens Congressman Gregory Meeks, a Democratic National Committee member, has endorsed Bronx Assemblyman Michael Blake for one of the party organization's five vice chairmanships—following endorsements from top Bronx Democrats, Gov. Andrew Cuomo and former President Barack Obama's chief strategist David Axelrod.
The 34-year-old Blake, a veteran of Obama's presidential campaign and White House, declared his bid in December.  The assemblyman's platform—"Build Our Bench. Strengthen Our Party. Embrace Our Future."—includes supporting new candidates for local offices and recruiting top strategists in the DNC and creating a mentorship-oriented candidate support program.
Meeks, who serves as chairman of the Congressional Black Caucus Political Action Committee, said the party could use more young leaders.
"I enthusiastically endorse the candidacy of Assembly Member Michael Blake for the role of vice chair," Meeks said in a statement provided by Blake. "His leadership and ability to bring Democrats together is without question. Michael brings new young leadership and energy that we need in the Democratic party now more than ever."
Blake called Meeks a "dynamic leader for progress," saying that his leadership and commitment to service "is held in the highest regard across the country."
"I am both honored and humbled to have his support," Blake said in a statement. "His balanced commitment on issues ranging from economic development, to his relentless advocacy for working class families, has been an inspiration to all. His achievements in job creation have heralded national attention and accolades."
Several Bronx insiders have shared suspicions with the Observer that Blake's DNC run is an effort to escape Albany and the drudgery of being a junior member of the Assembly. Rumors have swarmed since his election in 2014 that he hopes to seek the seat of Bronx Congressman Jose Serrano, who is expected to retire in the next few years.
The assemblyman courted controversy in 2015 when he briefly accepted a position lobbying in Washington, D.C. for the firm Hilltop Public Solutions, a job Blake said he intended to do on top of his post in the State Legislature. He ultimately wound up backing out of the role amid criticism.
Meeks' endorsement comes after a recent City & State opinion piece reporting that the assemblyman is seeking unlimited contributions for his campaign by "exploiting a legal loophole." Blake released a statement insisting that the position is not a state or a federal office so neither state nor campaign finance laws apply and denying that his campaign is an "exit strategy."
At the end of last month, Assembly Speaker Carl Heastie—one of the most powerful Democrats in the Bronx and across New York State—announced his support for Blake, a sign that the once-unfriendly County machine was starting to warm up to the idea of him as a national party leader.
Blake has also garnered support in middle America, too: from current DNC Vice Chairman R.T. Rybak—whom he wants to replace—and David Pepper, chairman of the Ohio Democratic Party.
The election for vice chair will take place in Atlanta among 450 DNC voting members, who elect the chair, five vice chairs, a treasurer, a secretary and a national finance chair. Without a Democratic president, this year's election will be the first competitive DNC race in eight years.
Blake is not the only New Yorker in the running. Queens Congresswoman Grace Meng is seeking re-election to the vice chairmanship she won last year, and has picked up plenty of endorsements of her own.