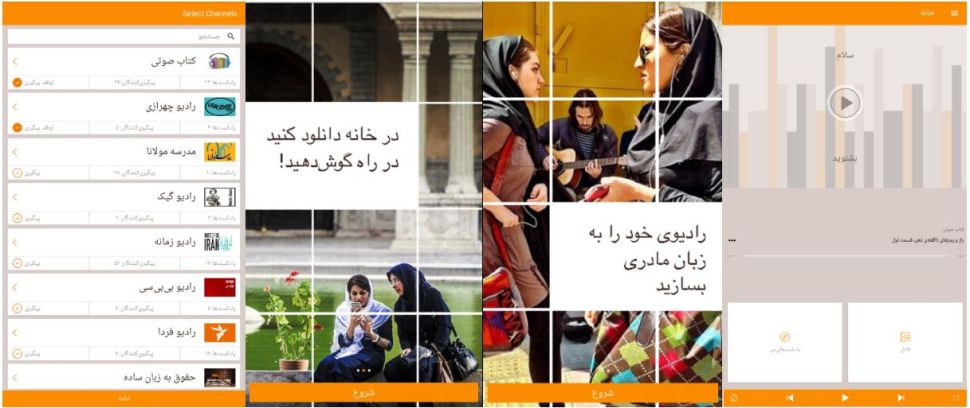 New podcast apps seem to launch almost every day, but the latest one is laser-focused on shrinking the cultural distance between Iran and the rest of the world, particularly the West.
This weekend, RadiTo went live in the Google Play store. The most important innovation for the app has nothing to do with the sort of topics we typically obsess over in podcasting coverage, such RSS versus API-powered downloads, finite listening or shareability. RadiTo's biggest innovation sits right on the surface, making multiple languages typically less served by technological products available for using its interface. When users first open the app, they get asked what language they want the user interface to use. There are six choices, English and the five leading languages used in Iran: Farsi, Kurdish, Turkish, Arabic and Balochi.
'This app is the first that's available in some of these languages'
RadiTo already had 1700 downloads when we spoke to Reza Ghazinouri, co-director of United for Iran. The Berkley, California-based organization runs what it calls the Irancubator, an incubator for developing technology to benefit the people of Iran. RadiTo is the first incubator project released into the public.
"Podcasts are a way that people can listen to significant amounts of information without sitting at their computer," Ghazinouri said. Because the internet infrastructure in the country is inadequate, he said, video is expensive, and lots of text becomes laborious for some people to consume.
Podcasts give Iranians a way to take in a significant amount of information without using expensive mobile data. They can download multiple episodes using relatively inexpensive wi-fi connections and listen to them on the go. This is an advantage everywhere in the world, but it's especially helpful in places with limited internet accesses and governments reluctant to permit unfettered access to the web.
Challenges presented developing the app spoke to the organization's mission. "We have a hard time finding people who both know IT and know Balochi," Ghazinouri said, but helping to find people with mixes of skill sets like that is part of what the organization wants to do.
"This app is the first that's available in some of these languages," he said.
As the app spreads in the country, United for Iran is willing to help guide people interested in producing podcasts, with advice and possibly even equipment, at some point. There are already podcasts in the country's major languages, but the group hopes the app will lead to more.
"To make that global village more real, we want to be one of the micro processes of that," he added.
RadiTo came out both via the Google Play store and as a direct download via the messaging app, Telegram. Telegram is a popular way for people in Iran to get reports from journalists and others, because it is difficult for the government to censor.
"Censorship governance in Iran is already pretty complicated and hard to explain," Ghazinouri said. "Due to power struggles in the regime, some websites like Telegram are open."
Many reports that cannot be posted on the web without being blocked can be written and shared on a Telegram channel, Ghazinouri explained. An extremely popular Iranian Telegram channel, Vahid-Online, shared links to both download locations for its followers.
RadiTo gets protection from blocking by distribution through the Google Play Store. Because the store is encrypted, the regime can only block downloads of the podcast app if it blocks the entire store, which would likely cause too much push back from the public. For additional protection, it uses Amazon Web Services for hosting, which would also make it discouragingly difficult for the regime to pin down.
Irancubator has several more apps on the way, including those focused on women's health and human rights.