New York, or at least the fashion conscious citizens of New York, were abuzz last night over the arrival of Raf Simons' runway show. The Belgian designer moved to Manhattan to take the role of chief creative officer at Calvin Klein and decided to bring his namesake label along for the ride. In fact, according to an interview he gave to GQ, the beloved designer moved his entire atelier here.
So, how did the show stack up?
Well, the ode to his new hometown was rather well-received. His front row attendance alludes to that, as it was littered with celebrity supporters such as A$AP Rocky, Ruby Sterling, Neil Patrick Harris, Leelee Sobieski, along with fellow designers Narciso Rodriguez, Joseph Altuzarra and Adam Selman. There was even an impromptu art installation by ACC projected on the show space at Gagosian Gallery in Chelsea that read "Welcome to NY, Raf."
The collection itself proved, yet again, Simons capability to present clothing that feels new and subversive, but not so far-fetched as to be unwearable. Every piece felt just a little bit exaggerated. Take, for example, the whipstitched loafers that were extremely close to the classic, but delivered with a delightfully chunky and clunky sole. Or the black overcoats that, instead of basic black wool, were offered in a shiny satin.
However, it was the styling of the entire range that maintained its excitement, right up until Simons took his bow and charmingly flashed the audience with the sign of the horns (also known as the rock 'n roll hand sign). Here are five of the most notable styling details from the range—don't be alarmed when you see them being adopted as early as next week.
Tape as a Belt
According to Simons, the time is now to discard your belt. In place of the proper leather waist cincher, the designer simply cinched models in tape. A silver version was the most striking, keeping one of those aforementioned black coats closed, but the tape was also used on vests and appeared to cinch the waistline of trousers.
Some of the tape read "I Love New York," while others shouted "RSYP Youth Project," "Walk With Me," and "I Love You." A handful of Instagram photos from backstage showed piles and piles of tape rolls. Should Simons produce this tape, expect it to be the hottest shipping supply of the Fall/Winter 2017 season.
Beaded Necklaces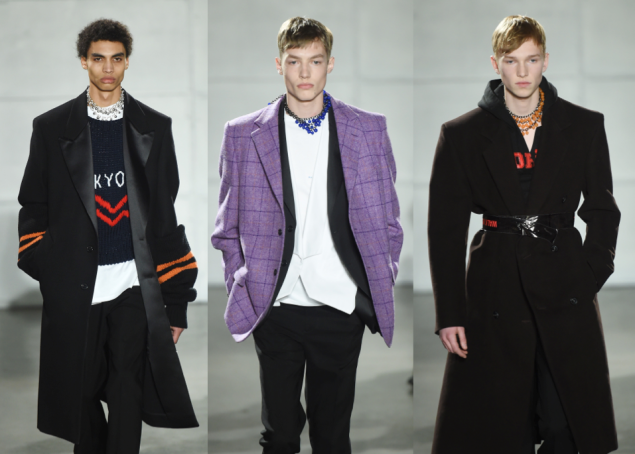 It was a true bauble fest at this fashion show. While these are thankfully not pukka shells, Simons did accompany each of his 40 looks with a silver chain and a dangling bead. Offered in orange, red, blue, white and just silver, this is perhaps the easiest pieces that girls will be able to borrow from the boys.

Crop Top Sweaters as Layering Pieces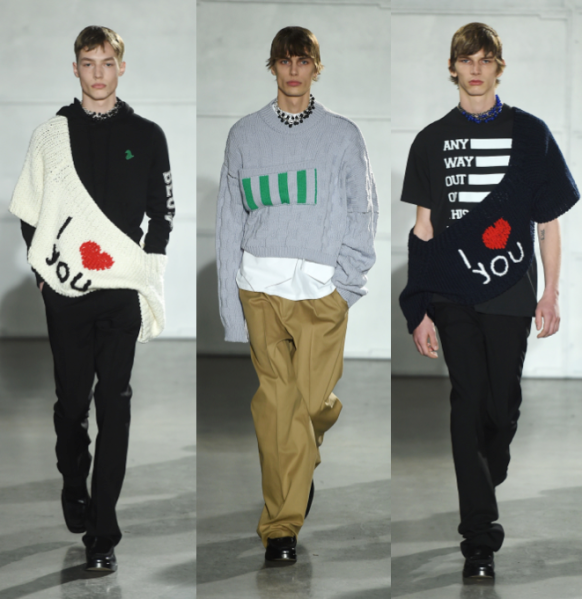 This collection was created in part with the Woolmark Company and it showed through the many knit sweaters that graced the runway. The yarn and fabric hails from some of the best manufacturers in the world, Manifattura SESIA and Olimpias Group, and according to a release, this is the beginning of a longterm partnership between Woolmark and Simons.
Perhaps the best way to wear a short sleeved off-the-shoulder sweater is how it was shown here: consciously layered. Simons displayed how it can elevate a basic sweatshirt, dress up a graphic tee and add some pizzaz to a pair of baggy chinos. Bonus points if the sweater comes with an uplifting message.

Horizontal Backpack Use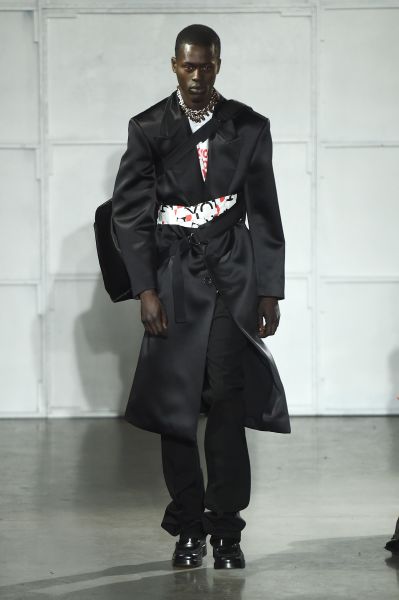 You heard it here first: There is no need to wear a backpack the logical way anymore. Instead of slipping your arms through the straps, place your entire torso through them. Nestle one underneath your armpit and other over the top of your shoulder and you're set.
Not only will this make it easier to grab something out of the sack, while on-the-go, but it will let your friends (or fellow bike messengers) know that you are clued in and very in fashion. 

Arm Warmers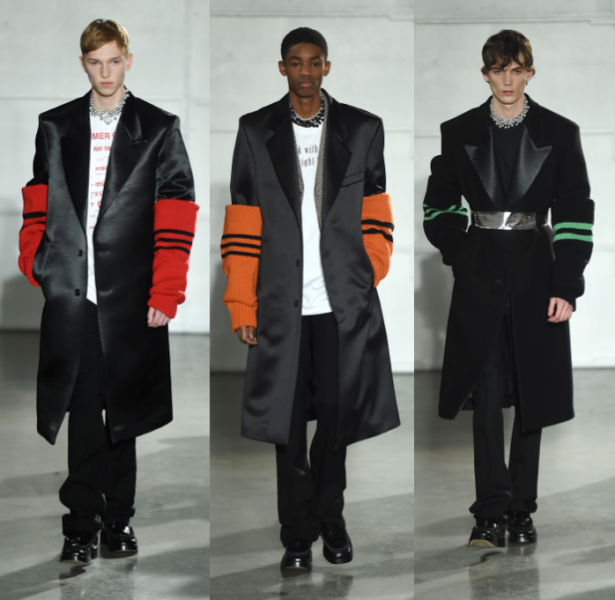 Leave it to Simons to produce a design feature you never even knew you needed. His arm warmers, which appeared to simply be the sleeve of a sweater layered on top of a coat, will offer an extra oomph of warmth. We hope.
Well, at least they're far chicer than leg warmers.