Nautica, an American brand best known for its sailing gear, was embraced by the rap community for a few golden years in the '90s. Once donned by Nas, Lil Kim and Wu Tang Clan, the brand was quickly abandoned for flashier labels. But all that changed early this month, when Lil Yachty was announced as Nautica's creative designer for 2017.
The 19-year-old rapper, who is easily recognizable by his red beaded braids, has made Nautica his thing. Today, there's no other rapper out there who rocks the brand with such dedication. In fact, in November 2016 he was chosen by Nautica to be the face of their '90s revival collection, in partnership with Urban Outfitters. That was his first official interaction with Nautica, but his interest in the brand goes back just a bit further; it dates back to his high school graduation, when he had just started making music.
"I was thinking about how to brand myself. I had a manager, before my current manager, he was into fashion. He was telling me how I could run with Nautica and how it made sense," he told the Observer, while sitting backstage at Nautica's Fall/Winter 2017 presentation for New York Fashion Week Men's. The teen rap sensation was rocking a vintage navy Nautica puffer jacket, though his diamond grills seemed to be the focal point of his getup. In fact, he spent most of our interview checking out his diamond-studded teeth in a mirror, while muttering answers to a few of our questions.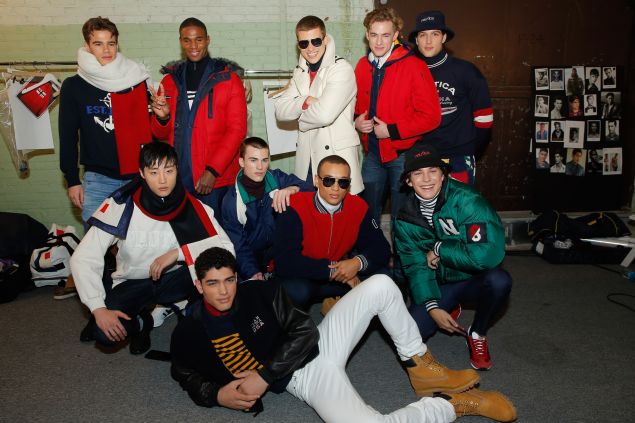 Lil Yachty didn't have any input on the current collection on display; his creative efforts will be unveiled later this year in a holiday range, according to a Nautica spokesperson. So, perhaps the rapper was just contractually required to be at the presentation, as he didn't seem too excited to be chatting with the press. He did provide a little insight into what his intentions are with the heritage label, which has been around since 1983 (for those who are keeping track, that's 14 years longer than Lil Yachty has been alive).
"I'm trying to bring back the youthful look," he explained of his forthcoming designs. "Bold and color. [Before], it catered to just one lane and I wanted to open it up, like the '90s Nautica. It's going to be crazy, yo. You'll be able to tell, you're going to know when my work is in it."
While that doesn't provide much insight on what's to come, we're sure Lil Yachty's creations will be a throwback to the Nautica of yore. We expect to see plenty of logoed pieces, perhaps a sailing flag or two and a bunch of sweatshirts, puffer jackets and the like. However, the Atlanta-born rapper doesn't want to be called the "D" word.
https://www.instagram.com/p/BP-s1n4AJoR/?taken-by=lilyachty&hl=en
"I'm not really a designer. It's not like that," he said. "I just have a style. I like colors, I like baggy clothes and I like skinny clothes."
This is good news for anyone who likes clothing of any kind. Really, it seems that as long as you're a fan of Lil Yachty's verse on D.R.A.M.'s "Broccoli," you'll be a fan of this collection.
"Everyone is going to want to rock it. It's gonna be fire," Lil Yachty said with conviction. Just add a chain (we suggest a sailboat one, like Lil Yachty's) and you're set.