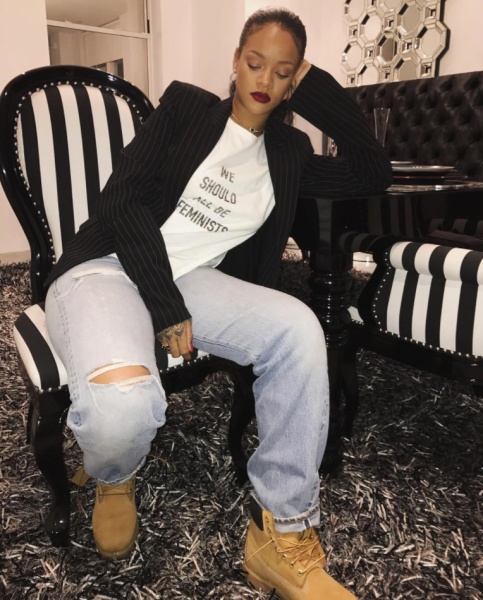 Last September at Paris Fashion Week, Maria Grazia Chiuri launched her first collection for dior (CHDRY). Between the fencing-inspired getups and the frilly tulle frocks, the politically-charged "We Should All Be Feminists" t-shirts gained most of the media attention. Today, you can buy said t-shirt, which happen to be a charitable design. Dior will donate a percentage of proceeds from the purchase of each shirt to Rihanna's charity, the Clara Lionel Foundation, which funds and supports global education efforts and emergency response programs and also advocates for improving young people's quality of life.
Grazia Chiuri, the Artistic Director of Christian Dior Couture, released a statement saying she was "proud" to produce a t-shirt that bears this slogan, which was inspired by author Chimamanda Ngozi Adichie's TEDx talk and essay.
"Seeing artists such as Rihanna wearing the We Should All Be Feminists T-shirt showed me how important it is for women to advance their fight," Grazia Chiuri said in a statement. "My position in a house as influential as Dior, but also my role as a mother, reminds me every day of my responsibilities and the importance of my actions."
Rihanna, who was recently named the 2017 Humanitarian of The Year by Harvard Foundation for her impact benefiting women and children worldwide, is no stranger to the house of Dior. In 2015, she played the Dior woman for the Secret Garden IV campaign, and last year, she collaborated with Dior on a pair of sunglasses bearing her namesake.
The t-shirts, which will retail for $710, are available on Dior.com and in Dior boutiques worldwide until May 15. An exclusive version of the runway t-shirt in black, along with the traditional white version, will be available for purchase on Saks.com from March 14-March 28.