[youtube https://www.youtube.com/watch?v=4-ILF_RvK7k]
Welcome to our TV Fashion column, where TV Ate My Wardrobe's Emma Fraser discusses the trends in television apparel. This week: The CW's Riverdale goes for product integration, without a Bing in sight.  
Seduce Scarlet or Pink Perfection? When picking out a lip color for a night of revenge on Riverdale it is better to ditch the mom-approved sweet shade for one that gives a feeling of power in a world which is quickly spinning out of control. It also gives CoverGirl an opportunity to insert their brand into this show beyond behind the scenes vignettes and this is product integration working in a way that feels relatively natural.
The CoverGirl/CW pairing goes back to America's Next Top Model when the winner would feature in a CoverGirl campaign and one of the final challenges would normally involve a very awkward commercial that meant we would hear "Easy, Breezy, Beautiful" on glorious blooper filled loop. As per Variety "Riverdale offered an opportunity to reach out to sponsors seeking female consumers" as in recent years the network has shifted attention toward their superhero products (which a lot of women watch, but whatever) and this meant reteaming with a brand they used to have strong ties with.
Product integration that is a natural fit is not easy; who can forget how much The CW tried to make Bing happen? It didn't matter how many times characters from The Vampire Diaries and Gossip Girl said "Bing it" because it sounded just as out of place and forced every single time. Advertising and product integration helps pay for these shows and it is a necessary part of production; in Emily Nussbaum's fantastic New Yorker essay "What Advertising Does to TV" she mentions that "Advertising is TV's original sin" because of how it was set up to sell products to the viewer.
[youtube https://www.youtube.com/watch?v=talcGAOj9YQ]
While the methods might have changed since television began there can still be an element of tackiness in how products are pushed on us and different shows come up with different methods in how they confront this aspect of the business. 30 Rock dealt with it head on with their Snapple endorsement in a scene which is both hilarious and maybe a little smug. But hey they still got their money. Comedy tends to be better at getting away with blatant nods like this and especially something like 30 Rock which is a whole show within a show. We all know that product placement is a thing, but methods of delivery and intrusiveness can vary from sneaky to completely open.
With Riverdale and CoverGirl it is all pretty upfront with a brief announcement occurring prior to the second episode regarding the affiliation to this beauty company. There are also two vignettes delving deeper into who Cheryl Blossom is with actress Madelaine Petsch and Riverdale's head of makeup Erin Mackenzie discussing how important Cheryl's red lip color is in revealing character. Red lipstick is a very powerful visual indicator and the lack of subtly in her overall makeup is another way of showing off Cheryl's Queen Bee status.
In last week's episode "Chapter Three: Body Double" lipstick color choice led to a passive aggressive laden debate between mother and daughter as well as a piece of product integration. Betty has borrowed her sister Polly's Seduce Scarlet and if you weren't clear from the application that is a CoverGirl shade then the close up on the tube is there to hammer this point home. Thankfully this a lot more of a natural fit than the Bing of it all and the name of this shade is indicative of what Betty has planned for her evening.
What this scene also does is show the power struggle between mom and daughter; Alice Cooper doesn't want her youngest to make the same mistakes as her eldest and seeing her in Polly's lipstick is enough to remind her of this path already traveled. "Seduce Scarlet doesn't suit you, my dear" in another scenario might come from a place of love and concern while acting as a form of constructive criticism; instead it sounds like another failed attempt at stopping Betty from forming a friendship with not so bad 'bad girl' Veronica and attempting to control every aspect of her life.
And despite Alice's best efforts in removing the passive from passive aggressive and the freshly applied lipstick from Betty's mouth smearing it across her cheek, all while suggesting the more Betty sounding Pink Perfection (not a CoverGirl shade); when we next see Betty the scarlet has been reapplied. The reason for revenge is also one that should be supported as Betty is outing an all too familiar practice of slut-shaming and exposing the guys on the football team who have participated.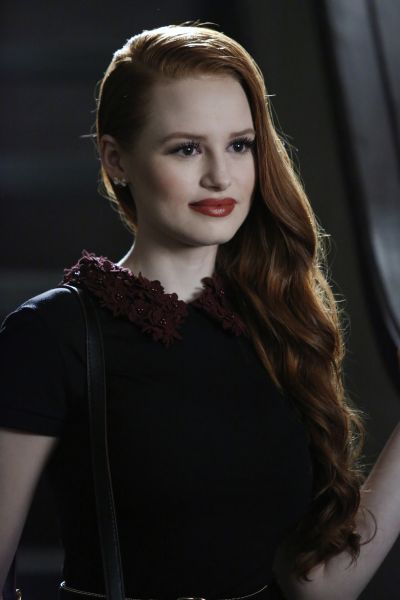 In channeling her sister we also see a version of Betty who is close to losing control and this dark side is something the show has been hinting at since Betty dug her nails so hard into her own palm that she made them bleed. The lipstick makes Betty feel powerful and I definitely agree that makeup and particularly a strong crimson lip can be transformative. In fact this is something I have discussed in three separate essays when looking at Empire (another show with close ties to CoverGirl), Halt and Catch Fire and Fleabag while detailing my own bold lip color journey; there really is something empowering about going full crimson and in the case of Betty Cooper she is trying out something against type while looking to her absent sister.
One way to stop product integration from feeling on the ickier end of the scale is by also mentioning other brands so while CoverGirl is in focus and their cosmetics are used by the Riverdale makeup team they are not the only products used on set. We all have our go-to brands, but our cosmetic bags tend to include an array of products from different companies. So in this week's Stranger Things cast covered issue of Entertainment Weekly in the "Scoring the Looks You Love" section, Erin Mackenzie gives Veronica eyebrow achieving advice and none of the products mentioned are CoverGirl. Instead MAC, Sephora and Sappo are the brands to look to if you want to recreate Veronica's strong brow.
This isn't the first time MAC has been mentioned in the same sentence as Veronica Lodge and in 2013 MAC produced a limited edition Archie inspired range which featured Veronica and Betty-themed products.
Makeup and Riverdale is an ideal fit and by picking a brand like CoverGirl it is not only bringing them back into the CW fold, but it is giving the audience something that is both affordable and readily available. Plus Seduce Seduction is a great looking red shade and I would have definitely been looking it up after the episode had ended if the name had not been mentioned. Thanks for saving me from having to "Bing it."
Emma Fraser is the creator of TV Ate My Wardrobe and spends most of her time writing about TV, fashion and costuming; Abbi and Ilana's Broad City style, the wigs on The Americans and Mindy Lahiri's pajamas are just as vital as talking about '90s, '00s teen shows. Emma has a MA in film and television, and she probably holds Angela Chase responsible for this path. You can find her on Twitter @frazbelina.