If you're looking to cop some Adidas gear that isn't super basic but is slightly more chill than Yeezy Season 5, consider a piece from the second drop of Alexander Wang's Adidas Original range. Set to roll out on March 1 at only seven shops, this 14-piece collection includes quite a few notable pieces.
For one, the inside out triple stripe is back, adorning track pants, track jackets and, of course, crop tops. Wang is New York's reigning party boy designer, so he must deliver what the people expect.
However, we have a feeling that the footwear is going to be among the most-wanted pieces from the range.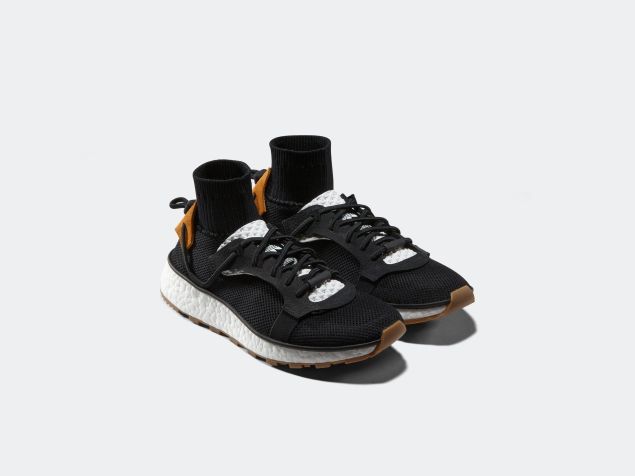 Offered in just two styles, Run and Run Clean, both sneakers come affixed with Boost technology, plus stretch mesh, elastic lacing and prime-knit fabrics. They also both feature an ankle sock situation, offering the wearer the liberty to discreetly go sock-free.
You might notice that the Adidas symbol is upside down. And yes, that was on purpose. The official title of this collaboration is Flip Pack, which goes to explain why seams are inside out, logos are off-kilter and a deconstructed vibe can be felt throughout.
In fact, that feeling continues all the way through the coordinating ad campaign. Shot by Juergen Teller and styled by Karl Templer, a crew of Wang's BFFs appear to be hawking this gear from the city sidewalks. That includes Binx Walton carrying around jerseys in a garbage bag, Hanne Gaby Odiele carting around merch on a dolly and, of course, Rocco Ritchie pushing this hot collab around in a grocery cart. Ritchie was featured in images from the collection's first drop, which also happened to be his modeling debut.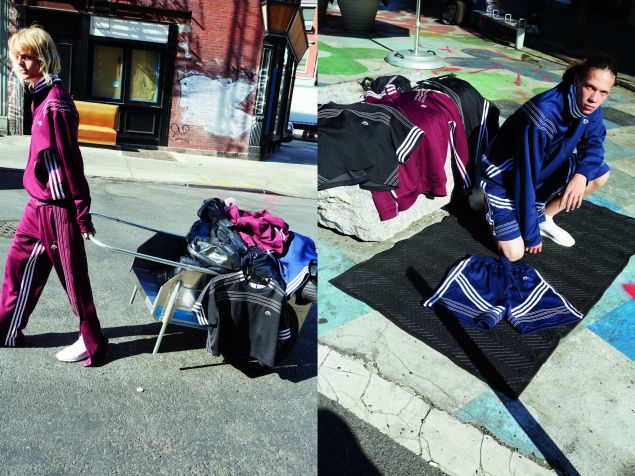 Should you want to buy into this collection, head to Barneys in New York, Colette in Paris, Antonioli in Milan, Storm in Copenhagen, Dover Street Market in Ginza, Boon the Shop in Seoul and Joyce in Hong Kong on March 1. For those who can wait a few days, the collection will also drop in a handful of Adidas Original shops and Alexander Wang flagships on March 4.