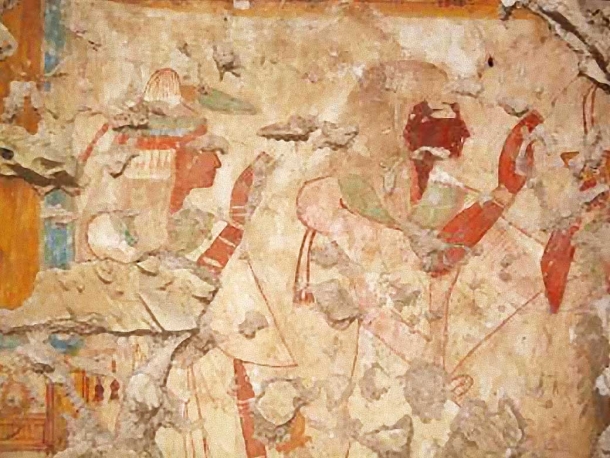 In the almost 200-year history of Egyptology, so many ancient tombs have been located and identified that it was thought further finds would be rare. But a team of archaeologists just discovered another of especially high significance.
A team of Japanese archaeologists just came across a previously unknown tomb in the Theban necropolis in Egypt. Their research has determined it was built for a man named Khonsu with the title of Royal Scribe. And it's not only 3,000 years old, but also beautifully decorated.
What's more, the discovery gives hope that there are even more to discover.
"No one knows that unknown tombs that still have beautiful decorations or inscriptions still remain undiscovered…I think that there might be more tombs hidden in this area," Waseda University Professor Jiro Kondo, who led the team behind the discovery, told the Observer. This is not his first big find. Kondo discovered the tomb of Khonsuemheb in the same area in December 2013, and he came across this new discovery while cleaning the forecourt of another, the tomb of Userhat.
Read also: Archaeologists Just Made a Major Discovery About the Dead Sea Scrolls
What's most unique about the tomb of Khonsu, though, is how large and elaborately decorated it is. The tomb, which is shaped like a T, measures 14 feet from east to west and 15 feet from north to south and features colorful, well-preserved images on the walls and ceilings.
As shown in the above photo, the north wall of the entrance has a carved picture showing the solar boat of the god Ra-Atum being worshipped by four baboons in poses of adoration. Next to it in vertically inscribed hieroglyphics is Khonsu is referred to as the "true renowned scribe."
An image on the northern part of the eastern wall depicts Khonsu and his wife worshipping the gods Osiris and Isis. The same gods are featured on another area of the eastern wall, this time with broken upper bodies. Lower on the same wall, a painting shows the fellows of the tomb owners.
The southern wall by the hole to Userhat's tomb has vertical inscriptions near the ceiling that identify it as belonging to Khonsu.
And there's still more mystery the researchers have yet to uncover. Piles of stone blocks are currently blocking entry to the inner chamber, but the team expects to find more wall paintings inside.