Could Ruth Negga pull an upset on Sunday night at the Academy Awards? The Ethiopian-Irish actress doesn't have her knickers in a twist over it – the stunningLoving lead, 35, is on a collision course with stardom and, win or lose, doors are swinging open in Hollywood. The petite actress removed her Prada heels and dug in with the Observer to discuss her extraordinarily ordinary heroine. Mildred Loving, a modest Black woman who married a white man in 1958 and courageously battled the Virginia anti-miscegenation laws for love, equity and the fundamental right for a man and a woman to have a family in the United States.
Would you call yourself brave?
Ruth Negga: Definitely not. I'm the scaredy-est cat I know. I would hope I'd be brave and that in certain situations, when it would call for it, that I would stand up. But am I tough? I can be quite tough – but it's not angry small women's syndrome.
It's not?
No, it's not. When you're small and people address you in that patronizing way, and you think please don't do that. I don't think being brave and being tough are necessarily mutually exclusive, but you can be either or in certain situations. No one is any one trait 24/7. In order to be brave you need to understand what it is to be fearful. Isn't that what they say?
Do you consider Mildred Loving brave?
Absolutely!  I think she's brave, but I don't know if Mildred thought that she was brave. And I can only access that. I had to leave my thoughts out, because I was playing her. For Mildred, she was just pursuing her right to justice. I don't think she thought it would take nine years. Can you imagine? Every step of the way, she was just doing, and I think sometimes just getting on with things and doing are extraordinary acts of bravery.
Can you elaborate?
Anyone who's had to confront a situation where they feel like they had to fight a little harder, or overcome obstacles, it becomes second nature. Nothing's going to be handed to you, so in a weird way, you develop this amazing not even a work ethic, but you're like a Duracell battery. You'll outlast everyone. You have the ability –you just need the opportunity. The opportunities have to be there. That's all that people need.
When did opportunity first knock in your own career?
I was very lucky to get a job right out of college in Dublin [Trinity College's The Samuel Beckett Centre]. Just before I graduated, Annie Ryan cast me as the title character in a stage version of Nabokov's Lolita. It's one of my favorite books. It's amazing and horrifying — and this was amazing and horrifying.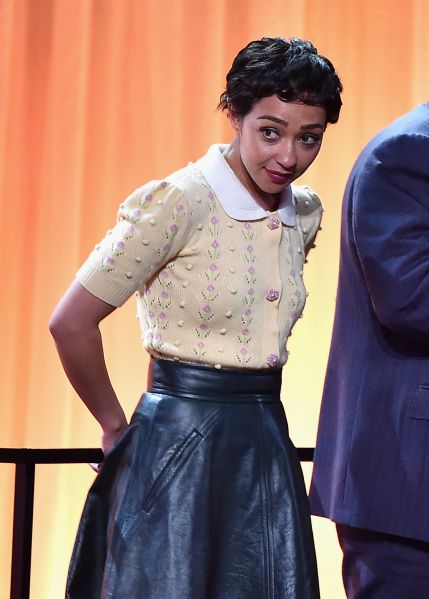 Do you see the lover and the monster in the lecherous character Humbert Humbert, who would now likely be on the sex offender registry?
It scares us because we see that those things can live side by side within certain people. It's scary because we don't want to know that we can be capable of grotesque acts. I think we're desperate, aren't we, to iron out nuances and complexities in life because we think it makes life more palatable. But, in fact, it's just making it more difficult because it's luring us down the primrose path, which is wrong. It means that we understand each other less and less and ourselves less and less, because if we forgo the nuance, then we're just not going to make any progress.
You definitely explore the dark side in your violent, volatile comic-book anti-heroine Tulip O'Hare in the AMC TV series Preacher.
There's something grotesque about Tulip. I wanted her face to even be grotesque sometimes. But still be peculiarly magnetic and sexy and, like, everything that women are rarely allowed to be on our screens — because we are in real life. Like me and my girls, like we were all of those things. I I thought I'd like to contribute to that broadening of female roles. Tulip's fun and she's feisty. And then she's not so fun and she's not so feisty. I embrace the complexity and nuances — and that she's funny. I find her funny.  
One of your signature qualities is large expressive eyes out of proportion to your frame.
I have a real sticky face. I have no poker face. It's actually handy being an actress, though. I'll take the lack of poker face.
What did you take away from living in Mildred's shoes?
I don't think I can sum it up in a sentence, really. I think that anyone who worked on this film surrounded by those two people, Mildred and Richard Loving, can't help but find their goodness infectious, and aspirational. I think I've internalized it for my heart. Mildred's still there. Some characters stay with you for a while; others, I find their scent gets less strong. Some people are forever etched into you.
Like Mildred Loving?
Very much so.