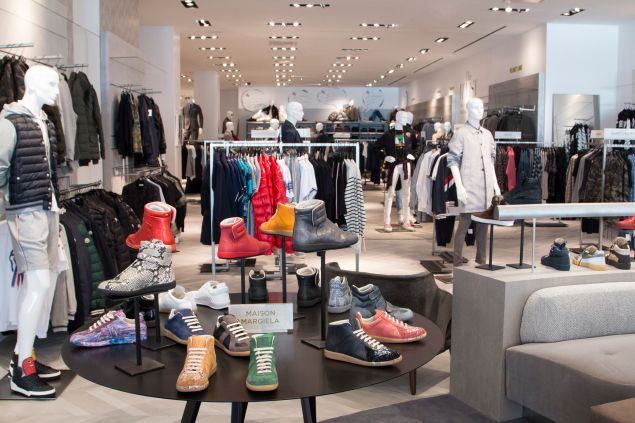 As of February 23, Manhattan's Financial District will have a new men's club. It opens well before dark and won't serve cocktails, but Saks Downtown Men's has plenty of other alluring features. That includes 500 pairs of shoes (from Gucci loafers to Maison Margiela sneakers), a made-to-measure suiting service, a sharply edited apothecary, nearly 400 pairs of sunglasses and lots of other flashy labels, including Balmain, Off-White, Engineered for Motion and so on.
As if that's not enough, the newest Saks Fifth Avenue outpost will lure customers in with shoe repair by Leather Spa, including a two-seat shoe shining booth. Later this spring, a SHARPS Barber and a FIKA coffee shop will round out the offering. Tucked into a discreet corner of Brookfield Place, this boutique is positioned to attract bankers during their lunch break, which is pretty smart, considering the offices of Goldman Sachs and American Express (AXP) are just steps away. It's an ideal one-stop shop for a last minute vacation (Vilebrequin trunks and Tom Ford shades), an impromptu date (Rag & Bone jeans and a Lanvin leather jacket) or a work wardrobe revamp (Boglioli suit and Ferragamo loafers).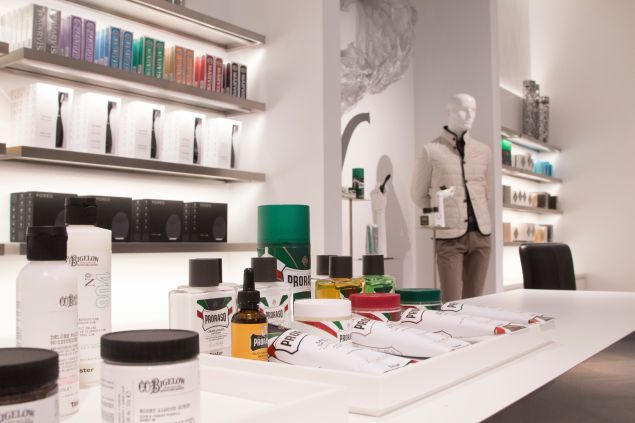 Eric Jennings, the store's VP & Fashion Director of Menswear, Home & Beauty, was the store's first customer on Tuesday afternoon. "I actually went shopping today. I was the first person to be rung up," he told the Observer, pointing out the mixed-media floral Dries van Noten pieces he scooped up. That seems to be fair, considering he was responsible for many of the details that anchor the shop; the shoe shine booth came to fruition after a GQ editor, who works across the street at 1 World Trade Center, complained about a lack of nice places to go for a polish. The apothecary, featuring Malin + Goetz face wash, C.O. Bigelow moisturizer, Mason Pearson brushes and Killian scents, was culled from Jennings' personal grooming regime.
While of course Saks anticipates plenty of lunchtime shoppers—you can book an hour-long "Power Lunch" where you can get fitted for a suit and enjoy a catered meal—they also have their eye on the local Battery Park crowd.
"The women's store has been open for five months and its [customer] is a local who lives down here; a lot of young families with baby strollers on the weekends. During the weekdays, there are 10,000 people that work in this building, and that doesn't count Condé Nast across the West Side Highway. It's a tremendous amount of young professionals," he pointed out. That would explain why most of the threads on the racks feel younger and more casual—past racks of G-STAR printed denim and quilted Canada Goose jackets is a tiny suiting corner, tucked into the very back of the shop.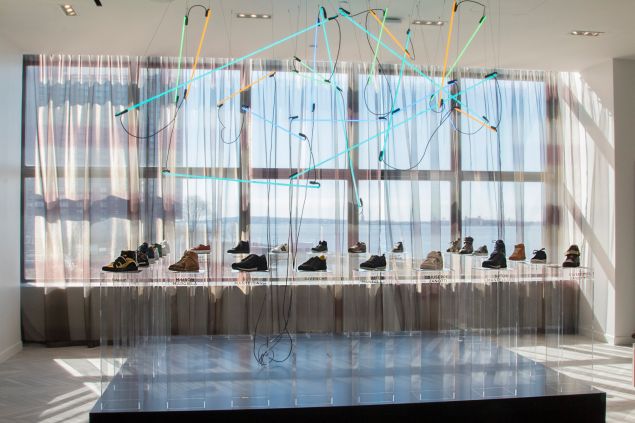 "This doesn't read like a suit store or a classic clothing store. Some people have called that out, but it wasn't our intention," Jennings explained. "We wanted to offer the cool brands and something innovative for that customer, but we didn't want it to read too dressy." As far as cool goes, the shop is launching with a World of Sneakers pop-up, featuring 200 kicks; 40 of which are exclusive to Saks Downtown Men's. There's also a digital mirror that will enhance the made-to-measure suiting and shirt program, which allows customers to customize every detail, from the buttons to the linings, even down to the item's label. Seems cool enough for even a Downtown kid.