The co-op is located on 102nd Street and Riverside Drive.
Halstead
The comedian paid $3.7 million for the apartment.
Halstead
Bee previously lived in a rental in the neighborhood.
Halstead
Is that the Plaza mantle we spy?
Halstead
Custom walnut built-ins throughout.
Halstead
The apartment is a two-unit combo on the top floor of the building.
Halstead
The bedroom wing is separated from the rest of the apartment by French doors.
Halstead
Please, please keep this Rangers room.
Halstead
The bathrooms are newly renovated.
Halstead
An additional bathroom.
Halstead
In the last year, comedians like Tina Fey, Ellie Kemper and Amy Schumer all bought new homes on the Upper West Side, making it the area where we would most want to attend a neighborhood block party. Seriously, it's like the holy grail of comedy, and with the current state of affairs, we all need a laugh.
So it's very fitting that Samantha Bee purchased a charming co-op at 300 Riverside Drive, where we really hope she plans on hosting many dinner parties for all of her comedienne neighbors. We're also hoping for an invite.
Bee and her husband, The Daily Show with Jon Stewart correspondent Jason Jones, paid $3.7 million for the new top-floor apartment; the exact listing price that sellers, Marcel Kasumovich and Keather Ursu, were most recently asking.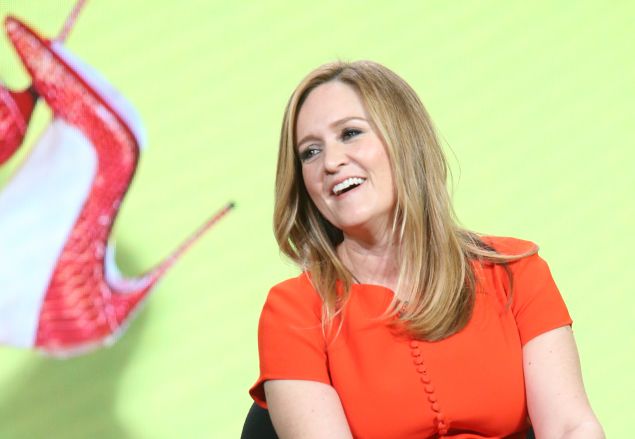 The Full Frontal With Samantha Bee host is already well-acquainted with the neighborhood; she and her family were living in a rental unit at 365 West End Avenue.
Their new four-bedroom, 2.5-bath home provides plenty of room for the Canadian-born Bee and Jones and their three children. The bedroom wing is separated from the public spaces by a French pocket door, and the master suite is fitted with built-in walnut cabinetry, as well as a newly renovated master bath with a custom walnut vanity and ceramic barn wood wall tile.
Evidently, the sellers are big fans of walnut, and per one of the kid's rooms, they're also big fans of the New York Rangers. We really hope Bee and Jones at least consider keeping the Rangers décor, even though Bee is from Toronto and Jones from Ontario.
The living room is home to a marble mantle that is "original to the iconic Plaza hotel," per the listing held by Halstead broker Peter Cohen. French doors open to a den, complete with a custom solid walnut wall unit.
The eat-in kitchen is equipped with a granite counter, island and Wolfe, Viking and Miele appliances; it opens into the oversized dining room. This is all very ideal for the aforementioned dinner party, that absolutely must happen. It's not quite big enough for the 'Not the White House Correspondents' Dinner' Bee is planning, but a pre-dinner fête is always a good idea.