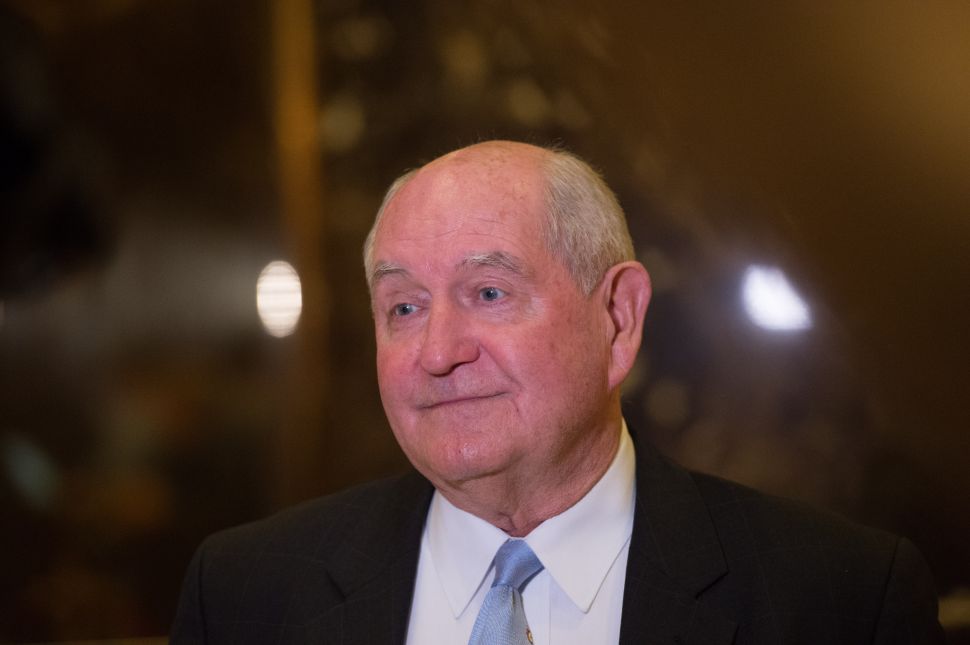 President Trump's delay in nominating a Secretary of Agriculture was an initial cause of concern in middle America and for business leaders in a sector that delivers nearly one trillion dollars to the U.S. economy annually. The (barely) pre-inauguration selection of former Gov. Sonny Perdue significantly calmed nerves, as his personal experience growing up on a farm and professional understanding of Georgia's $70 billion agriculture industry make him a solid pick. But Perdue faces a unique challenge as a Cabinet member: his primary tasks (supporting the U.S. farm industry and overseeing the food stamp program) will not be what define his legacy. That work will rightfully get all the attention in Congress, yet it's his role as the top public official on pet and animal welfare that will generate the most public scrutiny.
Perdue will soon find himself under the microscope of the more than 54 million American households with dogs and the animal advocacy groups that spend hundreds of millions of dollars every year on PR campaigns. Stories about pet welfare are powerful, and rightfully so, given that Americans spend more than $62 billion annually on their furry family members. In fact, a Cambridge University study covered by The Washington Post found that the spread of stories about dogs is nearly as strong as front-page stories on global events.
Perdue's stewardship of the Animal and Plant Health Inspection Service (APHIS), a relatively obscure but influential department, will significantly impact his ability to govern the USDA. One of the biggest issues he'll need to address will be the perceived growth of substandard breeding establishments that place profit above the welfare of animals, commonly referred to as puppy mills. Puppy mills are not only inhumane and cruel, but also typically operate without governmental oversight.
Whether he falters or succeeds, advocacy groups will aggressively target him with campaign war chests that will draw attention, resources, and public support away from everything else he needs to do as the Secretary of Agriculture.
Fortunately, Perdue's track record on animals is solid. As Georgia's top elected official, Perdue signed legislation enhancing the penalties for participants in dog fighting—an issue that went national with then-Atlanta Falcons quarterback Michael Vick's much-publicized federal conviction. He has a Doctorate in Veterinary Medicine and is a dog owner. In fact, his dog Ivy had a prominent and quirky place in the Governor's Mansion.
Perdue's selection should give hope to the nation's fervent dog lovers and activists alike that he will take the same high road when he ultimately takes office in Washington. But he'll need strong and immediate action on several fronts:
Working with, not against, breeders. Thousands of organizations in the U.S. self-identify as pet breeders. Contrary to the caricature often presented by advocacy groups with hidden agendas, responsible breeders are genuine dog lovers. Being a responsible breeder takes hard work and commitment. The care and attention responsible breeders give to dogs is incredible. Responsible breeders recognize the need for licensing and regulation by the U.S. government, and they don't shy away from it. Responsible breeders are some of the foremost experts in breed-specific puppy care; they know best practices and how to spot puppy mills. They are individuals of integrity, with a stronger incentive than anyone else to eradicate puppy mills. In providing a valuable insider's perspective, they should be viewed as assets, not enemies, in the fight for animal welfare.
Regulating animal shelter and rescue organizations. Just as there are cases of irresponsible breeders, there are countless substandard shelters and rescues. There is no federal oversight of animal shelter and rescue operations—it's a crucial aspect of ensuring the humane treatment of dogs that is left to local and state authorities. Although activist groups regularly that imply their raids are focused on breeders, public information about such raids show that many of their recently targeted "puppy mills" are actually shelters/rescues or hoarding situations.
Secure adequate funding for current APHIS regulations. Even if the USDA had this additional oversight, its funding is woefully inadequate due, at least in part, to the general lack of appropriations. USDA's discretionary spending was cut by nearly half a billion dollars last year alone. Perdue will gain some new ideas and allies from outreach to breeders, but the USDA deserves credit for some good regulations that are already in place, and it needs more support. There is, however, reason for optimism: an ambitious reform of the governmental budget process (spearheaded by Gov. Perdue's cousin, Sen. David Perdue) should have a positive impact on financial resources for the USDA and APHIS. Nonetheless, Gov. Perdue will need to use his executive experience to increase funding for APHIS while preparing for the unknown.
For the sake of the tens of millions of animals impacted by Gov. Perdue's new position, we hope that he'll quickly take action with strong policies and work with the private sector on new, pro-dog solutions.
Greg Liberman is CEO of PuppySpot, a trusted service that connects dog lovers with responsible breeders nationwide. Liberman, was also the CEO who built Christian Mingle and JDate into big names.