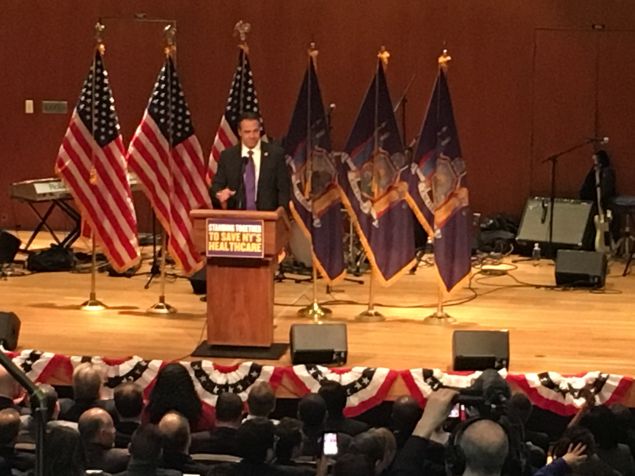 Gov. Andrew Cuomo called on Washington Democrats to "show us what you're made of" by pushing back hard against President Donald Trump and congressional Republicans on the Affordable Care Act and other issues, appearing to position himself as a national leader as rumors of his potential 2020 presidential bid run rampant.
Cuomo made the remarks at a union-led rally in the Bronx against the GOP push to repeal Obamacare. Cuomo recalled how Republican Congresses fought former Presidents Bill Clinton and Barack Obama "every step of the way"—and said his own party must now "take a page out of their book."
"They better stand up and they better fight and they better show us what they're made of because there is no going back," he shouted to the crowd at the Albert Einstein College of Medicine. "They have to learn, they have to learn. They have to stand up and learn from what the Republicans did when they didn't agree with something."
Trump recently said that he will announce a proposal to replace Obamacare "in a couple of weeks." And he appeared to accuse Democrats of prioritizing themselves over the needs of the party and the people.
"This is not the time to make a deal, it's not a time to get political, it's a time to get principled no mater who you are…and who you represent and who you're fighting for and what the Democrats are all about and what the people of this nation demand," he continued, getting louder and louder.
Republicans reign in both wings of the Capitol, although Senate Minority Leader Charles Schumer's 48-member Democratic caucus has enough votes filibuster most legislation under current Senate rules.
Cuomo vowed today that his and Schumer's shared home state will  lead the fight to preserve former President Barack Obama's legacy.
"While they're in Washington trying to tear down what we built, we're gonna built it stronger in New York," he said. "They're trying to tear it down, we're gonna build it higher."
The event came just a day after NY1 aired an interview with Sen. Kirsten Gillibrand—herself the subject of much presidential chatter—in which the junior senator from New York said the governor "would be a great candidate" for their party in 2020. Both Gillibrand and Cuomo have emphasized they currently only plan to seek re-election next fall.
But the 200-strong crowd at today's event seemed enthusiastic about a possible Cuomo White House, too. One attendee yelled out, "Cuomo for president!"
"Don't be starting trouble," Cuomo retorted, garnering laughter from the audience.
The New York governor honed his national profile by advocating for socially liberal policies such as gay marriage legislation and gun control during his first term. Still, left-wing groups blasted him for his fiscal conservatism and his fights with public employee unions.
After his reelection in 2014, he reinvented himself as an economic populist, pushing through  a minimum wage hike and a new paid family leave program. More recently, he has outlined massive infrastructure spending plans as well as a proposal for free public college tuition—though he has yet to provide full accounting of where the funding for these programs will come from.
Not all New Yorkers are enthusiastic about the prospect of a Cuomo presidential bid. A Quinnipiac University survey last December found 56 percent of respondents did not believe he would be a strong candidate for the White House—and 54 percent said he would make a poor president.
Cuomo himself has personal and political ties to Trump, having been the single largest recipient of the real estate mogul's political donations over the years, and having refused to return his money.. The governor attracted criticism from members of his own party for publicly meeting with his fellow Queens native at last year's 9/11 memorial service—and for describing the new president's New York roots as "a bonus" immediately after the election.