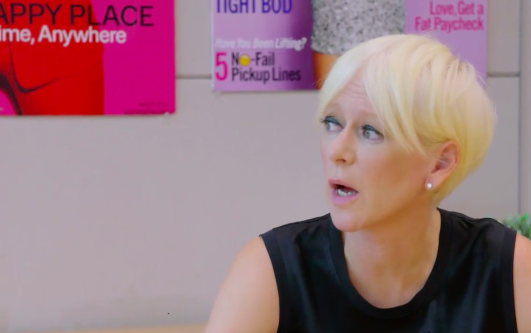 So Cosmo begins the episode with Joanna Coles, the Editor in Chief of Cosmo, slowly swiveling into view in what appears to be an egg-shaped chair with a red lining — as if to assert her dominance over women's ovaries. Or, at least, their wallets. And she certainly makes a compelling case: Cosmo outsells all other fashion magazines "rolled up together," they are the "dominant" channel on snapchat, and influence young women all over the world. As Joanna states emphatically: "If you buy a new outfit, it's because Cosmo saw it first…we got an exclusive and we put it in the magazine."
After fact checking the above statements, they appear to be true (I could not confirm the last statement, but common sense tells me that it's not true because, let's get real here, Vogue, is the fashion bible. As such, if Vogue wants an exclusive on something, they will be given priority.) However, Cosmopolitan isn't exactly known as a fashion magazine – it's always had the DNA of a sex bible. But when Joanna came on 2012 from Marie Claire, it seems the strategy shifted to include broader topics. Which sort of sounds like Joanna was remaking Cosmo into Marie Claire.
Joanna Coles is, of course, a reality television veteran. She was a guest judge on Project Runway, a mentor on Project Runway All-Stars, and appeared on the short-lived Running In Heels. Running In Heels is actually very similar to So Cosmo in its premise – it followed three interns who worked in the offices of Marie Claire while Joanna still worked there. But that was more of a documentary than a reality show. So Cosmo is Running In Heels on crack – it promises more drama and higher stakes.
But anyway. On to the show. We open with some artistic shots of the very beautiful Hearst building — that step-like glass facade, those long, sloping elevators, the perfectly decorated offices with floor-to-ceiling windows (#workgoals). If there was ever an office made for television, it's the Hearst building. So I wouldn't mind it at all if So Cosmo continues to serve up weekly architecture porn (you know, in case people are into that stuff).
And because this is a magazine office, and offices are cubicled zones of continuity, we jump right into things. We are in Joanna's office as she talks with her assistant and "Chief of Staff" and mentions some vague changes happening at the office. Sounds ominous. But we'll get back to that.
Meanwhile, before we have a chance to get a hint of what's going on, we hop into a meeting about an entirely unrelated subject – an editorial meeting for the January issue. Because this is a magazine and things move fast here. Every two minutes or so, we are introduced to another colleague (or potential colleague). It kind of felt like your first day at work, where you're overwhelmed by a bombardment of new things, and people, and clashing personalities. There's a sweet-faced Leah, the Beauty Director. There's Diedre, the Brand Coordinator, whose curls are perfection. There's Steven, the bitchy bookings director. There's a Whitney, a Tiffany, and a Nicole. There's so many names and faces that are thrown at me that I can barely keep up. I give up halfway through the episode.
Nothing really seems to happen in this episode. Sure, We get hints of drama to come — the bookings guy, Steven, seems to really hate Diedre, and Diedre has a thing with the hot new fitness contributor, Evan. We even got to leave the office for their first date. In fact, nearly everything that could be considered a storyline revolves around Diedre. She, out of all the members of the cast, was made for reality television. She is attractive, is willing to do anything to advance her career, and has no problem with confrontation. In another life, she would be on Vanderpump Rules, doing questionable things to get airtime. Instead, she's here, on So Cosmo, doing questionable things to get airtime.
But overall, this episode felt like more of a documentary, like a behind-the-scenes tour, then a compelling reality show. Which is not necessarily a bad thing: I just don't know if it was enough to draw people in. But I did enjoy it, especially the scenes in the fashion closet with the Tiffany chick's crazy rules about clear hangers. Mostly because it reminded me that fashion closets are the worst.
And then, at the end of the episode, the bombshell hits: Joanna will be overseeing all the content at Hearst's publication, and a new Editor in Chief will be found. The shock reverberated throughout the office; each of the main cast retreated their their respective cubicles or office and began freaking out. Apparently, it's "well-known" that when a new Editor-in-Chief arrives, the whole staff gets overhauled. So there's a real fear that people will lose their jobs.
That's quite the dramatic way to end the episode. They basically just killed the egg-shaped chair-swiveling main character. The previews for upcoming episodes seems to indicate she'll still be on the show, but we'll see. In any case, if the banality of the characters' jobs didn't reel you in, then this announcement sure did. At least, for one more episode, just to see what happens.