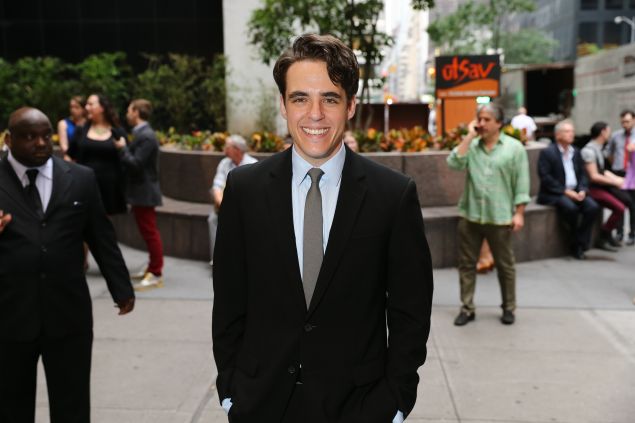 Roundabout's Laura Pels Theater, former home of The Humans and Bad Jews, is now housing a potent blend of both in Steven Levenson's play, If I Forget, bowing February 22.
Like The Humans, it's played on a split-level, two-tiered home-front battlefield where the residents—all family, God help them—engage in games of intimate annihilation, as only families can. Though just 32, Levenson could qualify as a veteran of domestic wars, having presented two of them previously to the Laura Pels: The Language of Trees (2008) about a home crumbling because its pillar is off fighting the Iraq War, and The Unavoidable Disappearance of Tom Durnin about the post-prison period of adjustment of a lowercase Bernie Madoff-type, trying to win back his family's love.
Most of the commotion in If I Forget comes from a clash of siblings, each subscribing to their own special—and distinctly different—brand of Judaism. Michael Fischer (Jeremy Shamos), a professor of Jewish studies, has reunited with his sisters, Holly (Kate Wash) and Sharon (Maria Dizzia), at their staid old colonial childhood home in suburban D.C., ostensibly to celebrate the 75th birthday of their frail father (Larry Bryggman) but actually, covertly, to solve the mounting pressures of his health care.
Michael comes up with a wife (Tasha Lawrence), Holly with accessories—a breadwinning companion (Gary Wilmes) and a bratty son (Seth Steinberg). One member of the family never shows up on stage: Michael's daughter, Abby, off in Act I on her first visit to Israel just as the Camp David peace accord flies out the window.
It winds up being Abby who forces the other characters to confront their differences and their roots. Sight unseen, she gets the last words. "There were drafts where she was in the play," Levenson says, "but every time I tried to write her, it didn't work. Her big speech worked every time. It felt important to me, always. I don't quite know why that monolog needs to be in the play—just that it has to be there. It's something that, as a writer, is a bit mysterious, and you want to keep it that way."
How plays come to him is also a mystery, the playwright non-discloses. "The ideas come from different places. Often, they come from things that make me angry or upset—or things I'm not sure about. I've been scared to write this play in a lot of ways because these issues are so emotional for people, so personal because they deal with identity and family and what we've inherited. It's scary to write about those things—but, of course, they're the only things you can write about and should write about—something that actually gets under your skin and makes you think you're not sure how you feel about it. Those are the ideas that turn out best for me.
"I could write a play about, say, money and politics—but I know how I feel about that—whereas, when I feel I don't know where I stand, it's cool to explore that.
"Also, I'm always sorta drawn to family stories, so, as plays come into my head, they kinda arrange themselves in that way. I don't know, there's a mystery about it. I once read this quote from John Updike, who said every time he starts a new novel he forgets all of a sudden how to get characters in and out of rooms. He said, 'How did I ever do that? I just don't remember.' And I feel that way with plays. There's always a panic. What I've discovered is that you have to start. That's when you'll figure it out."
Levenson was raised in Bethesda, got introduced to theater by his parents, was a sixth-grade Ed Sullivan in Bye Bye Birdie and learned playwriting from Paula Vogel at Brown University. "I grew up reading Jewish literature, obvious people like Philip Roth and Arthur Miller," he remembers, "and, in writing this play, I felt, as a still young-ish American Jew, that the issues they were talking about—intermarriage, assimilation, secularism versus religion—were no longer really the issues that I was dealing with. That was my way in. I wanted to write something about the issues that were confronting us today—not only as Jews but as Americans and as people.
"From the very beginning, I wanted to write a play that was a real, intimate family drama—an old-fashioned kind of realistic play that could also, somehow, hold a lot of ideas—maybe a play that could be both of those things at the same time. I like when plays can do that. Arthur Miller did that. Willy Loman was a real person, a lovable person. We empathize with him and understand him, but there are also huge ideas at work in that play. When I write, I'm constantly feeling that, if somebody says something that sounds like an idea or an issue, I will immediately undercut it."
If I Forget had a naggingly long gestation period. Levenson knew he wanted to write a play about ideas—in particular, ideas that would be of keen concern to a Jewish family over the years. At one point, he thought about "doing an August Wilson"—i.e., writing a series of plays throughout the course of the 20th century. "I knew that the last one would have to deal with Israel, so I did that one first: If I Forget. The story that I was interested in following in the 20th century of Jews was what I kinda think of as the demise of a certain kind of secular, liberal, Jewish tradition. I wanted to talk about what it means to be a secular Jew today, with a long tradition of radicalism.
"I wanted to set this pay in 2000 because that was the end of the 20th century, but it really felt like the end of an era. The collapse of the Camp David peace talks in 2000 with Clinton marked the end of a kind of hopefulness and optimism that had been there since the '70s when there seemed to be a way to co-exist, when peace seemed just around the corner. But, from then on, with the election of George W. Bush, there has been a darkness that descended on American Jews and the U.S. in general."
He didn't have to look far for his secular spokesman. Michael is, like Levenson, the middle of three children and has married outside the faith. In Act I, Michael's on the brink of a bestseller with a title that courts controversy, raises hackles on his own home front and costs him his tenure: Forgetting the Holocaust. By Act II, he's in litigation with the university and reeling toward the poorhouse—plus the economic safety net he and the rest of the family were counting on is in extreme disrepair.
"The play's two most polarized figures, I would say, are Michael and Sharon. He's a secular Jew who believes in a very aggressive kind of secular identity but still considers himself a Jew and still believes that there's a political legacy and a social-justice legacy there. On the other hand is Sharon, who's very staunch. The other sister, Holly, just doesn't care, which I suppose puts her in the mainstream.
"Hopefully, if I've done my job right, every character in the play says things that we all agree with and things that we don't. I like to encourage that topsy-turvy feeling in the audience where you think, 'Oh, that's me on stage,' and then suddenly it's undercut and you realize, 'Oooooh I feel badly that I identified with that character.' "
So much of Levenson's attention goes into what his characters are thinking and saying it sometimes startles him to see them come to life through the alchemy of his actors and their director, Dan Sullivan, a meticulous midwife if ever there was one.
"Nobody knows how to direct human behavior the way that Dan does," Levenson insists. "He's so specific and so rigorous. As a playwright, I'm just thinking. 'This is a 20-minute scene where they're all sitting around a table talking.' I'm not thinking how visually interesting it is for an audience. In my head, they're interesting because they're talking. It's the director and the actors who make all that alive and real."
Levenson's small family circle of plays includes a few faux families as well. In Core Values, which Ars Nova commissioned and presented in 2013, the family was a cluster of office-workers at a failing travel agency, all on a rah-rah weekend retreat presided over with desperately sad optimism by the company CEO (Reed Birney).
Then there's that faux family that dear Evan Hansen got for feigning friendship with a high schooler who killed himself. Levenson worked on the book for this Benj Pasek-Justin Paul musical for five and a half years—a half year longer than If I Forget ("never at the same time but sorta side by side"). It's his first musical book, and it got him his first Obie and could get him his first Tony, now that it moved from Off Broadway (Second Stage) to Broadway (the Music Box where it's packin' 'em in).
"I can't tell you enough how unexpected all of this is," he says, shaking his head in stunned disbelief. "The most incredible thing, of course, is seeing that people are affected by it and emotionally find something that is valuable for them in it.
"With Dear Evan Hansen, we couldn't have imagined a less commercial idea. We thought we would be lucky—like, really lucky—to get an Off-Broadway production out of this bizarre musical idea of a teenager's suicide. I do think we're living in a time in New York where people are hungry for real stories and complex characters.
"The day after the election we went into tech, and going to rehearsal felt like, 'Oh, this is where I want to be. I'm glad this is what I'm doing.' It felt like we were at least telling a kind, honest, hopeful story. It tapped into something people need now."