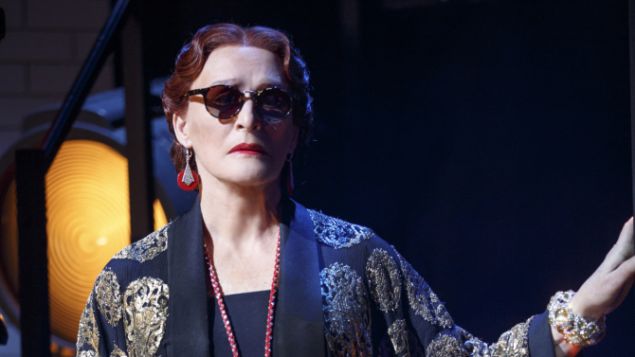 It's b-a-a-a-ack….
When the Andrew Lloyd Webber musical Sunset Boulevard opened on Broadway in 1994 in a lavish production guided to glory by Trevor Nunn, Glenn Close won a well-deserved Tony for her passionate portrayal of the tragic, delusional, self-annihilating silent screen star Norma Desmond. This was one year after she replaced Patti Lupone, the star of the original London production, who was such a disaster that she was fired with tremendous fanfare by Andrew Lloyd Webber himself. When it opened on Broadway with Glenn Close on the Broadway marquee in lights, the show became a smash hit that ran for two years and four months. Since then, other stars who have triumphed in the role (a juicy no-brainer) include Diahann Carroll, Elaine Paige and Petula Clark, but the iconic role of the demented Norma remains pretty much the sole ownership of Glenn Close. People just can't get enough of her, or Sunset Boulevard.
Of course, there was more to ogle 22 years ago than the star. Scenery flew in and out depicting Hollywood parties, a gloomy ancient Hollywood mansion and a dead body in a swimming pool. There were chandeliers, period automobiles, and a recreation of the front arches and interior sound stages of Paramount Pictures. The newly refurbished, limited-run dust-off from London on view at the legendary Palace Theatre has been trimmed, scaled down and economically revitalized by director Lonny Price, the old opulence stripped of its glamour and suggested by stock footage of California images—the landmark Hollywood sign, the Malibu surf, the bustling premieres and crowded crossroads of Hollywood and Vine. The big addition that makes this particular Sunset Boulevard memorable in addition to Close's star turn is the addition of the kind of dreamy 40-piece orchestra that has not been seen or heard on a Broadway stage for more than half a century. Every Andrew Lloyd Webber musical is characterized by one cornball melody, annoyingly reprised six or seven times throughout the course of the evening. But how much more inviting when the strains of "As If We Never Said Goodbye" are repeated by a sweeping orchestra so big it sounds like it is being conducted by Arturo Toscanini.
Happily, the basic outline of the Tinseltown melodrama dwarfed by all the industrial scaffolding Norma climbs a dozen times remains focused. In case you've been hiding in a cave since the legendary film came out in 1950, this is the dark Hollywood tale, told in flashback by a dead man, about the discarded and forgotten silent-era screen star named Norma Desmond, living as a recluse in a creepy Sunset Boulevard estate left over like an old prop from a bygone era, and the handsome, unemployed and dead broke but ambitious screenwriter, Joe Gillis, who accidentally finds his way into her winding driveway while on the run from bill collectors who want to repossess his automobile. They are both desperate—she for a comeback, he for a paycheck. Somehow her persuasive exoticism convinces him to use her guesthouse as a hideout from creditors, and his way with words is what she needs to edit the interminable script about Salome she's been working on for years until it's ready to present to her old friend from the past, Cecil B. DeMille. Pretending to earn his keep at the typewriter, Joe becomes Norma's co-writer, editor and lover—all three positions being easier than looking for actual work in the film industry—both of them watched and guarded by an antique from Central Casting named Max, who is Norma's loyal, sinister watchdog, butler, nursemaid who bandages her when she slashes her wrists, former director and first husband (immortalized onscreen by the great Erich von Stroheim). Fred Johanson is a formidable Max, hunky singing beefcake Michael Xavier is a serviceable Joe, and Siobhan Dillon has a glorious voice as Betty, the otherwise bland Paramount script reader who helps Joe develop an idea for a new film.
All of them have been imported from London to provide staunch support, and none of them achieves the power, irony or caustic vision of Old Hollywood make believe as Gloria Swanson and William Holden did in the historic Billy Wilder movie masterpiece. But it is clear from her first entrance down that treacherous staircase looking like a drag queen—cheeks slashed with pomegranate makeup, eyes lined with black mascara and body swathed in glitter—who owns the stage. With a hideous red wig and a face that looks carved and painted like a corpse ready for an open-casket viewing, she's over the top, her arms exaggerated as a windmill and her expressions a wild conglomerate of silent-screen ham acting, but Close brings every aspect of an Egyptian mummy to shattering life. The scene when she visits her old studio wrapped in fur and one of the grips trains a spotlight on her face, bringing back memories of the past, sends chills down the spine. The applause for every song is polite, but when she belts them out, she stops the show cold. And the collapsing pain in her tortured face when she realizes it was not her famous, forgotten countenance the studio wanted for a close-up, but her vintage car—well, the magic Close conjures of the brevity of fame is as rare on the proscenium stage today as that 40-piece orchestra. Her experience, knowledge and craft prove that Sunset Boulevard is an old warhorse that can still finish the race in first place.